The crypto market has experienced a strong rally over the past day, with Avalanche's AVAX token surging over 25% to become one of the top gainers.
Several other layer-1 blockchain projects, like Solana and Cardano, also saw impressive gains as investor sentiment turned positive once more.
This article dives into the key drivers behind Avalanche's surge and explores which other crypto-gaming projects might be on the brink of a similar rise.
Strong Technicals & Fundamental Drivers Fuel Avalanche's Price Surge
AVAX's rally has brought it to highs not seen since August 2022, capping off a powerful rebound that began in mid-October.
This rally's technical drivers include a breakout above the key $16 resistance level on November 11, triggering a wave of buying pressure.
This pressure was exacerbated after the AVAX price returned to $16 a few days later and retested it as support.
Aside from positive technicals, Avalanche's surge is driven by strengthening market sentiment and fundamentals.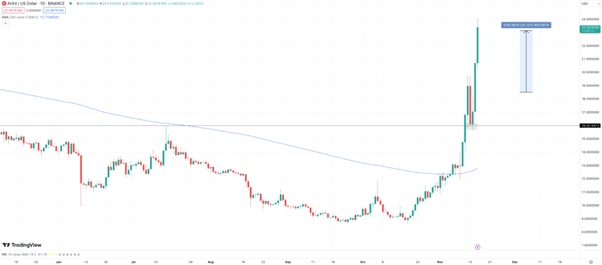 Investor preference continues shifting towards blockchains that prioritize speed and low costs.
Avalanche ticks these boxes with sub-second finality times, fees of less than a penny per transaction, and over 600 projects deployed on the network.
Moreover, recent endorsements from major institutions like JPMorgan and Apollo Global, who are using Avalanche's subnets for fund administration, have further validated the network's real-world utility.
Surprisingly, Ava Labs' recent layoffs have seemingly boosted investor confidence.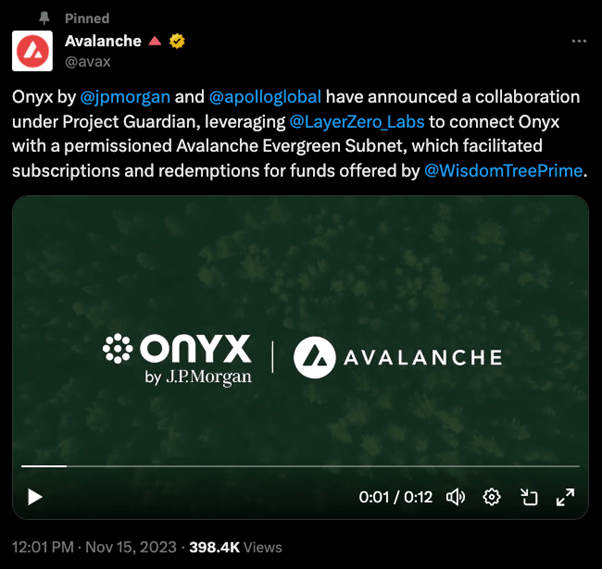 By cutting its staff by 12%, Ava Labs aims to redirect more resources towards expanding ecosystem development and partnerships.
Moreover, with the market continuing to buy AVAX tokens despite the negative connotations of the layoffs, this indicates a strong belief in the long-term potential of the Avalanche blockchain.
All these elements have helped push Avalanche to number 12 in CoinMarketCap's list of the world's largest cryptocurrencies by market cap.
If Ava Labs can capitalize on this momentum, many AVAX holders are optimistic that Avalanche could break into the top 10 before year-end.
Which Other Crypto Gaming Projects Could Be Next to Surge?
While the gains seen by Avalanche stand out, the broader crypto market rally could also spur breakouts for other segments like crypto gaming.
This section will discuss two blockchain-based gaming projects that could be poised for their own pump:
Meme Coin Hype Fuels Anticipation for Meme Kombat Battle Arena Launch
The first gaming project poised for growth is Meme Kombat (MK), combining meme battles with opportunities to earn through staking and betting.
With over $1.7 million raised in its ongoing presale, Meme Kombat has garnered strong interest from the retail investor community.
Built on Ethereum, Meme Kombat enables PvP battles between popular meme coin characters like Pepe the Frog, Wojak, and Doge.
Players can wager the native MK token on fight outcomes to earn tokenized rewards.
An integrated staking mechanism also allows MK holders to lock up their tokens in the staking pool and earn yields of up to 641% per year.
Meme Kombat's roadmap outlines plans to launch the platform once the presale ends, with further seasons, characters, and game modes planned for the following months.

With 50% of the total MK supply reserved for presale participants, a successful raise will give Meme Kombat the funds and community backing needed to drive development.
The project has already begun attracting attention on social media, with prominent analyst Crypto Tony, who has 355,000 followers, describing it as an "innovative new gaming platform designed for hardcore gamers."
Between the unique meme battling feature and earning options through staking and betting, Meme Kombat checks the boxes for a potential crypto gaming breakout.
TG.Casino Aims to Become Leading Telegram-Based Casino with Staking & Cashback Features
In addition to Meme Kombat, TG.Casino (TGC) stands out as a crypto gaming project primed for a potential price pump.
Aiming to be the world's number one Telegram-integrated online casino, TG.Casino combines gaming and DeFi in a unique way.
With over $2 million raised in its ongoing presale, anticipation is building for a breakout once it concludes.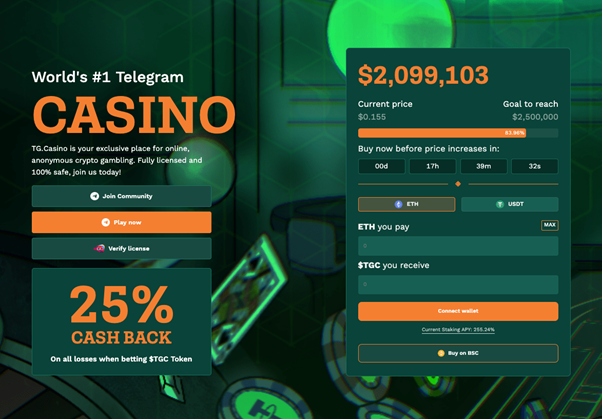 A major advantage of TG.Casino is its no-KYC policy, which allows for anonymous betting, which is in stark contrast to traditional casinos.
This commitment to privacy, combined with Telegram's advanced encryption, ensures a secure gaming environment for all users.
Additionally, TG.Casino's security is bolstered by a full gaming license from Gaming Curacao and a smart contract audit from Coinsult.

Beyond its extensive game selection, the platform also implements a staking system where TGC holders can lock up their tokens and earn passive income.
TG.Casino even has a buyback-and-burn program that uses casino profits to buy TGC tokens from the open market – with 40% of the purchase burned and 60% distributed to holders.
With other engaging features, like 25% cashback on all losses when using the TGC token, TG.Casino is another promising crypto gaming project poised for big things once its presale ends.