Avalanche has soared 10% in the last 24 hours, reaching highs of $19.7 earlier today. The project has also fared as one of the top-performing cryptos this week, up 44%. However, it remains at -87% from its ATH, potentially giving it much more room for growth.
Meanwhile, a new P2E project called Meme Kombat is also bullish after hitting $1.6 million in its presale. Will this be the next crypto gaming token to explode?
AVAX Price Driven By Blockchain Gaming Excitement and Analysts Remain Bullish on Its Next Move
The recent Avalanche pump resulted from a growing excitement around blockchain gaming on the network.
Several "AAA" game studios have been building on Avalanche in recent years, and social media commenters have recently caught onto the narrative, leading to immense hype. Throughout the last bull market, blockchain gaming was one of the most promising trends but did not reach its potential. However, market participants speculate this will change in the next bull run.
According to a tweet from the Avalanche team, top-notch gaming studios are building on Avalanche due to its technical advantages. The network facilitates fast and low-cost transactions, perfect for blockchain gaming.
What's more, projects can easily spin up their own customizable "sub-net" blockchain, which is interoperable with the Avalanche ecosystem while retaining autonomy.
Some of the most reputable gaming projects already building on Avalanche are Shrapnel, Gunzilla Games, and Beam.
Another factor driving Avalanche hype is that AvaCloud has just partnered with Thirdweb. The announcement was made in a Thirdweb blog post and will bring Thirdweb's expansive software development kit (SDK) toolbox to the Avalanche blockchain.
According to X commentator Avery Barlett, this will make building on Avalanche even more seamless and move the network toward mass adoption.
These fundamental advancements, alongside favorable broader market conditions, have enabled Avalanche to soar this week. Yet, this begs whether AVAX will continue to pump or if its bullish momentum has already been spent.
VirtualBacon is bullish on AVAX, predicting it could climb to $25 in the short term. The analyst also noted that AVAX and other cryptos, like MATIC and ARB, are in a "catchup race to Solana," alluding that these projects could soon see monumental gains.
To quantify his statement, Solana is currently up 163% in the last month.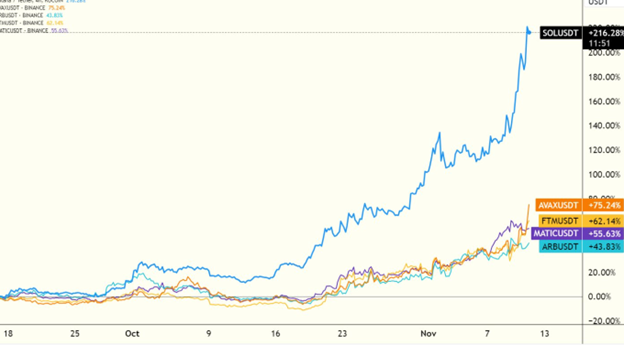 Meanwhile, trader Satoshi noted Avalanche formed a "textbook bottom reclaim" and expects it to 2x from its current price.
However, analyst JACKIS warns market participants of a "suckers rally," alluding that the recent pumps from AVAX and other projects are bull traps, and the price will soon pull back.
That said, JACKIS only expects a brief pullback before the next leg up.
While Avalanche is seemingly gearing for an explosive bull market rally, analysts are also bullish on Meme Kombat, a new presale project tapping into the explosive blockchain gaming market.
New P2E Token Meme Kombat Hits $1.6M at Presale
With the crypto gaming narrative on fire, new multi-purpose meme coin Meme Kombat is posed to explode, according to analysts. It is currently undergoing a presale, having raised over $1.6 million in just six weeks.
The project enables users to gamble on the outcome of AI-generated battles between famous meme coin characters. It boasts several game modes, ranging from simplistic single-player to exhilarating multi-player modes with side-betting capabilities so users can wager on dynamic battle events.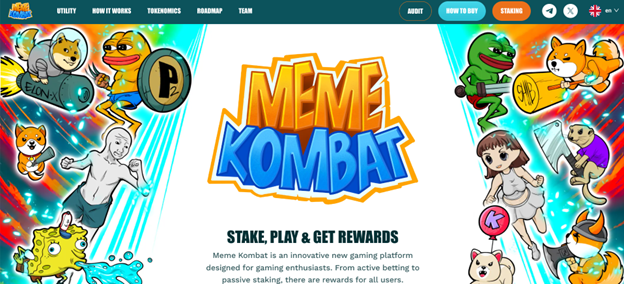 Meme Kombat is secured by a robust smart contract audit, which achieved a near-perfect score, and also has a doxxed team with years of relevant experience.
Moreover, it features a staking mechanism that offers an 809% APY. However, potential investors must act fast because the yield decreases as the staking pool size grows.
According to analyst Jacob Bury, Meme Kombat could explode 10x following its presale. Bury also announced he made a $1K investment into the project.
Meanwhile, Crypto Boy speculates it could reach $20 in the next bull run. This would create over a 100x gain from its current price.
Currently, investors can buy the Meme Kombat presale for $0.189. However, they must be fast because the price will rise in three days.