B2BinPay, one of the largest crypto payment processing platforms, has announced an update to its commission structure, website, Enterprise, and Merchant Models, as well as the solution itself. This update will give its clients even more functionality. As a result of reworking its fees and pricing model, B2BinPay has reduced the costs for businesses and made it easier for them to become familiar with the services that the company provides.
An entirely new design of the website has been implemented to improve the user experience. There have been numerous upgrades made to B2BinPay itself as well.
Renewed Pricing Plans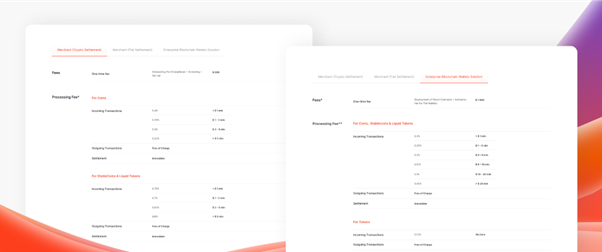 As a result of the revised pricing plans, the B2BinPay team offers much better value to customers. Merchant Model tiers and volume thresholds have been lowered according to the following: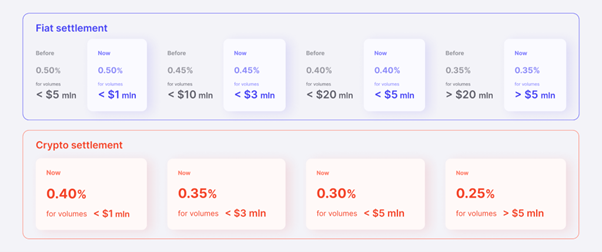 The onboarding fee for Enterprise clients has been reduced by B2BinPay from $1,500 to $1,000. The team has also changed the percentage tier barrier for Enterprise users, which has resulted in considerable savings. The modifications are as follows: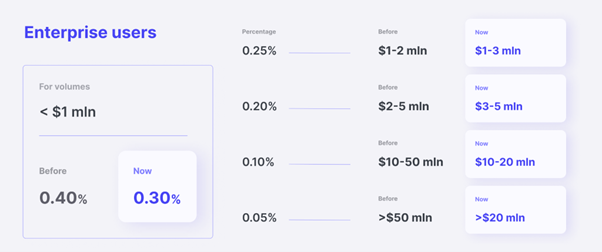 There are no fees for any outgoing transactions in your account! Customers of B2BinPay get excellent value from these costs, which are among the lowest in the sector.
Fresh Website Look, Enhanced UI, New Features
The B2BinPay team has entirely updated the website to give users informative data in an approachable way. The completely redesigned website has several sections that have been revised to describe each product or service that B2BinPay provides.
Newly created pages simplify navigation and provide instant access to the most important information.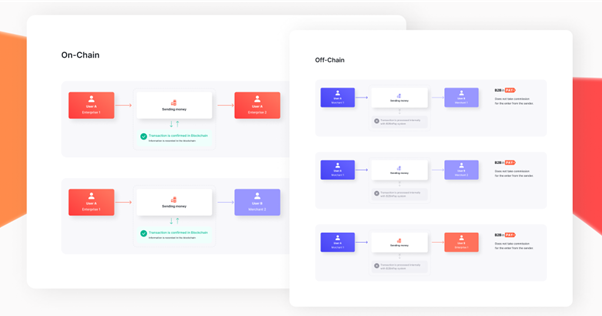 The company has provided an ultimate guide of both On-chain and Off-chain transactions. On-chain transactions take place on the blockchain, which necessitates network participants' confirmation. For an On-chain transaction, B2BinPay does not charge a commission, but the consumer is still responsible for paying the blockchain commission. The proprietary technology of B2BinPay is used to perform off-chain transactions. Outside of the blockchain, these transactions are carried out amongst B2BinPay customers. In such a case you avoid blockchain costs and processing time since they are fast and free. All instances of On- and Off-chain transactions involving different users are now fully described on the website.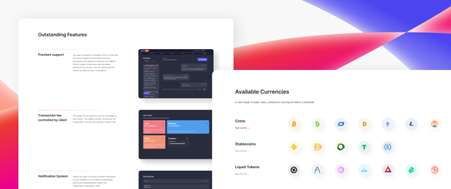 By adding the "Available Currencies" page, customers will be able to browse the ever-growing list of currencies at their convenience, which features over 80 different coins.
Additionally, an FAQ section has been added to answer all questions in a timely, thorough, and accurate manner. There are a large number of questions answered in the FAQs page regarding the services, functions, security measures, and much more.
Businesses can swiftly and simply integrate blockchain technology into their payment systems, with more ease and security than ever before, thanks to B2BinPay's API. In a few clicks, all required documentation is accessible. The software, B2BinPay, was also upgraded to enable Merchant Invoice Limits, Delta Amount, and Cardano (ADA), in addition to a number of user-friendly improvements.
Access to New Tokens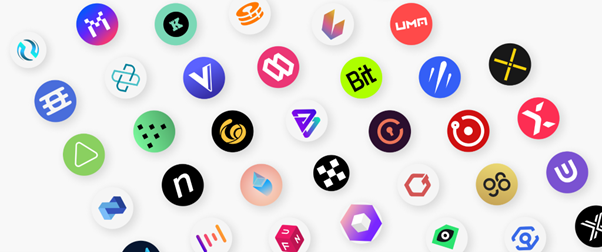 Nearly 100 new tokens, including WBTC, ANKR, GALA, IMX, and others, have been added to B2BinPay's extended currency and token offerings in its Merchant and Enterprise models.
Advanced Merchant Models
B2BinPay has restructured its models in a significant effort to help its clients. There are presently three versions available from the firm, including Enterprise, Merchant (Fiat Settlement), and Merchant (Crypto Settlement). Users that choose Merchant (Crypto Settlement) have the option to open virtual wallets that accept USDT, USDC, and BTC.
Concluding Remarks
The B2BinPay team has made great strides in the last year to make the product even more user-friendly and affordable for businesses. With its modern website and improved features, B2BinPay is an excellent choice for companies looking to incorporate cryptocurrency payments into their operations. With competitive fees and pricing models, customers are sure to find the ideal plan that meets their individual needs. Businesses of all sizes can leverage B2BinPay's fast, secure, and reliable payment processing solutions.