B2Prime, a global PoP provider of liquidity across multiple assets, has announced a series of developments to its product offering. Specifically, B2Prime has implemented measures to enhance adherence to regulatory requirements, expand liquidity offerings, and improve leverage packages. As part of these efforts, they have also unveiled their newly renovated website. These changes are sure to offer an improved user experience to clients everywhere.
This announcement is the latest illustration of B2Prime's dedication to innovation, transparency, and client-centric service. They are paving the way for secure and reliable services in the financial market.
Upholding the Highest Standards of Trust and Compliance to Benefit Clients
B2Prime takes the trust and reliability of its clients seriously and, as such, has taken extensive measures to strengthen its regulatory framework. By doing so, they demonstrate a firm commitment to compliance with state and national regulations.

B2Prime Cyprus (CySec)
B2Prime Cyprus, an EU-regulated liquidity provider, has opened its doors to European brokers and corporate clients. With a diverse selection of crypto CFD pairs, as well as NDFs and natural gas, B2Prime Cyprus is the perfect choice for institutional market players.
Furthermore, the firm is licensed to serve corporate and institutional clients from a range of countries outside EU borders, such as Malaysia, the Cayman Islands, Hong Kong, India, Indonesia, Kuwait and Vietnam. With an ever-growing list of approved locations, B2Prime Cyprus looks set to become a major player in the market.
B2Prime Mauritius (FSC Mauritius)
B2Prime has extended its services to Mauritius, offering institutional market players and corporate clients outside of Europe a convenient settlement flow solution. With this addition, brokers in the jurisdiction can now access crypto CFD, NDF CFDs and a variety of other CFD assets by partnering with a regulated liquidity provider.
This offering further bolsters the firm's commitment to providing transparent and stable solutions, as it eliminates the need for clients to use unregulated entities located offshore. B2Prime provides margin account support through platforms like OneZero and PrimeXM, allowing deposits and withdrawals in both fiat (EUR/USD) and digital currencies (major coins + stablecoins).
The company is committed to providing a superior level of service and support for its customers, operating in accordance with the strictest industry standards. This is reflected in its dual-jurisdiction approach, with CySec and FSC Mauritius regulations ensuring that clients are provided with the highest level of protection and quality assurance. The company also maintains an equal website and commercial offer structure across both jurisdictions, demonstrating its dedication to transparency and consistency.
Enhanced Liquidity Package
B2Prime is at the forefront of innovation in multi-asset liquidity with its comprehensive range of instruments accessible via one margin account. Their flagship feature is 24/7 streaming liquidity for a staggering 93 crypto CFD pairs, providing users with unprecedented access to the markets. With FIX API available on leading platforms such as OneZero and PrimeXM, B2Prime offers a competitive 10% margin on major Crypto CFD pairs and 1% on FX pairs, significantly outperforming other EU-regulated liquidity providers.
Below is a detailed overview of the instruments B2Prime offers: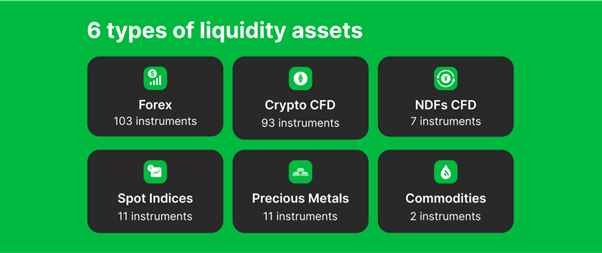 The model of aggregation offered by B2Prime allows customers to benefit from highly competitive spreads, and its financing charges are among the lowest in the industry. With access to these advantageous prices, clients can optimise their capital efficiency and get a competitive edge in the marketplace.
In addition to this, B2Prime is taking a pioneering approach in the industry by offering NDFs as CFDs. Furthermore, margin requirements have been lowered on 10 more crypto CFD instruments. This means a leverage of 1:10 or just a 10% margin is now enough to access greater exposures. With lower margin requirements, brokers can get more exposure with less capital up-front, demonstrating the company's dedication to offering liquidity that is second to none.
Recent Changes to Distribution Methods
By leveraging the latest technology infrastructure, B2Prime provides optimal multi-asset institutional liquidity solutions to its global client base. Through integrations with industry leaders such as OneZero and PrimeXM, as well as an extensive list of FIX API-compatible solutions, clients can take advantage of the most efficient aggregation and distribution technologies available.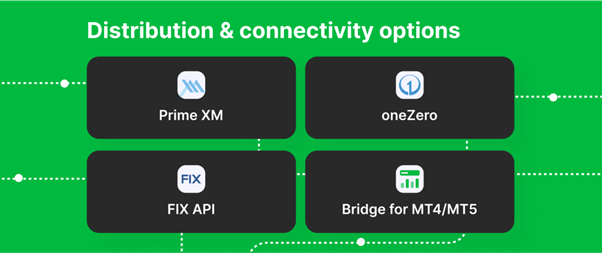 Additionally, B2Prime provides bridge gateways for MT5 and Plugin bridges for MT4, facilitating access to its suite of solutions via native OneZero/PXM solutions or through Hub-to-Hub connections.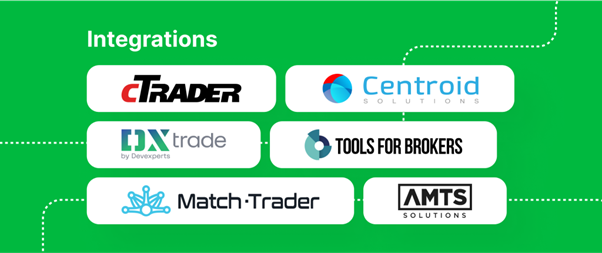 It also offers integrations with cTrader, Centroid HUB, T4B Trading engine, YourBurse Hub, Match-Trader platform, DXTrader platform and FxQubic Bridge via FIX API protocol. This allows brokers to obtain a single prime margin account in as little as one day after onboarding with B2Prime, along with the whitelisting of IP addresses and having access to all instrument pairs covered in this specification sheet.
Getting the Best Pricing Conditions
B2Prime has structured its multi-asset liquidity terms of business to provide clients with the best competitive edge at the most reasonable price. Here's an overview of what the service entails:
Clients can access a prime margin account setup completely free of charge. A monthly minimum liquidity fee is set at $1,000 and includes one FIX API connector or Hub-to-Hub connector. Additionally, clients have the option of signing up for the MT Gateway/Bridge for an additional fee of $1,000 per month.
When opening an account, clients must deposit a minimum of $10,000, which can be used for trading. All monthly fees are offset against the aggregated commission charges incurred from trading activity. As such, clients can rest assured that they will receive greater value for their money when using B2Prime's multi-asset liquidity service.
Also, you can submit a request here to get a full picture of B2Prime commissions on instrument pairs.
Optimising User Experience Through Website Redesign
B2Prime has completely redesigned its website with the user experience in mind. The new layout is designed for clarity, allowing users to quickly and easily access the information they need. Every detail has been fine-tuned to ensure maximum efficiency, making navigation a breeze.
The visual air reduction feature works to streamline the website by minimising distractions, allowing users to focus on the content. All blocks have also been optimised to reduce redundant data while preserving the essence of information, making them concise and highly readable.
What's more, B2Prime now offers location-based redirection, so those visiting from different geographic locations can be easily identified and redirected as needed. Finally, B2Prime has given the website's header and footer a modern revamp in order to ensure swift access to important links and other vital pieces of information.
These changes are sure to make a great impact on the user experience, providing a clearer and more intuitive insight into B2Prime's offerings and values.
B2Prime: A Bold New Venture into the World of Liquidity Solutions
The latest developments at B2Prime are indicative of the company's commitment to providing brokers and institutions around the world with the best in class services. With an enhanced regulatory compliance framework, an expansive variety of liquidity options, and a newly refined website, B2Prime has established itself as a reliable and innovative service provider that stands out from the crowd, setting the industry standard for regulated liquidity providers.
The company will continue to showcase its dedication by presenting its latest innovations and comprehensive offerings at FX Cyprus Expo, a prominent event attended by some of the most enlightened and knowledgeable experts in the industry.