Bitcoin SV (BSV) has stunned the market by surging nearly 30%, leaving analysts and investors buzzing about its performance.
BSV is now trading above $55 for the first time since July, making it one of the top gainers in the market this week.
As the crypto community begins to unpack Bitcoin SV's surge, another potential star is emerging in the form of Bitcoin Minetrix (BTCMTX), which also shows signs of an imminent pump.
Bitcoin SV Skyrockets & Breaks Key $40 Resistance Level
Bitcoin SV came into existence in 2018 as a hard fork of Bitcoin Cash, designed to enhance scalability via larger block sizes.
For quite some time, BSV seemed to have lost some of its initial hype, experiencing stagnant price action since mid-2021.
However, that has recently changed, since over the past four days, BSV has rocketed to its highest price in 100 days – breaching the crucial $40 resistance level in the process.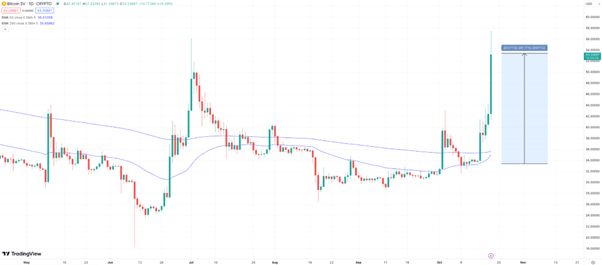 At the time of writing, BSV is trading at $53.20, representing a remarkable 30% increase within the last 24 hours and an incredible 60% rally since Monday.
This incredible performance has boosted interest among crypto enthusiasts and investors, shifting sentiment in favor of BSV after months of inactivity.
Bitcoin SV's surge also appears to be part of a more significant upward trend in the crypto market, with the heatmap from Coin360 showing a sea of green this week.
Whether Bitcoin SV's rise continues remains to be seen, but for now, the focus is firmly on BSV's jaw-dropping gains.
Binance Relaunches Bitcoin SV & Fuels Ongoing Price Rally
Another significant catalyst for BSV's soaring price has been Binance's recent decision to relaunch the coin.
Binance, the world's largest cryptocurrency exchange by daily trading volume, rolled out a USD-M BSV Perpetual Contract with a hefty 50x leverage, which prompted a surge in demand.
This relaunch comes after Binance delisted BSV in 2019 due to a spat between Binance CEO Changpeng Zhao and BSV creator Craig Wright – particularly around Wright's claim to be the founder of Bitcoin (BTC).
Adding to the positive sentiment, Bitget announced it will list BSV in its Public Chain Zone, further boosting market interest.
These two news events have increased BSV's profile in the market, paving the way for price to return to intra-year highs.
Bitcoin Minetrix Seeks to Revolutionize Cloud Mining with Custom Stake-to-Mine Model
Amidst Bitcoin SV's impressive rise, a brand-new project has emerged and begun to gain traction – Bitcoin Minetrix (BTCMTX).
Bitcoin Minetrix is a tokenized cloud mining platform aiming to democratize the Bitcoin mining process.
Traditional cloud mining services often require significant upfront investments and come with the risk of third-party scams.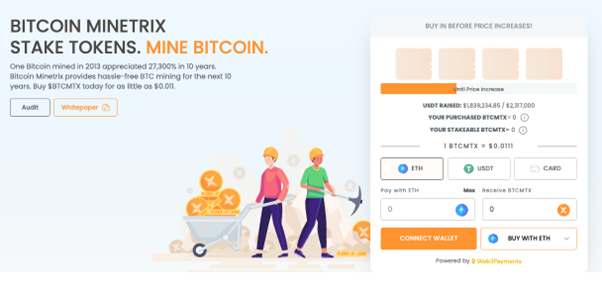 Bitcoin Minetrix promises to change all that since by staking BTCMTX tokens, users earn cloud mining credits that can be burned to gain mining power for BTC.
This "Stake-to-Mine" model eliminates the need for cash contracts and minimizes the risk associated with third-party services.
Moreover, Bitcoin Minetrix's platform will provide yields of 318% per year for users who opt to pledge their BTCMTX tokens to the staking pool.
As of now, Bitcoin Minetrix has raised over $1.8 million during Stage 2 of its presale phase, with just over two days left before the token price increases.
Investors can buy in for as low as $0.0111, which many members of the Bitcoin Minetrix Telegram community believe could be a valuable decision given the project's inherent potential.
The project's developers aim to allocate 42.5% of the BTCMTX supply to fund mining operations, with 35% used for marketing efforts.
This showcases the developers' focus on both sustainability and aggressive expansion.
With the global crypto mining market expected to value around $7 billion by 2032, representing a Compound Annual Growth Rate (CAGR) of 12.90% between now and then, Bitcoin Minetrix's launch looks timed to perfection.