GameFi blockchain, Bluzelle has climbed more than 130% in August before retracing slightly in recent days.
However, if the high timeframe double bottom pattern is valid and confirms, the cryptocurrency could more than double in the coming months.
What Is Bluzelle Crypto And The BLZ Token?
Bluzelle has made headlines this week as prices of the token surge higher. The project boasts more than 10,000 TPS and "seamless" interoperability with Cosmos ecosystem blockchains. Perhaps the most important development is around the chain's GameFi support. GAMMA 4, the Crypto Sci-Fi Epic, is a P2E card battle game created by Bluzelle and Starloop Studios allows gamers to earn BLZ. The Starloop team has worked with top game publishers such as Square Enix, Bethesda, and Ubisoft.
Bluzelle emerges as a market standout, fueling GameFi adoption within the Cosmos ecosystem—a realm largely unexplored by many, echoing ImmutableX's Ethereum success. Bolstering its position, Bluzelle's recent V9 upgrade on Stargate enhances its Layer 1 blockchain with cutting-edge features, like seamless ERC20 wallet interaction, opening doors to expansive growth within its ecosystem.
Fundamental strength appears to be growing, supporting the technicals on the BLZUSD trading pair, which has possibly formed a double bottom pattern.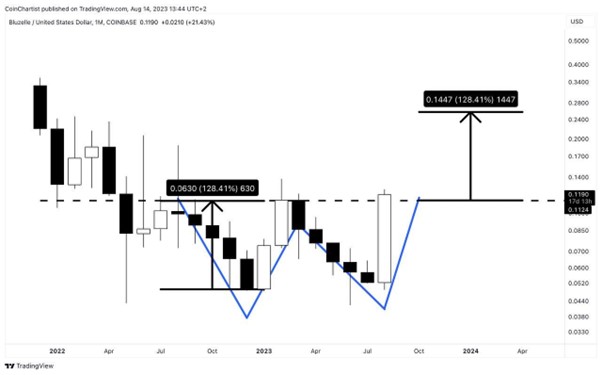 BLZUSD Double Bottom Pattern Targets $0.25
On the BLZUSD 1M price chart, a 128% rebound from the bottom can be seen ultimately getting rejected in early 2023. Price retreats to make a similar low as the previous low, then immediately on one monthly candle has returned to the neckline resistance zone of the pattern.
If price can convincingly break above neckline resistance and close above the key level, the next month could see follow through with increasing volume. These signs would help further validate the chart pattern, which has a target of over $0.25 per BLZ token.
This gain would represent yet another 128% climb, as the measurement of the bottom of the pattern to the neckline is projected from the point of the breakout. Considering that Bluzelle did that much in August, another 128% could come faster than many are prepared for.
For now, price is pulling back so wait for confirmation of the pattern with a breakout above the neckline on higher volume. If other cryptocurrencies are rising, this breadth can further add validity to the breakout.