The Bitcoin bull narrative continues to bring optimism to the market as traders anticipate a move higher toward $40,000 by the end of the week.
Bitcoin is up 27% over the past thirty days but must break resistance at $35,180 to continue its journey to $40,000.
Meanwhile, Bitcoin Minetrix (BTCMTX) is seen as a better alternative with higher potential returns. The project is swiftly approaching the $3 million milestone, demonstrating the building popularity behind the Stake-to-Mine ecosystem.
With just two days to go, this might be your final opportunity to get positioned before prices rise.
Bitcoin Spot ETF Continues to Dominate Market Narrative
What started as false news continues to dominate the market narrative as traders rush to get positioned in Bitcoin ahead of a potential Bitcoin Spot ETF approval.
During mid-October, a false report from Cointelegraph caused the price of Bitcoin to surge as high as $30,000 as traders believed a Bitcoin spot ETF was approved.
While the news was confirmed to be fake, it seems traders are anticipating approval within the coming months, driving the price of Bitcoin higher.
As a result, bitcoin search volume is up, with Cryptogambling.tv stating that the query for "Buy Bitcoin" on Google surged by over 800% in the UK;
Source: trends.google.com
One of the reasons the narrative continues to drive prices higher is that experts predict that the ETF approval is just months away.
For example, billionaire Mike Novogratz, founder and CEO of Galaxy Digital, stated that he expects the US SEC to approve an ETF by the end of the year while speaking at the AIM Summit conference in Dubai.
In addition, Bloomberg analysts estimate a 90% chance for the Bitcoin spot ETF to be approved.
BTC Price Analysis: Where is the Resistance to $40,000?
So, where is the resistance on the way toward $40,000?
Bitcoin price hikes have stalled around $35,180, which is resistance provided by a 1.272 Fib Extension level;
Bitcoin first must clear this level and climb beyond $36,000 to start its journey toward $40,000.
Beyond $36,000, added resistance lies at $37,200 (March 2022 lows), $38,000, $39,000, and $39,500 (early-June highs) – before meeting $40,000.
It's important to note that the RSI shows the market is extremely overbought, suggesting a retracement might be on the table before the $35,180 is penetrated.
Is Bitcoin Minetrix a Better Alternative After Raising $2.8 Million?
While Bitcoin continues to rise, traders are gravitating toward alternative projects that have the potential to provide much higher returns.
In particular, Bitcoin Minetrix (BTCMTX) continues to turn heads as its presale crosses the $2.8 million milestone, showing the building FOMO for the Stake-to-Mine ecosystem.
Investors are rushing to get positioned in the alternative project as they anticipate huge returns ahead of the next Bitcoin block halving.
Bitcoin Minetrix introduces a novel Stake-to-Mine concept in its ecosystem that helps everyday users mine Bitcoin.
The project seeks to remove the risk of third-party mining scams by putting control in the hands of users through tokenization.
Users simply buy and stake BTCMTX tokens to earn Mining Credits, which can be burnt for time on the Bitcoin Minetrix cloud mining service.
As a result, BTCMTX holders earn from staking their tokens and BTC mining earnings – doubling the rewards.
Currently, those staking BTCMTX are earning an impressive 200% APY;

Cloud mining allows individuals to mine crypto without having to own or maintain expensive mining equipment.
However, the centralized services today often lock users into long-term contracts and leave miners short on earnings.
Bitcoin Minetrix intends to change this dynamic by tokenizing the service, allowing users to retrain complete control of their funds.
BTCMTX tokens can be unstaked and sold anytime, providing complete flexibility.
In addition, smart contracts automatically manage user allocations, providing complete transparency.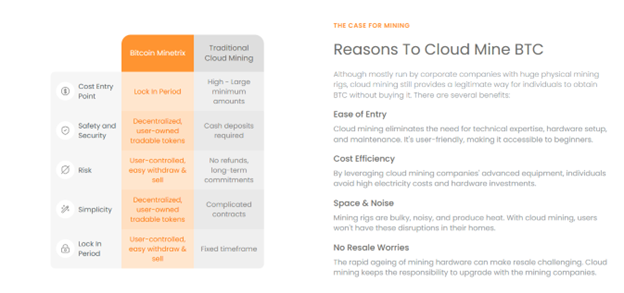 The smart contracts have been fully audited by Coinsult, providing an extra layer of security for investors.
Given its speedy rise toward $3 million, early adopters are touting Bitcoin Minetrix as a disruptive project in the cloud mining space ahead of the next Bitcoin block halving.
Notable analysts like Zach Humphries and Michael Wrubel are expressing bullish sentiment on the Stake-to-Mine solution, adding extra intrigue and credibility to the project.
Furthermore, the project's Telegram community continues to grow as investors join to learn more about the roadmap plans from the development team.
The presale continues to blaze through its milestones after raising $2.8 million in just a month, showing that investor interest is high for BTCMTX.
BTCMTX is currently being sold for $0.0113, but the price will increase in just two days.
Overall, Bitcoin Minetrix is an innovative solution to open the doors of the mining industry to the general public, removing the prevalent mining scams that have plagued the industry in recent years.