There are a few projects out there that have the potential to stay in the market for the long term. Often, projects will arrive with a bang but fizzle out later. The many successful presales but failed efforts after that are a testament to how difficult it is to develop a successful project.
Calvaria is shaping up to be one major exception to that. The project, which is a P2E card battler game, is currently conducting its presale and is having great success. It also has all the hallmarks of being a game that will see long-term success after the presale. The only trouble is that those interested will have to be quick, as it has completed 3 stages in just 1 week!
Calvaria's Presale is Seeing Tremendous Demand
Stage 2 – Sold Out!

Exciting news, 2nd stage of our presale has been sold out in less than three days? and we're moving onto the next one!

Stage 3 Is LIVE

30m $RIA | 1 USDT = 50 $RIA
Price: 0.02$

Don't miss the RIA at the best price?

Join Presale: https://t.co/rlaLVerDEi pic.twitter.com/ZSHxHkP9D7

— Calvaria: Presale is Live! ✨ (@CalvariaP2E) October 30, 2022
Calvaria is currently in the third stage of its presale and is already seeing massive numbers, with 65% complete. The platform's native token RIA token was priced at $0.01 per token initially, increasing to a maximum of $0.325 as the presale stages progress. The token can be purchased with ETH or stablecoins, with 1 USDT giving you 50 RIA, though this will reduce to 40 RIA as time progresses.
There has been a heavy influx of investors across all 3 stages, resulting in the 3 stages being completed in a week. This is the last chance for investors to get into the Calvaria ecosystem at a low price, as the token looks like it's going to see an increase given the popularity of the presale. Calvaria has been inching closer to the release of its presale target and the current rate suggests that it is very close to completion.
Calvaria is seeing success because of how accessible it is and the fact that there are so many features. Most importantly, players don't need a crypto wallet or even hold or purchase any assets, to start playing. This makes it easy for those with no crypto experience to get started. It is also available on both desktop and mobile devices.
Calvaria also has both a Free-to-Play (F2P) and Play-to-Earn (P2E) mode, which further enhances its accessibility. Being a card battler game, it uses NFTs, though the blockchain-based features are not available in the F2P mode. However, these players can still battle against others. The P2E mode also offers several unique features, such as the ability to wager on tournaments and sell in-game assets. Another feature that sets it apart from other games is the fact that there is a story mode.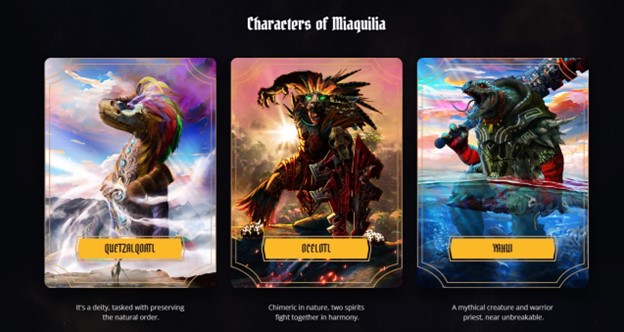 Calvaria is known for its stunning artwork.
As for Calvaria's setting and design, the game is set in the afterlife, with various factions vying for power. Both the universe and the characters have a striking design that rivals any other NFT collection on the market. This coupled with the many features is drawing investors into the ecosystem.
Closing in on another huge milestone!
Don't miss the chance to buy while it's cheap!
Join: https://t.co/xB0JFvLyoN#CalvariaGang #blockchain #cryptocurrency #altcoins pic.twitter.com/20xbUuqtI6

— Calvaria: Presale is Live! ✨ (@CalvariaP2E) October 31, 2022
Players can also engage with the ecosystem in other ways beyond battling other players. Calvaria will include a staking facility, a scholarship system, mini-games, and an in-game store. Community-driven progress is also very important to the team and as such, they will implement a DAO that uses the RIA token. Stakeholders will be able to determine the future of the project.
1 USDT results in investors getting 50 RIA tokens currently, but this will decrease to 40 RIA soon. The first presale is selling 30 million RIA tokens, with a total of 300 million RIA tokens available across all presales. The price range of the RIA token across the presales will vary from $0.01 to $0.325.
Calvaria's is Getting All the Attention
Calvaria has managed to run a successful presale quickly and the team is expected to continue this as the presale nears its conclusion. Calvaria has managed to win investors over with its slew of features and fantastic design. The presale's quick completion indicates that the remaining tokens on sale may not last for much longer.
Check out the Calvaria presale