Chainlink (LINK) has pumped a staggering 14% in the last 24 hours as crypto prices continue to race ahead. LINK has fared as the top-performing top 100 crypto by market cap over the past day, followed by Fantom, which is up 11%.
Analysts attribute the recent pump to its ecosystem innovation. Meanwhile, promising projects like Bitcoin Minetrix, Meme Kombat, TG Casino, Quant, and Unibot all look poised to explode.
Chainlink Surges With CCIP and Other Ecosystem Developments Driving Bullish Sentiment
Chainlink's recent pump is no surprise to trend-savvy market participants who understand the technological breakthrough of Chainlink's new Cross Chain Interoperability Protocol (CCIP) upgrade and what it means for the industry.
CCIP is a new Chainlink standard enabling the free flow of data and liquidity across supported blockchains through a decentralized network of nodes. The protocol was launched in July, but its price was primarily unresponsive, finding resistance at its yearly support level of $9.
However, with the broader market conditions switching bullish recently amid the SEC's diminishing threat and the anticipation of the upcoming Bitcoin halving growing, Chainlink has hit $10.8, pumping over 40% this week.
The LINK price chart shows that its recent pump has propelled it out of its bear market accumulation zone, which was forming a wedge.
That said, its RSI is currently at 70, indicating a risk of a pullback in the coming weeks. Still, the community remains overwhelmingly bullish, with many analysts calling for even higher prices.
One popular breakdown comes from LarryLogical, who compared Chainlink to Ethereum and alluded that CCIP may make LINK "as, if not more important than $ETH."
According to the tweet, the difference between Ethereum at Chainlink's current market cap and its ATH was 87x, with the analyst speculating that LINK could do the same.
Meanwhile, crypto analyst Goodman weighed in on Chainlin's current price, insinuating it is massively undervalued given its notable ecosystem developments and price compared to its ATH.
Goodman's reference to gas being paid in LINK could hold significant importance since it adds considerable utility, particularly when combined with its new cross-chain functionality.
Data from Santiment also indicates bullish momentum for Chainlink, with "LINK" being the most trending term on social media.
Best Cryptos to Watch This Week
While Chainlink is among the top crypto gainers right now, here are five other bullish coins to watch this week.
Stake-to-Mine Bitcoin Minetrix Enables Users to Effortlessly Earn BTC and Hits 2 Million at Presale
Bitcoin MInetrix is a new cryptocurrency that aims to redefine Bitcoin mining by making it simple and accessible to everyone. The platform is based on a Stake-to-Mine concept, where users stake $BTCMTX tokens for Bitcoin mining credits. They can then burn these mining credit tokens to receive cloud mining power, earning them free Bitcoin.
The simple process requires no technical expertise or upfront costs, providing significant advantages compared to traditional Bitcoin mining. With the looming Bitcoin halving and the expected price increase of Bitcoin, combined with Bitcoin Minetrix's current low price and groundbreaking utility, it is no surprise that the project is attracting significant interest from investors.
It is currently undergoing a presale, priced at $0.0111. However, its current presale round will end shortly, followed by a 10% increase. Following this, we will see six more 10% price increases before its exchange launch.
This massively incentivizes investors to buy it early and is likely part of the reason it has raised over $2 million in under one month.
Yet such significant discounts will not last long. Therefore, those looking to secure the best $BTCMTX price should act fast.
Visit Bitcoin Minetrix Presale
P2E Presale Meme Kombat Gamifies Crypto Gambling for Viral Potential, Nears $650K
One of the most promising trends lately has been crypto casino, with market leader Rollbit gaining a $500 million market cap. Another project rolling the dice on crypto gambling is Meme Kombat, a gamified P2E meme coin that lets users bet on the outcome of AI-generated meme battles.
The incorporation of meme characters to the crypto casino trends holds massive viral potential, providing a place that all crypto degens can call home.
Its $MK token is the asset that connects said degens, with users requiring it to wager on battles and for staking. The platform provides a generous 112% staking annual percentage yield (APY), which will likely result in lots of tokens being locked up.
Ultimately, its utility and staking-driven demand, crossed with meme coin allure, hint at significant upside potential, particularly considering the project is in its presale.
The team has allocated 50% of tokens to the presale, with 10% to DEX liquidity, 30% to staking and battle rewards, and 10% to community rewards.
So far, it has raised almost $650K, with its first presale target at $1 million and current price at $0.1667. However, with the price expected to rise soon, potential buyers should not wait around.
Interoperability-Focused Quant is 1 of 7 ISO-20022 Complaint Cryptos
Quant is an interoperability-focused cryptocurrency that connects supported blockchains without compromising efficiency or security.
The network is one of only seven ISO 20022 complaint cryptos, providing significant long-term potential.
ISO 20022 is a standard for electronic data exchange, facilitating international, cross-border banking. All prominent global banks aim to integrate the standard by 2025, with ISO 20022-complaint cryptos potentially providing a bridge to blockchain.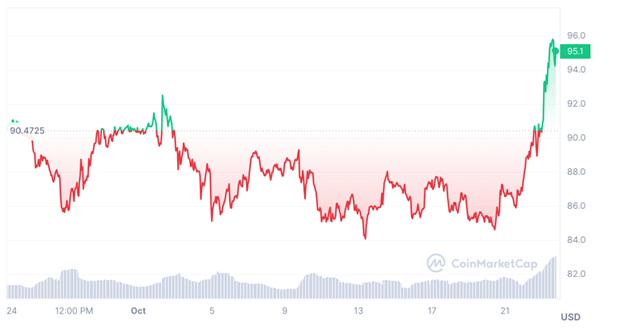 Moreover, its focus on interoperability is another indication of significant potential, evident in Chainlink's 40% surge this week thanks to its CCIP upgrade.
Like many other cryptos, Quant has pumped recently, up 5% in the last 24 hours and 9% in the previous week.
Interestingly, its trading volume has soared 81% in the past 24 hours, currently at $26 million. This indicates a growing interest in the project, which could be put forth by Chainlink's recent pump.
New GambleFi Token TG Casino Raises $1.4 Million, Backed By Compelling Tokenomics
Another new presale looking to cash in on the crypto casino trend is TG Casino, an anonymous Telegram-based casino that has raised over $1.4 million in one month.
As well as capitalizing on the crypto casino trend, TG Casino leverages the Telegram trend, which has propelled cryptos like Unibot to soar recently thanks to its seamless user experience.
TG Casino is KYC-free and does not require users to create an account, making getting started effortless. Moreover, it is one of the only Telegram casinos to be fully licensed and regulated.
Furthermore, its native $TGC token offers countless benefits. For instance, holders can access rewards, exclusive games and rooms, 25% cashback on all losses, 364% staking APY, and more. This provides significant utility, leading to tremendous upside potential.
Yet the most exciting factor is its buyback mechanism, which repurchases $TGC tokens with a portion of the platform's profits. It will burn 40% of these tokens and distribute 60% as staking rewards. This means that holders directly benefit from the casino's success, a massive benefit over traditional online casinos.
Currently, investors can buy $TGC for $0.1375, but the price is set to rise in eight days. As such, those looking to acquire the token for its lowest-ever presale price must act fast.
Telegram-Based UNIBOT Lets Users Execute Trades in Seconds
One of the most prevalent issues in crypto is its complex user experience and slow speed. This comes to light in many forms, including the countless steps and time it takes to place a trade on-chain.
Unibot is a new Telegram bot enabling users to execute on-chain trades directly from the Telegram app.
With Unibot, trades take seconds instead of minutes, and the platform features numerous sophisticated features like limit orders, a mirror sniper, and private transactions. This provides a much more "CEX-like" feel to decentralized trading, solving much of cryptos usability issue.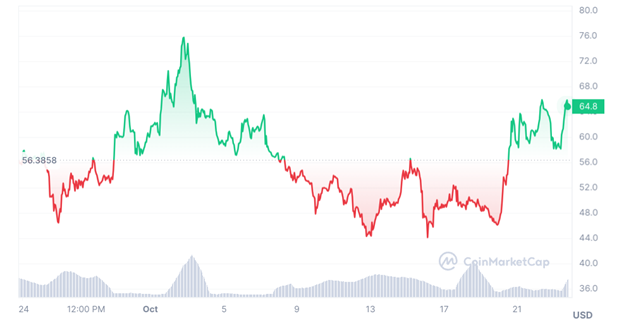 The project also features a revenue share mechanism that distributes fees accrued through its platform to holders.
With the next bill run on the horizon, crypto transactions will only take longer to execute, bolstering the need for a tool like Unibot.
Its price has fared well recently, up 3% in the last day and 35% this week. Currently, it has a $65 million market cap and a $7 million 24-hour trading volume, which is up 87% in the last day.