Changelly, a premier non-custodial instant cryptocurrency exchange, has made its mission to lower the entry barrier and make crypto available to everyone. It is with that goal in mind that Changelly developed their fiat-to-crypto marketplace.
While these days the crypto market is filled to the brim with a wide variety of different ways to buy crypto, Changelly's marketplace presents a smooth and simple service for those who prefer to be able to compare offers from reliable exchange providers under one roof.
Customers will be given an opportunity to choose offers from the most reputable fiat providers and will be able to acquire crypto with fiat at the best rates in just a few steps. Currently, Changelly's fiat-to-crypto marketplace aggregates offers from Banxa, Simplex, MoonPay, Indacoin, Coinify, and Wyre, with many more trusted providers to join soon.
Benefits:
Intuitive Amazon-like interface
Multiple payment options (credit cards, bank wires, Apple Pay, etc)
Supports a wide range of altcoins
No KYC up to $150
Cryptocurrency is not held by the platform and sent to your wallet directly
No registration/withdrawal fees
24/7 live support
Let's take a closer look at what the purchasing process looks like
The platform offers an enhanced user experience which is quite similar to purchasing any product from familiar ecommerce platforms like Amazon. Changelly fiat-to-crypto marketplace aggregates offer from several providers. Depending on the transaction value and the chosen provider, users may be asked to complete KYC requirements before they could complete the transaction.
Upon successful completion of the transaction, the purchased cryptocurrency will be deposited into the wallet address provided during the earlier steps. The entire process will take from 30 minutes to a few hours.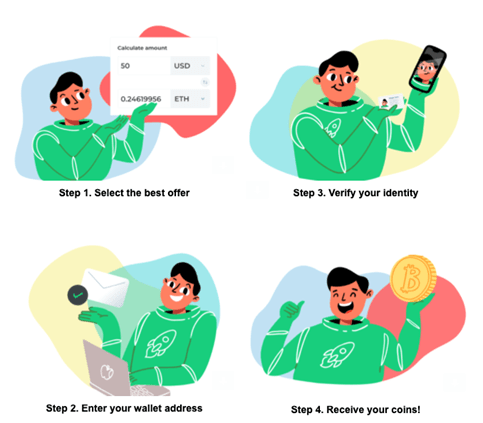 "Changelly's mission has always been to provide customers with the easiest and fastest way to buy and swap crypto. Two years ago we became the first to introduce credit and debit cards to purchase crypto and in so doing paved the way for others to launch similar services. With the more fiat options becoming available we felt it best for our customers to have a tool, which provides all the best rates from different fiat partners we work with," underlined Changelly CEO, Eric Benz.