As 2023 kicked off, COVID-19 scars faded, and the crypto market finally saw a turning point after a rough 2022. For instance, ecosystems including Bitcoin, NFT, the ecosystem of Arbitrum and Optimism received funding support, and Hong Kong's adoption of crypto-friendly policies led to the boom of HK Coin. However, due to the unexpected rise in inflation and the quantitative tightening approach taken by the Federal Reserve, the market fell into a vicious cycle at the end of February. In early March, the collapse of three US banks, Silvergate, SVB, and Signature Bank, triggered a liquidity panic and regulatory concern.
BTC Overview
After a two-month Bitcoin slump, investors go back to risky assets, as inflation expectations have declined. In mid-January, the BTC price started to rise, with increasing trading volume. The improved risk appetite among investors has unlocked a rise in crypto prices, and both institutional and retail investors are buying more cryptos. Despite that, in early March, following the collapse of the US banks and pessimistic investor sentiment, Bitcoin fell below the $20,000 mark. The market sentiment somewhat improved after the Fed intervened, leading to a rebound in crypto prices.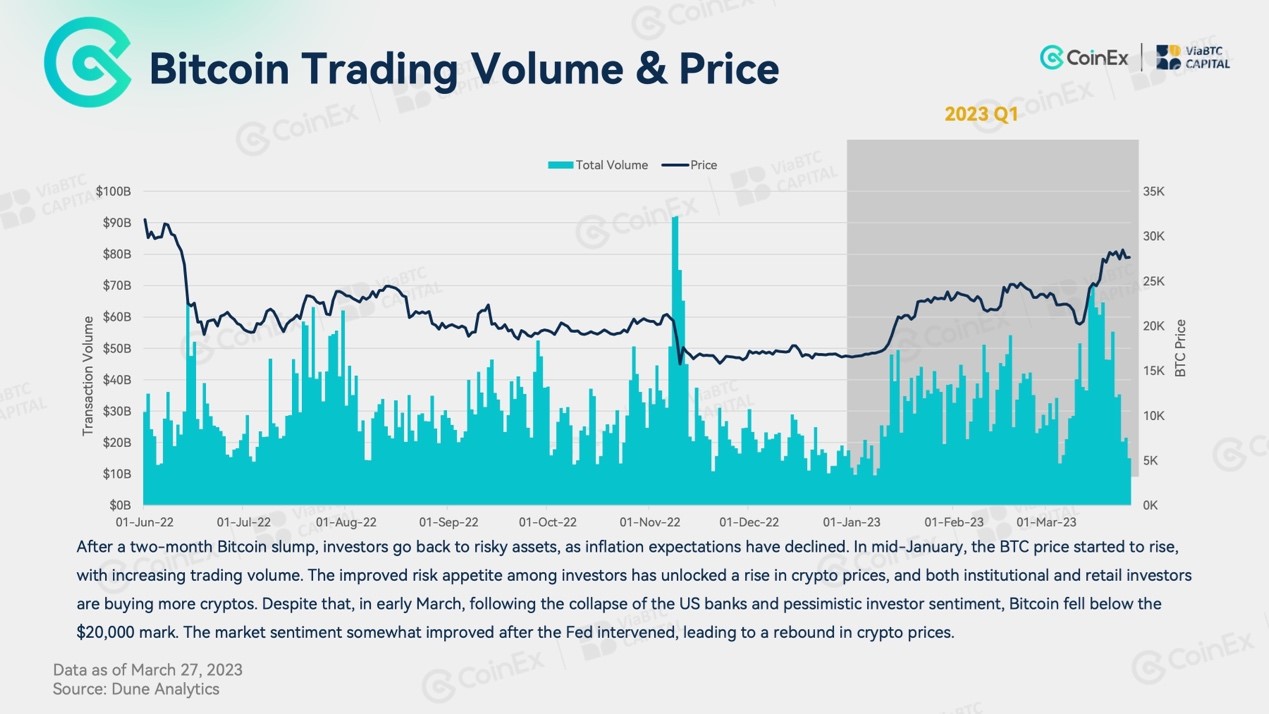 Additionally, BTC has also joined the DeFi Legos and presented a new narrative: BTC-Fi.
Ordinal inscriptions began on December 17, 2022, but did not start to surge until late January. As of March 27, the number of Ordinals inscriptions has exceeded 600,000.
ETH Overview
The Shanghai upgrade module has already gone live on the Goerli testnet for users to test their codes in advance, and it will officially be launched on the Ethereum mainnet on April 12.
The total ETH staked stands at 17.94 million ETH, which accounts for only 14.9% of the total ETH supply. However, we can expect to see a significant increase in the ETH staked after the upgrade.With respect to Liquid Staking (LSD) protocols, Lido remains the industry leader in terms of the number of nodes.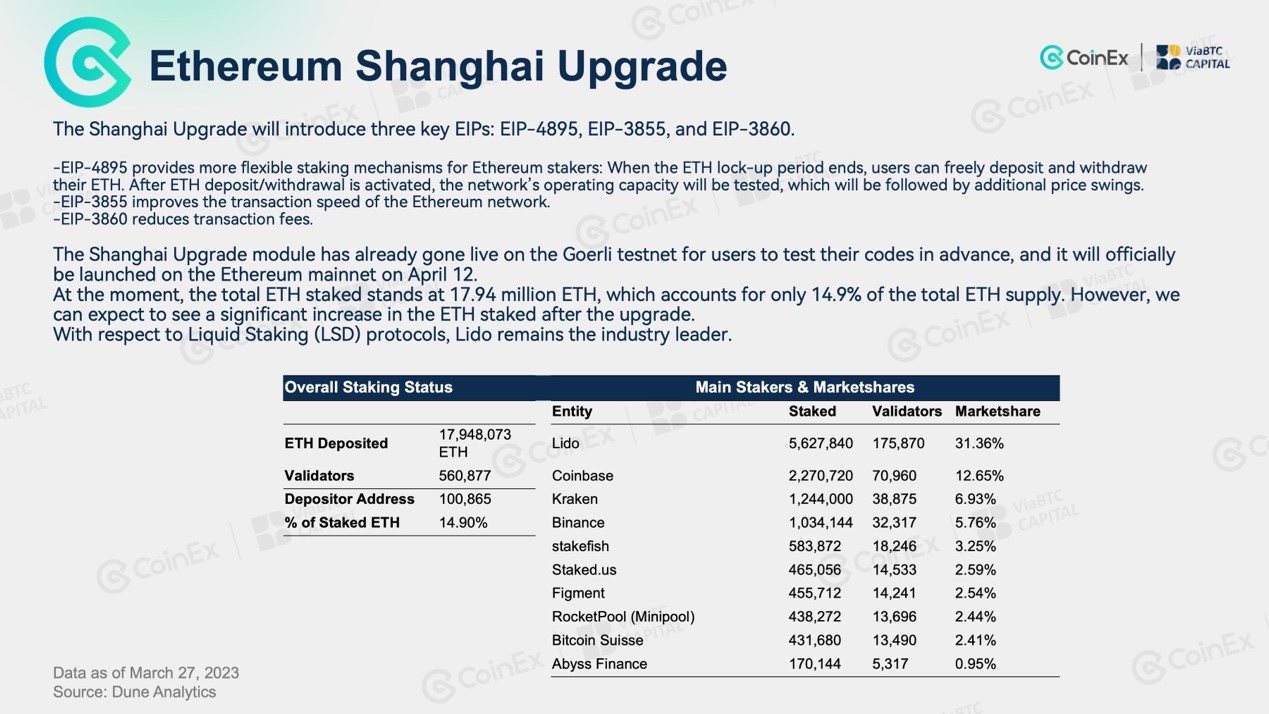 NFT-Fi
Blur's airdrop has also brought a boom in the NFT-Fi sector. During Blur's third airdrop that kicked off on February 14, the claim rate exceeded 94% within one week. 70% of the participants received less than 1,000 BLUR, and the biggest winner got 3.2 million BLUR, which is still unsold as of the end of March. Read more to get the insight: Exploring the Opportunities Ahead: A Look at NFT Projects as the BLUR Launch Approaches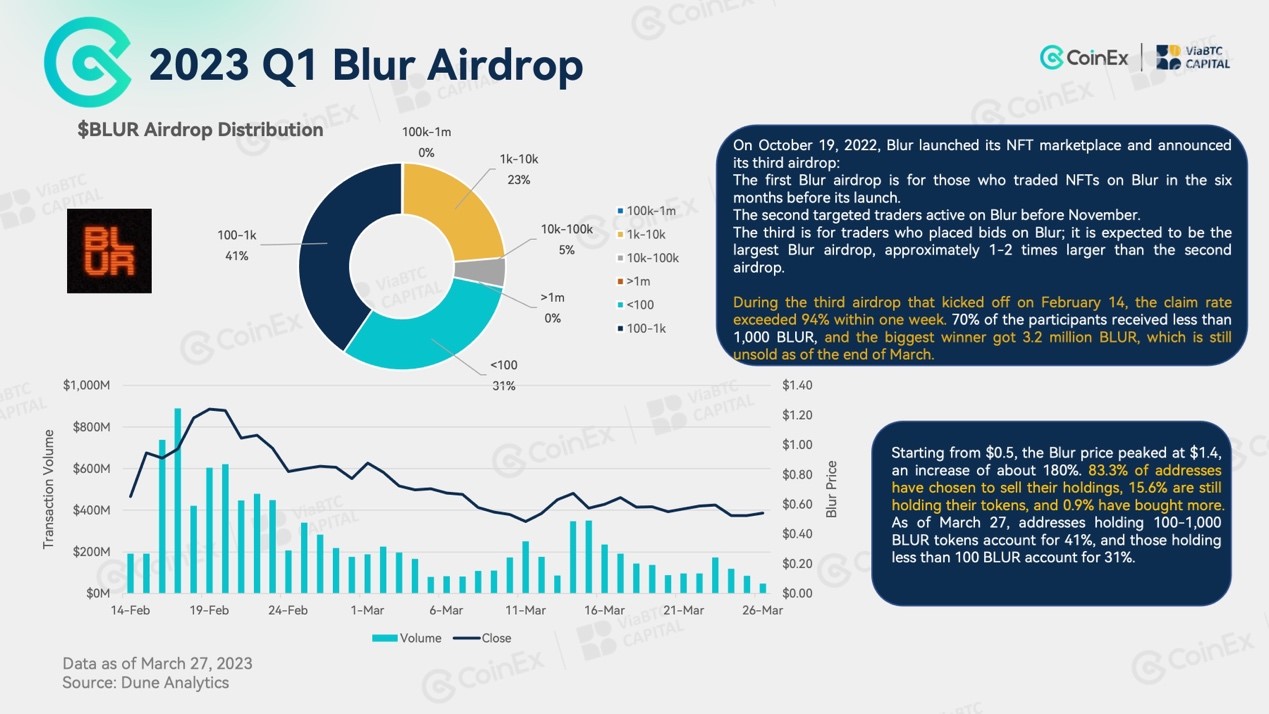 Arbitrum VS Optimism
As the DeFi demand on Arbitrum grew along with the Q1 2023 market rebound, its daily active users surged by 163% over the past six months. Optimism's daily active users, on the other hand, experienced more volatile changes. This has been the case because the network would launch a series of reward programs with tokens or NFTs distributed to users who interacted with Optimism, and daily active users would significantly decrease once the rewards ended. Both Arbitrum and Optimism's native ecosystem projects performed well in Q1 2023. Read more to get the insight: Optimism vs Arbitrum: Who Will Prevail in the Red-Blue Race?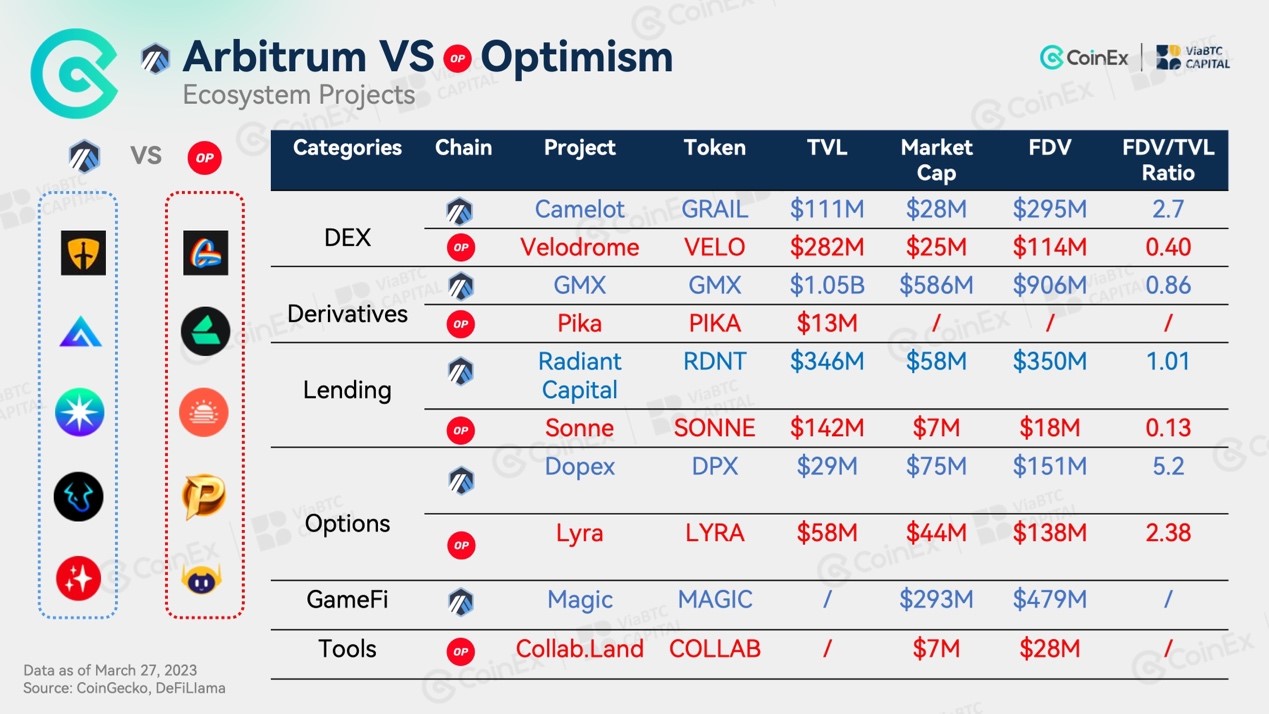 ZKP Overview
In Q1 2023, ZKP-related projects have made significant progress in areas such as anonymous coins, ZK Rollups that support zkEVM/zkVM, and cross-chain bridges. In particular, Zcash and Monero have continued to improve their performance and security, while projects such as zkSync, Scroll, Starknet, and Polygon EVM have made breakthroughs in scaling Ethereum smart contracts. Furthermore, some cross-chain bridges, including Succinct Labs and =nil; Foundation, are exploring ways to generate validity proofs using ZKP technology to validate consensus for lightweight clients with efficiency and low costs. Read more to get the insight:
ZKP: Building Secure, Efficient Cross-chain Bridges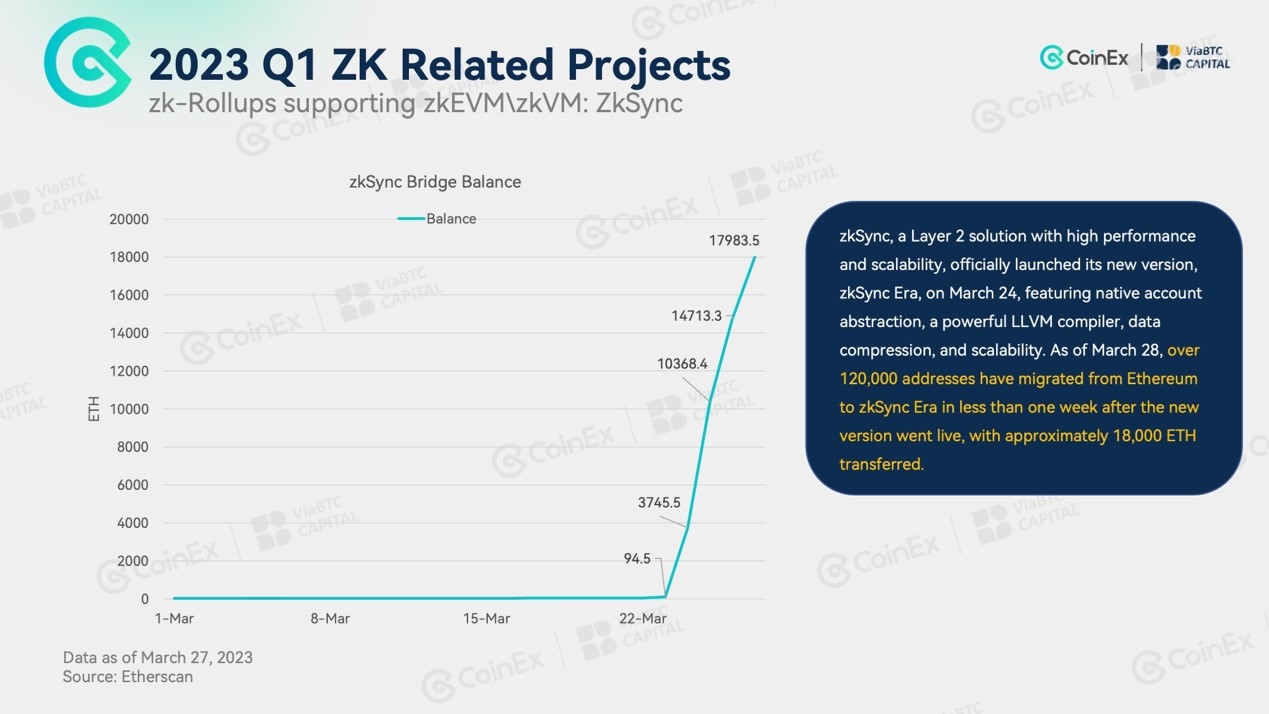 HongKong Coin
On February 20, Hong Kong's Securities and Futures Commission (SFC) stated in a consultation paper that individual investors would be allowed to trade larger coins on exchanges licensed by the SFC, with the aim of allowing retail traders to access crypto under the new crypto exchange licensing regime that will take effect on June 1.
Hong Kong is now home to about 50 local crypto projects, which are crypto firms with their core businesses or teams stationed in this region. Most of the projects operate in the field of CeFi and CEX, and some also focus on GameFi and the Metaverse. It should be noted, however, that there is no clear definition of Hong Kong coins yet, and investors should beware of Ponzi schemes that disguise themselves as Hong Kong coins.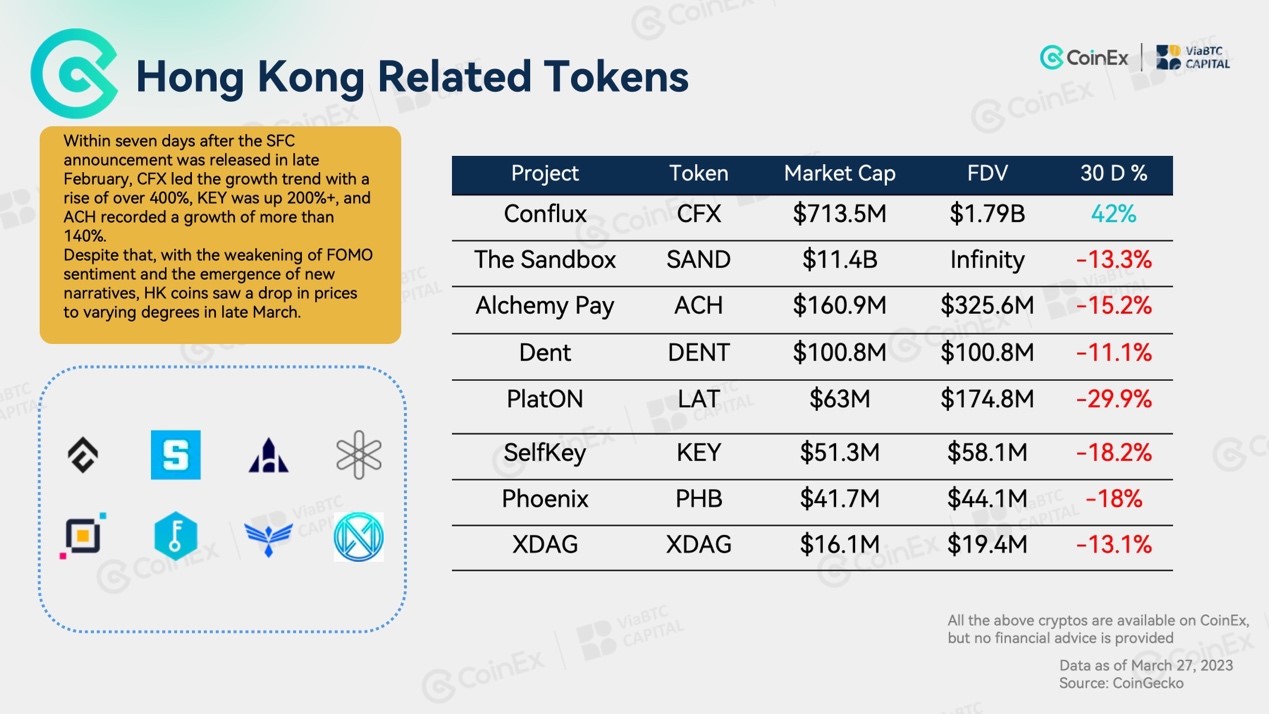 AI
This February, ChatGPT triggered heated discussions centering on artificial intelligence (AI).
The AI trend has not only stirred up the traditional capital market and brought popularity to AI stocks worldwide, but has also affected the crypto market. Many ambitious crypto companies have seized the trend, and projects with AI coins have witnessed a surge in prices. For instance, the AGIX price is up 700% in the past three months. Despite all that, AI coins experienced a correction in late March, with price drops to varying degrees.
American Banks Bankruptcy
Recently, along with the fall of US banks including Silicon Valley Bank, Signature Bank, and First Republic Bank, many banks suffered a slump in valuation. This is just the tip of the iceberg in terms of the risks facing the US banking industry. Today, the Fed is facing an industry-wide crisis coupled with a liquidity crunch. The collapse of US banks has further sparked discussions of decentralization, raising the question of whether decentralization is the ultimate destination for humanity.
Summary
Overall, the crypto market started recovering in Q1 2023, and the market has continued to offer new opportunities and categories. That said, it remains unclear whether the crypto space could bounce back and achieve new success. In the meantime, full market recovery requires more innovations, and the road ahead will be challenging.
CoinEx is a global crypto exchange committed to making crypto trading easier. Available in 15 languages, the exchange offers a wide range of products and services, including spot trading, futures trading, margin trading, AMM, crypto finance, and strategic trading. CoinEx provides easy-to-use, secure, and reliable crypto trading services for more than 4 million users in over 200 countries and regions.
All crypto assets mentioned above are available in CoinEx (no financial advice).
Download the full report to learn more about the crypto industry HOT SPOTS review.
https://drive.google.com/file/d/1YPXYmbLqH4auIsWsaA7CjZwFFPC-6HzP/view