Aptos and Sui are derived from Facebook's Diem blockchain project. Although the Diem project collapsed later, it left behind the Move language. Four of the co-founders formed Mysten Labs on their own and began building Sui.
The new public chain ecosystem is becoming busy again with the debut of Aptos' Stealth and a large number of airdrops in October 2022. Sui, which is expected to launch its mainnet soon, has attracted more than 490,000 followers on Twitter and over 750,000 members on Discord. With its attention rate increasing by 10% compared with the figure last month, its main net is also set to go live on May 3, Sui has come under the spotlight again.
First, let us get to know something about how Sui works.
Sui's transaction per second (TPS) has the potential to reach 120,000. According to its transaction categorization and consensus system, simple transactions follow basic consensus while complicated transactions observe a full set of consensus. Moreover, the consensus layer isolates information transfer from consensus execution, thus completing parallel transaction execution.
Sui's architecture consists of three components: Object, Transaction, and Validator.
Sui adopts the DPoS consensus, which is implemented using DAG-based Byzantine fault-tolerant Narwhal and Bullshark (an enhanced version of Tusk). Such an architecture enables Sui to execute transactions in parallel and establish consensus rapidly.
Each transaction generation and consensus propagation is separated into rounds based on the DAG design. All nodes on the Sui blockchain connect to 12+1 genesis blocks and initiate the first round of verification. Tusk continues the process of choosing a leader and confirms the sequencing of transactions, so Sui's blockchain begins to operate. Based on such a consensus mechanism, Sui accomplishes parallel transactions, separates data from consensus, and realizes the creation of block technology.
Difference between Sui and Aptos
As the public chains derived from the Move language, Sui and Aptos have gained the attention of top investors since their launch. a16z participated in the first funding round of Sui in December 2021 and that of Aptos in March 2022. Currently, Aptos has a market cap of about $1.99 billion (tokens issued), and the valuation of Sui exceeds $2 billion after the series B financing.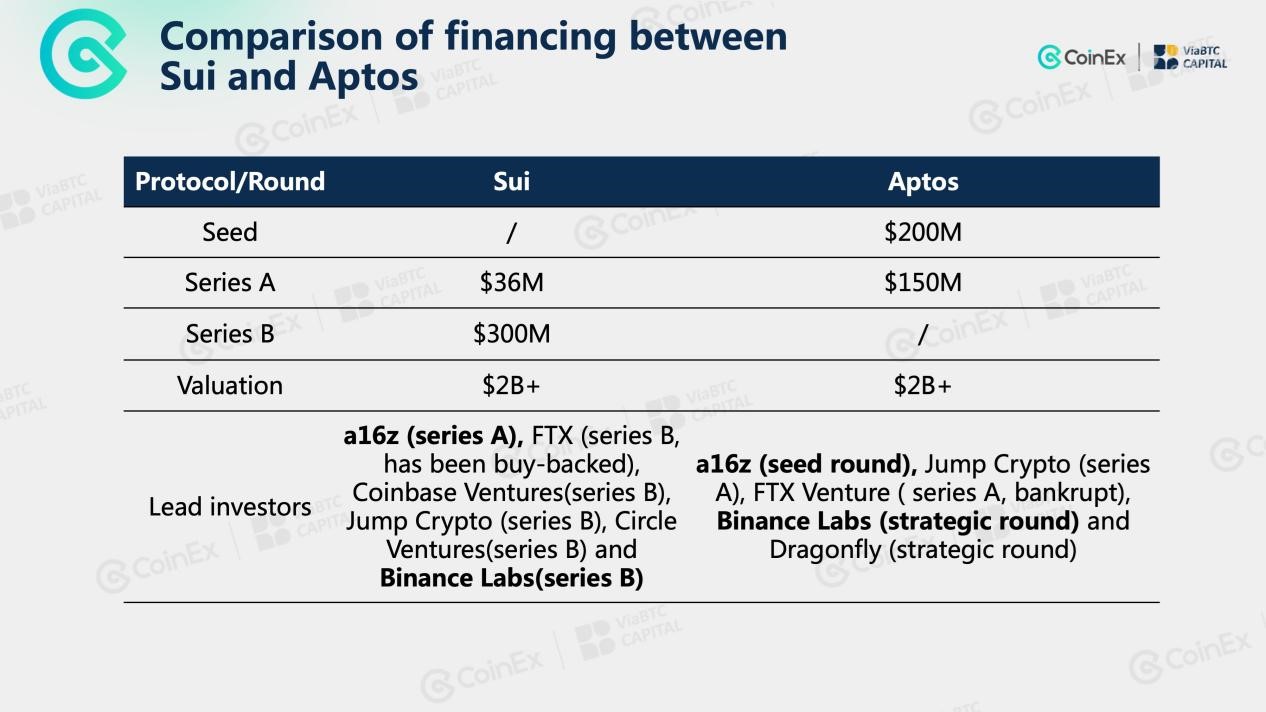 Sui and Aptos are both derived from the Diem project and aim to enhance the TPS, scalability and safety. Both of them implement the Proof-of-Stake (PoS) consensus and parallel transaction execution. But the algorithm behind them is different.
Comparison of Ecosystem
The Aptos ecosystem is growing rapidly. From infrastructure services such as wallets and oracles to functional applications such as DeFi, NFT and games, Aptos has gradually developed a well-structured and diversified ecosystem that is evolving constantly. By contrast, Sui is developing much more slowly. In June 2022, the Devnet was launched, supported by four nodes operated by Mysten Labs for developers to test on. The Testnet Wave 1 of Sui was launched during the period from November to early December 2022. Hundreds of people were selected from the 28,000 applicants in August to run Sui validators and full nodes, including 20 validators and 500 nodes.
Wallet
The wallet is the first gateway for users to a public chain ecosystem. According to data from Sui Global and the Aptos Foundation, there are seven wallet projects under development on Sui, while there are at least 14 on Aptos.
Aptos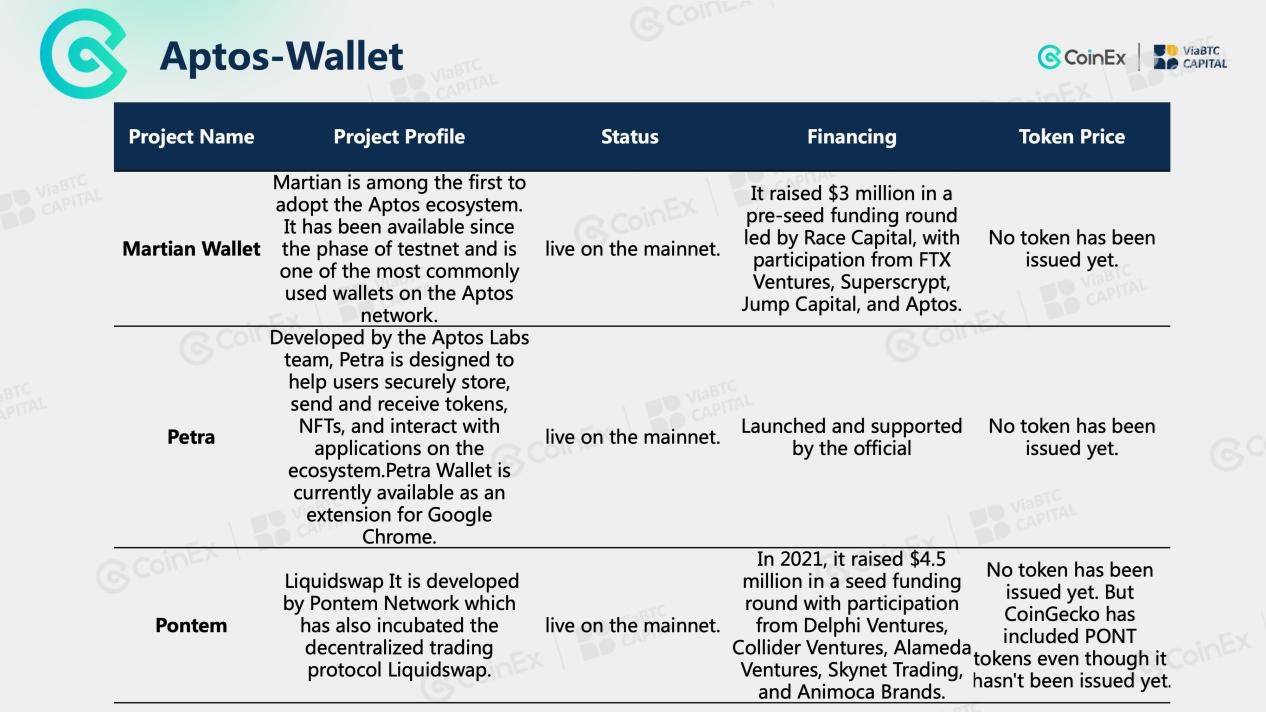 Sui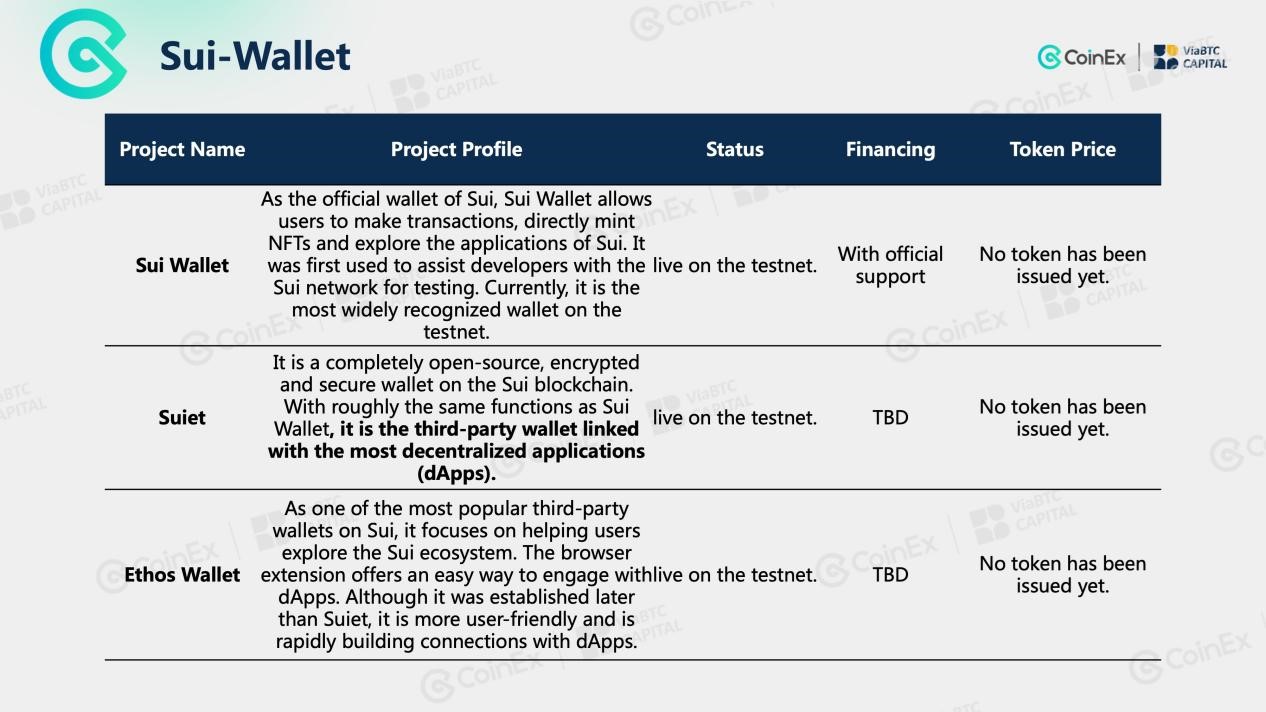 Cross-chain Bridge
Aptos: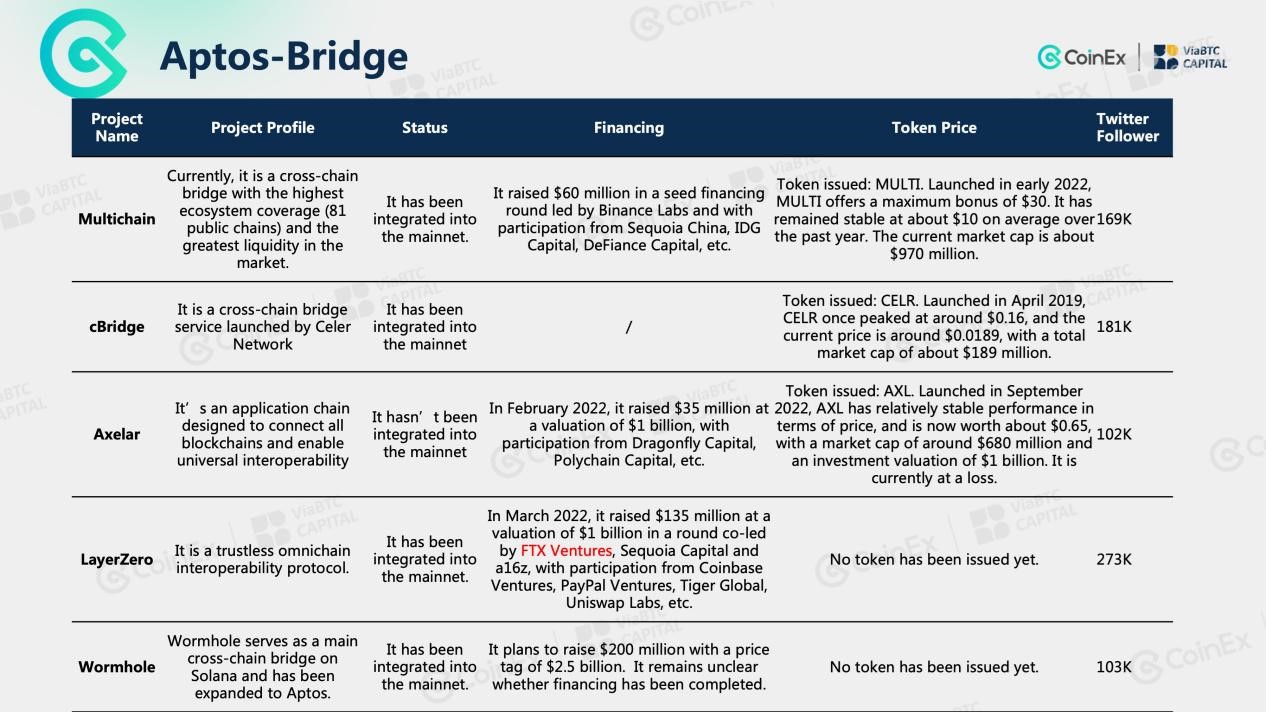 Sui
LayerZero and Wormhole, two of the largest cross-chain bridge projects on Sui, will be integrated after the mainnet launch. From the perspective of investment, there are no better alternatives in the current market. Considering that neither of the two projects has issued tokens and the upcoming airdrops are to be confirmed, there is no need to pay much attention to the investment in them.
DeFi
Aptos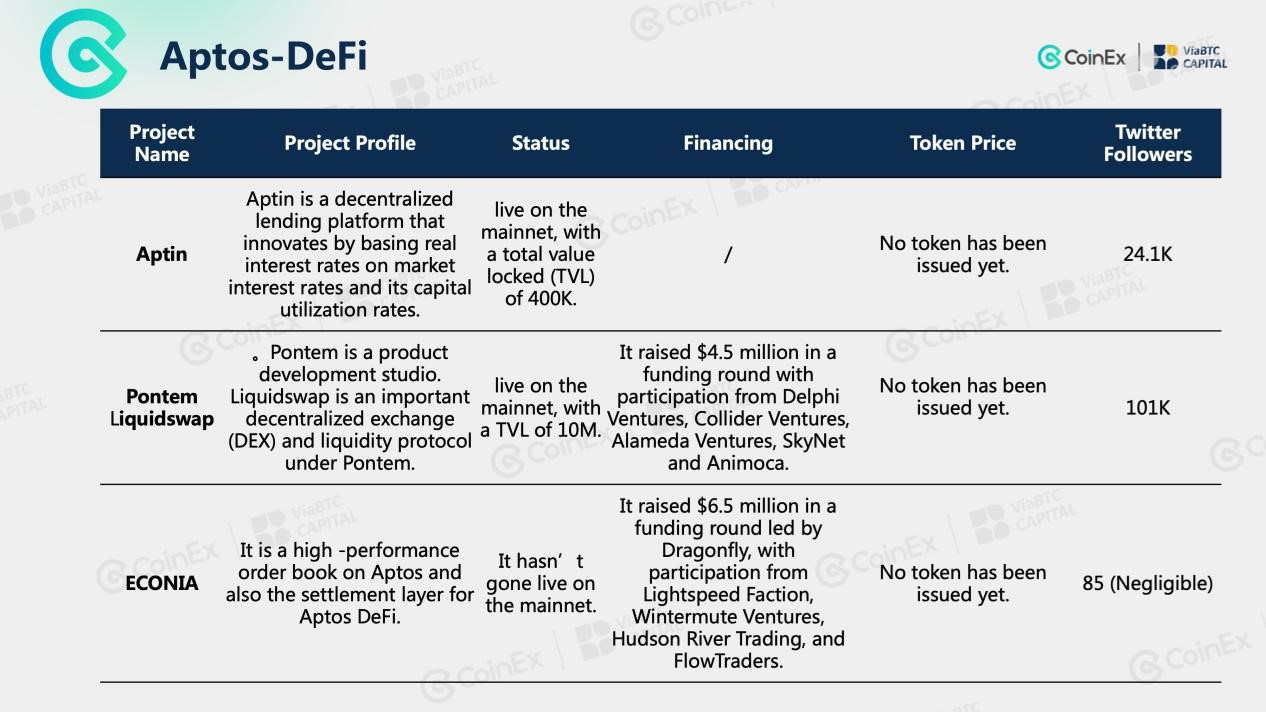 Sui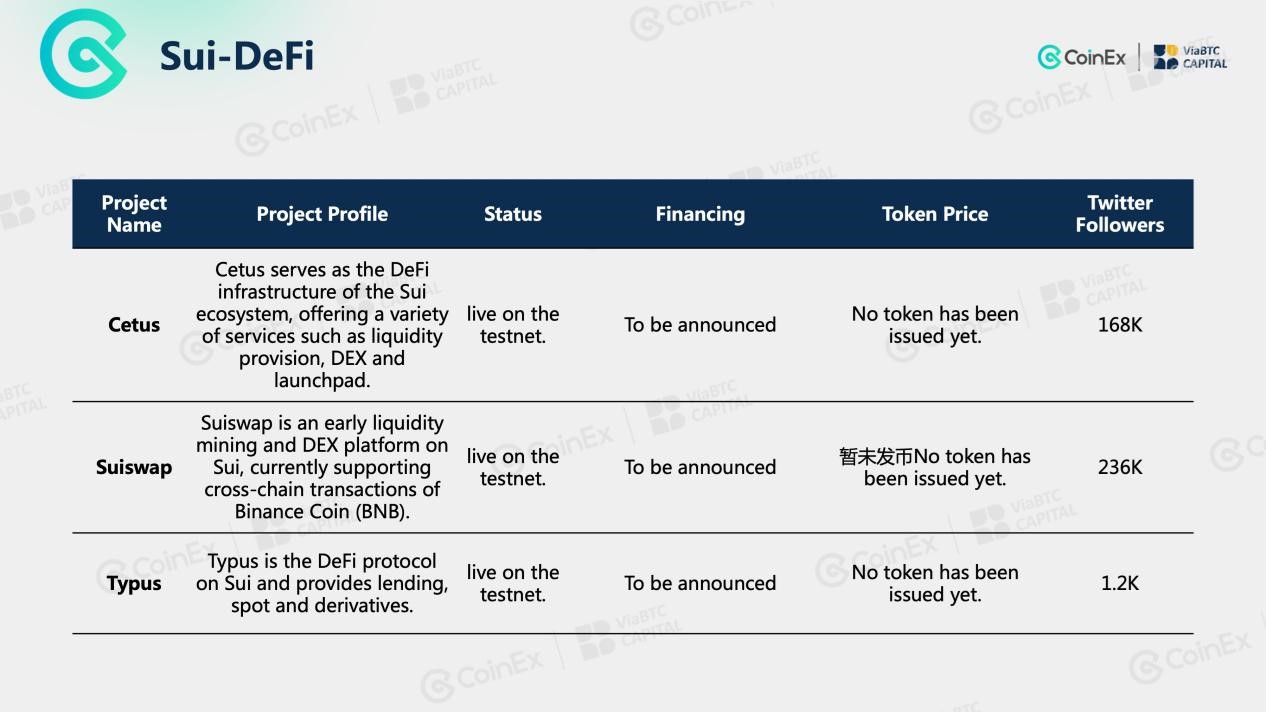 As a project that has already launched the mainnet, Aptos has yet to make any notable progress in the DeFi field, with a low TVL and little attention paid to its on-chain data. By contrast, Sui has yet to launch the mainnet, so there is no data available to the public, but it has garnered a similar level of attention and exposure to Aptos.
NFT
Aptos
Sui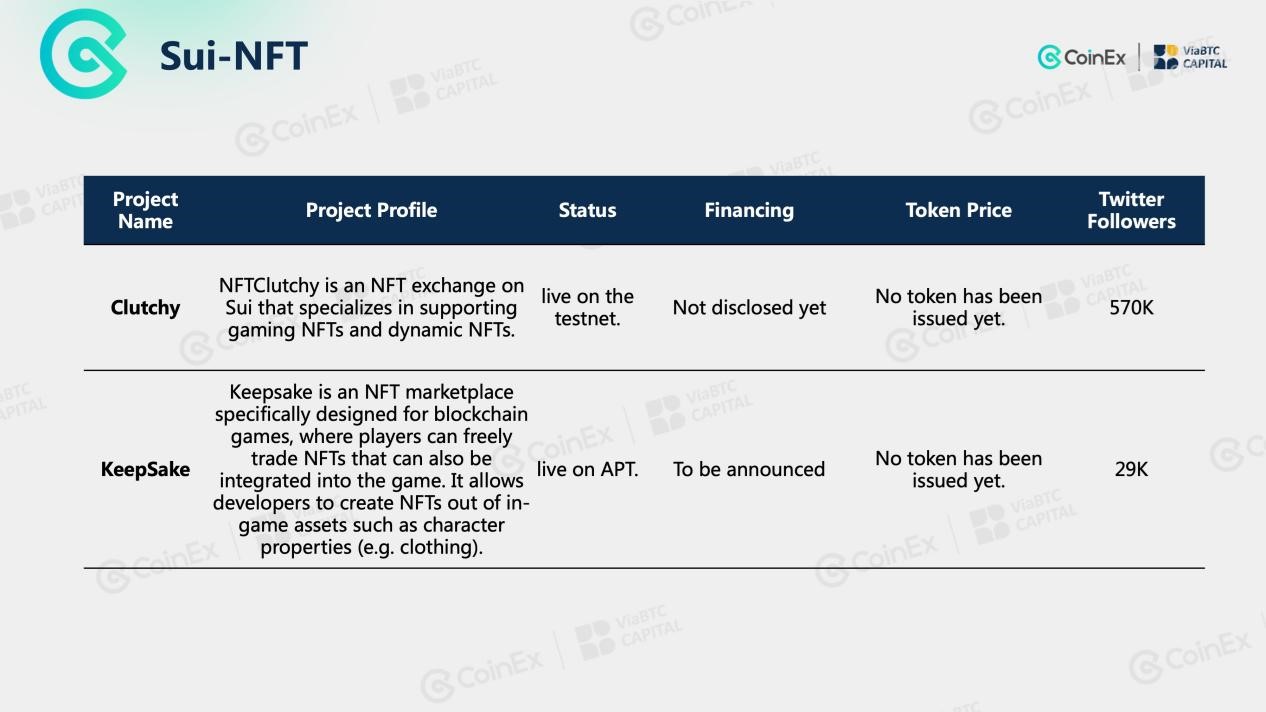 The NFT marketplace on Aptos is highly homogeneous, while the NFT platforms on SUI combine some of the characteristics of MVOE NFT and have made some changes and shown characteristics of games and variable NFTs.
Game
Aptos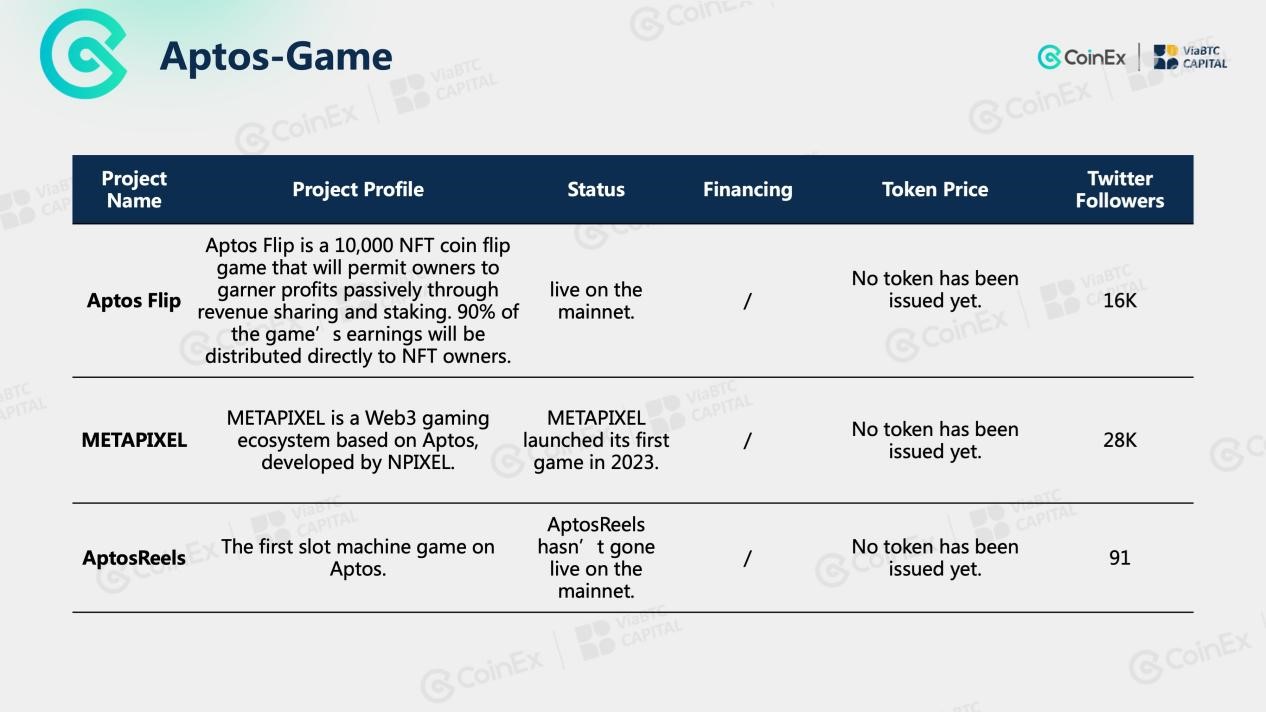 Sui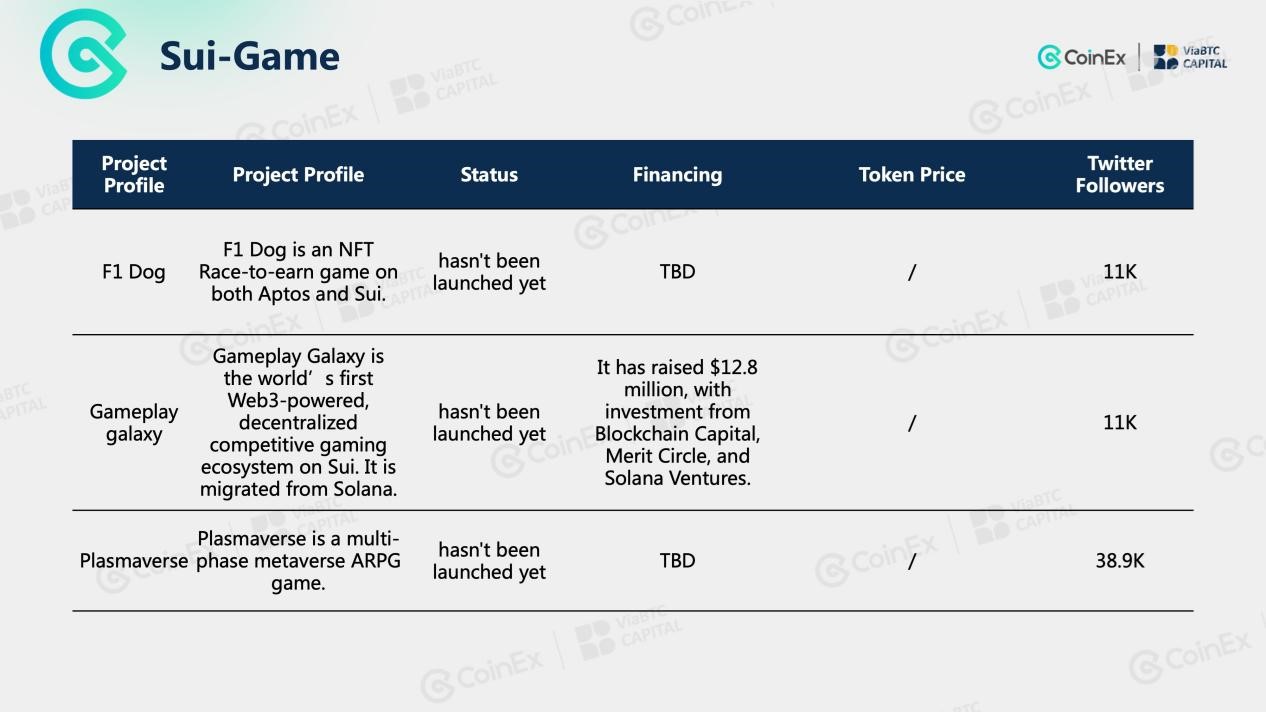 The gaming projects on both Aptos and Sui are still in their infancy, with mediocre quality. Therefore, it's worth keeping an eye on them.
Infrastructure & Tool
Aptos
Sui:
Infrastructure projects on Aptos that have issued their tokens are mostly migrated from other ecosystems, but they haven't registered impressive performance in terms of token price and market cap. Infrastructure projects on Sui are still in the early stages and developing slowly, yet still worth continued attention.
Sui Foundation vs Aptos Foundation
 Aptos Foundation
The Aptos Foundation focuses on the development of the Aptos network and ecosystem, with the main goal of supporting the development of the Aptos blockchain. The Foundation is responsible for developing grant programs, promoting Aptos globally, and nurturing the Aptos ecosystem. Up to now, the Aptos Foundation has held two Grant events and received applications from over 500 teams.
Sui Foundation
The Sui Foundation was established specifically to support the development of the Sui ecosystem. It operates independently of Sui but serves as its official organization. Currently, the Sui Foundation has launched six ecosystem programs that mainly focus on accelerating the development of ecosystem participants and organizations, highlighted by the following three:
The developer grant ranges from $1 to $10,000, and eligible projects may also receive SUI token incentives. Currently, the Program covers the following categories: review and governance, business and digital goods, data and law, developer tools, finance, gaming, payments, efficiency, social, and tokenization.
This is a delegation program established for community members who wish to contribute to the Sui ecosystem but do not have the resources and funds, with details to be determined. The Program aims to allow community members to apply for delegation of SUI tokens from the Sui Foundation and stake the tokens to validators in the community.
This is the latest community access program launched in December 2022 in response to the community's strong desire to hold SUI tokens. Details of the update will be released in the coming weeks, with two main goals: a) to expand geographic coverage as much as possible; b) to ensure fair participation and distribution of SUI while also encouraging early Sui contributors and supporters to participate.
Conclusion:
Sui, which is still in its infancy, hasn't registered impressive performance, with only some simple projects in its ecosystem. It develops slowly and is eclipsed by Aptos, which has been working hard to build its ecosystem. Aptos has set up a complete ecosystem where leading projects from various fields have established themselves in the market and quickly gone live on the mainnet. It is thus evident that Sui lags behind Aptos for the time being. In terms of PR, the Sui team is not active as the Aptos team, which also indicates its focus on stability. The Sui team often vigorously promotes the launch of new projects, such as demonstrating the technical and functional capabilities of the public chain to the public through Capy NFT, in order to provide development ideas and possibilities for other applications. The Sui team also collaborates with Suia to provide office hours once a week for projects that want to migrate to its platform to enhance the awareness of Sui among development teams.
According to official information from Sui, the mainnet is estimated to launch on May 3. We may look forward to its launch as Sui has delivered acceptable performance in the secondary market and many projects in the Sui ecosystem are starting to warm up.
About CoinEx
Founded in December 2017, CoinEx is a crypto exchange under ViaBTC Group serving a global user base. Committed to "making crypto trading easier", the exchange offers secure, simple, reliable crypto trading services to over 4 million users across more than 200 countries and regions. CoinEx has earned global users' recognition with its fast, stable performance, smooth deposits/withdrawals, and easy-to-use products. In the future, the exchange will continue to strive for a comprehensive, stable service ecosystem. Moreover, CoinEx has kept expanding its product family, which now covers spot trading, margin trading, futures, AMM, financial service, swap, strategic trading and CoinEx Dock.