Bitcoin has recently broken above $35K for the first time since May 2022. This comes after two months of strong price action, leading numerous prominent analysts to predict significant returns for the market-leading crypto.
Meanwhile, traders are also bullish on Bitcoin Minetrix ($BTCMTX), a revolutionary Bitcoin Stake-to-Mine protocol that has just surpassed $3 million in its presale.
Bitcoin Analysts Predict Further Upside Movement Despite Recent Pump
Breaking $35K holds significant importance since that level has fared strong resistance recently, as seen on the Bitcoin price chart below.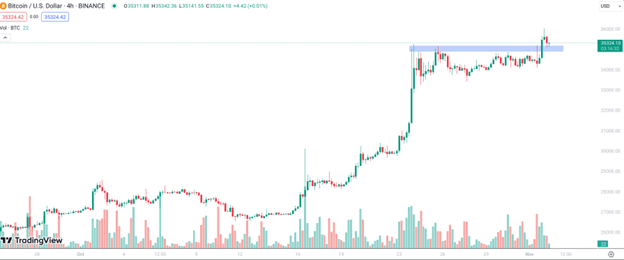 Well-known crypto trader Koroush AK highlighted the importance of this level in a tweet on 30 October, stating that readers should "expect the market to explode" after Bitcoin breaks $35K.
He also said that "Market structure looks great on daily through to monthly for bulls."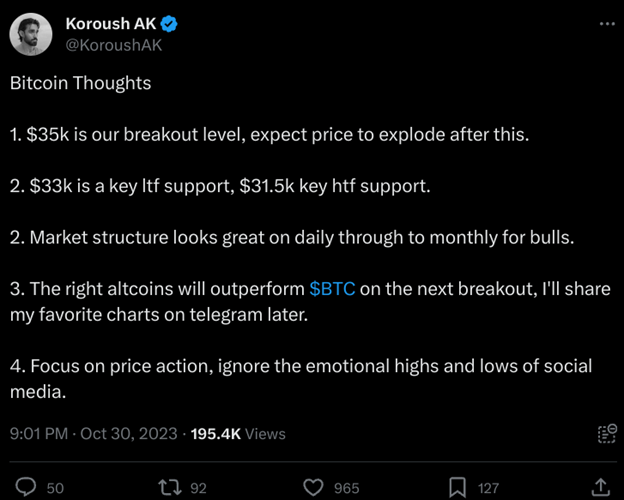 Since making the tweet, Bitcoin has performed strongly, and the analyst recently followed up, explaining that he is buying more Bitcoin.
Another prominent Bitcoin analyst, Rekt Capital, also holds a bullish outlook for Bitcoin. The analyst noted in a recent tweet that Bitcoin has broken a long-term bearish trend line, a significant reversal indicator.
The analysis shows that Bitcoin formed a similar chart pattern in 2015 and 2019, preceding prior bull runs.
However, Rekt Capital holds a balanced view on Bitcoin's near-term price action, stating in another tweet that "History suggests there may only be a 100-day period left where Bitcoin could retrace deeper", referencing the sharp pullback seen in 2019 just before the bull run.
The founder of MN Trading, Michael Van de Poppe, is bullish after Bitcoin's recent breakout, noting that the next price target is $36.8K-$37K. However, the analyst also says the prerequisite is "as long as we stay above $34.8K".
Van de Poppe also proposes that Bitcoin is likely to consolidate in a range between $33-$37K once it finds resistance.
Considering the opinions of different analysts, it becomes apparent that market sentiment is optimistic but not euphoric. With Bitcoin already experiencing such bullish price action, analysts are aware there could be a pullback before a full-scale bull rally kicks in.
However, traders are rallying behind Bitcoin Minetrix to continue pushing forth amid an explosive presale.
Stake-to-Mine Bitcoin Minetrix Backed to 10x After Raising $3 Million in Its Presale
Bitcoin Minetrix is a new project that enables users to mine Bitcoin by staking $BTCMTX on its Ethereum-based platform. The process is seamless and requires minimal effort or knowledge from users.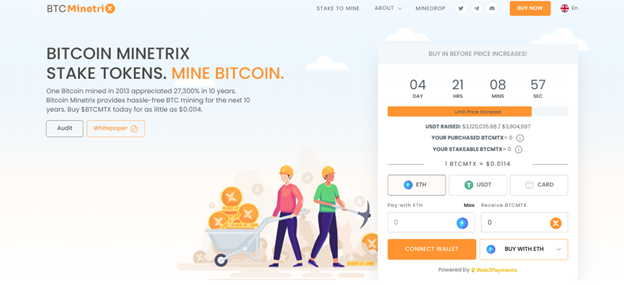 It works by users staking $BTCMTX in return for Bitcoin mining credits, which they burn for cloud mining power. This cloud mining power translates to free Bitcoin rewards.
The process is magnitudes simpler than traditional Bitcoin mining, enabling many more people to begin earning Bitcoin and contributing to the network's hash rate.
Moreover, the token's pivotal role in the operation presents significant utility-driven demand, likely to bolster its price. Additionally, the fact that most tokens will be locked for staking and that rewards are paid out in mining credits means that the token will also be in short supply.
The combination of a groundbreaking use case and scarcity-focused tokenomics has drawn exciting price predictions from some prominent traders.
For example, the "gem hunting" YouTuber Jacob Bury backs Bitcoin Minetrix to 10x following its exchange launch. Yet, some speculators go even further, with Joe Parys Crypto predicting a whopping 100x return for Bitcoin Minetrix.
However, such strong backing is causing the presale to sell out swiftly. Currently, investors can buy $BTCMTX for $0.0114, but the price will rise in four days, so they must act fast.