Everyone thinks that because Bitcoin is priced at so high per coin, there's not much opportunity left in the cryptocurrency market. But there's tons of data to support otherwise.
Take Gate.io Startup projects, for example. The most considerable growth is a rare 45,900% since launch, but nearly every project has stats worth boasting about. Here's a closer look at the high rate of return and how crypto investors can get the most possible ROI by leveraging the platform's GT token.
Gate.io Startup Projects Reaches Milestone 45,900% ROI
The beauty of blockchain technology is that the data never lies. The performance of all projects is transparent for all to see. Using such data, investors and traders can maximize the return on their capital by improving overall probabilities.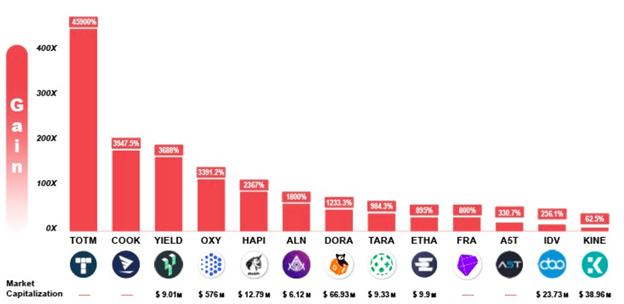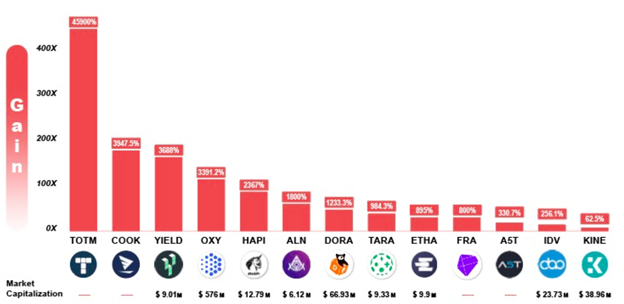 Recent news that an individual Gate.io Startup project had reached an incredible 45,900% had the industry buzzing. All eyes were then on the platform's incubator program to watch for which major project would be launching next.
High Rate of Return Metrics Across The Board On Gate.io
The platform's success goes beyond this particular moonshot coin for a consistently high rate of return across the board. In fact, CryptoRank,io ranks Gate.io's IEO program second behind only Binance in total average ROI among centralized exchanges.


And while Gate.io Startup's TotemFi (TOTM) gains are representative of true runaway success at more than 40,000% returns since launch, other top projects range from around 100% to several with more than 1000% total ROI.
Very few platforms exist globally that can boast more than a handful of 100x projects. However, as an exchange in the top ten platforms by ranking per CoinMarketCap (currently ranked 8th) it is no surprise that there is innovation within Gate.io's Startup incubator program.


Soaring Startup Projects, Strong Demand Propels GT To $4 Per Token
High-value startups with huge success have a synergistic effect on the GT token. Demand for the GT token to participate in these historic initial exchange offerings (IEOs) has sent prices skyrocketing as of late.
In 2021 alone, prices have gone roaring more than 700% to more than $4 per GT token. The allure of such a high rate of return and the news of almost 50,000% ROI has the entire crypto world looking for what's next.


Part of the price increase in the GT token is due to the unique tokenomics related to Gate.io's Startup program and GateChain GT is the native token to the GateChain mainnet. High VIP level users can access more buy power within initial offering projects. Holding a certain amount of GT tokens enables access to these higher levels, which is what's driving the FOMO currently.
To learn more about Gate.io's Startup program or the GT token, visit the company's official website.