Although the crypto market had a laid-back start this month, it is on track again. Stepping into the second half of May, most of the market is green. The lukewarm, yet much-needed awakening hints at the momentum that is building up. With whales in action, it is predicted to lead to a strong bull run in summer.
Here is a list of top altcoins to buy now in preparation for the upcoming bull run, based on the activities of crypto whales. The list is limited to emerging and underrated coins. While blue-chip altcoins like Ethereum and Cardano will benefit from the next bull run, they can't give multifold returns to investors. These coins, on the other hand, can catalyze an explosion.
1. yPredict – A strong utility and a tiny market cap gives $YPRED large growth potential
If you have been a crypto trader for some time now, you must know how frustrating the market is. In fact, it is getting more difficult by the day. A deep dive into the problem reveals AIs and bots to be the culprits. They have taken over the market to the extent that they can influence its price structure. We can't rule out the chance of manipulative algorithms and bots, either, judging by the flimsy projects that have come to the forefront in the last few years.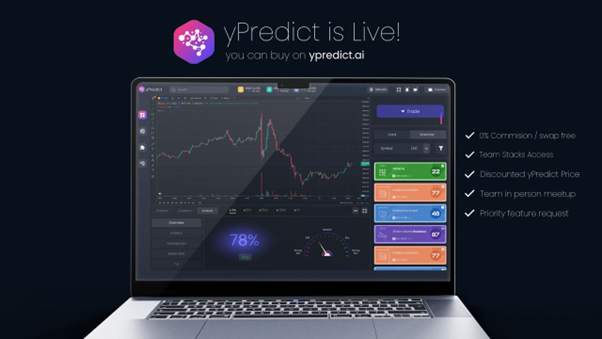 This takes away the statistical edge of investors and traders. Even experienced traders are finding it difficult to navigate the issue since bots are everywhere. Math and technology can help a shrewd trader in an organic market. But they have little relevance in a bot-infiltrated market. That explains why traders are increasingly relying on news, social media influencers, and trading signals – all of which can be manipulative too – to get a grip on the market direction. And we know where that ends. Nowhere good.
yPredict will make traders' lives easier by providing data-driven insights that help them fine-tune their portfolios with an unbeatable edge. It's high time the crypto market retained its credibility for blockchain solutions and crypto payments to enter the masses. That's the goal that drives yPredict. It makes this possible by hosting a large ecosystem of Ai/ML experts, financial quants, and traders.
With yPredict, you can subscribe to data-driven insights, proven analytic metrics, and predictive marketplace trends on a monthly basis. The platform will give you DAO-curated financial prediction methods and metrics designed by highly qualified data scientists. While it allows developers to monetize their skills without dealing with intermediaries, traders get access to high-quality metrics that can boost their profitability.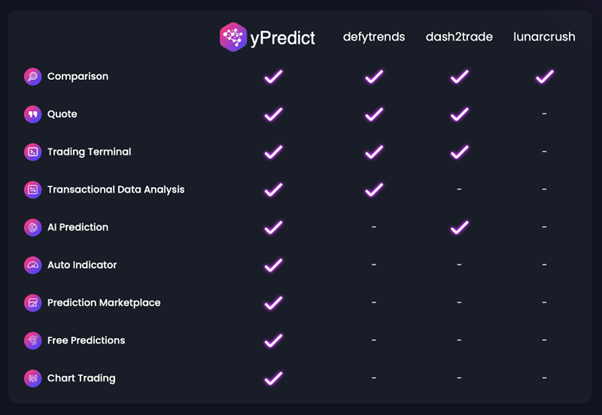 The yPredict ecosystem consists of a marketplace, trading tools, a trading terminal, and high APY staking pools. yPredict has brought about some of the best brains in AI (PhD-level AI developers) from around the world to develop and launch these robust AI solutions.
$YPRED has a tiny initial market cap of around $6M since it has yet to go live. That gives it more width for growth, when compared to established cryptocurrencies like Bitcoin, Ethereum, and Dogecoin. The total supply of $YPRED is 100 million tokens. At the listing, 50 million out of these are made available.
Factoring in these, a 15-20X bull run is not a long shot for $YPRED by the end of this quarter. And if the ecosystem unfolds as laid out in the roadmap, yPredict products can give 100X returns to presale investors. A deep dive into yPredict confirms that the FOMO around the $YPRED presale is well-justified.
At the current pace, the presale will sell out ahead of schedule, forcing new investors to pay hefty sums for the token after its exchange listing.
So, grab the tokens early to book high returns from the presale.
2. AiDoge – Remember how fast ChatGPT went viral? Here is another viral app in the making
The next altcoin that is on the verge of a breakout is AiDoge. It's a meme coin that has seized the crypto market with a meteoric public presale that is already past the $9M milestone. Not surprising, given that the token is built on three hottest industry trends – memes, meme coins, and AI.
Meme coins are generally highly volatile. They are known for turning meager savings into a fortune overnight. Most bite the dust within a few months of launch. But by then, they would have made a great deal of money for people who bought the dips.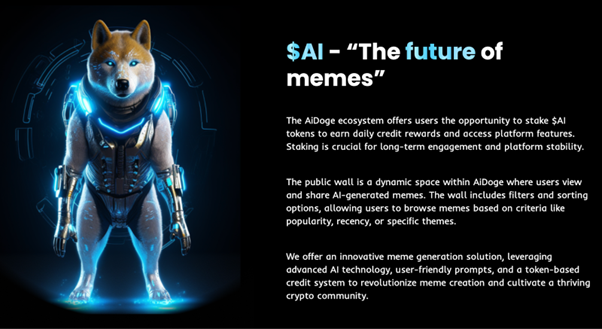 AiDoge is an emerging meme coin that doesn't plan on sticking to the meme coin tag. Instead, it uses the tag to build awareness around its large AI ecosystem. At the heart of the ecosystem is the AiDoge meme generator. It allows anybody to create memes with simple text inputs, leveraging AI.
Remember how fast ChatGPT went viral? Here is another viral app in the making. And therein lies the massive potential of AiDoge.
AiDoge works on a credit-based system. You need to stake $AI tokens to get credits. You can use these credits to access the many features and functionalities of the meme-generation platform.
The memes generated using the AiDoge tool will be publicly displayed, bringing massive traffic to the platform. Imagine a place where you can discover the hottest new memes belonging to different types and categories. That's what AiDoge is envisioning with its Web 3.0 platform. The virality of the memes translates to the virality of the meme coin. It has long-term market relevance.
When you see other #Memecoins without any utility 👀😂

Get ready to witness the unstoppable rise of $AI as it leaves other memecoins in the dust.

Don't miss out on the #Presale! 🚀🔥

👉https://t.co/5j5tt4smcs#Crypto $PEPE $FLOKI $XRP $BONE $JEFF $BOB pic.twitter.com/PRE8mYd3eA

— aidogecrypto (@aidogecrypto) May 18, 2023
The AiDoge presale is moving to an early end, having broken past the $9M mark already. Make sure you grab the token early to avoid the steep price hike that follows the token launch.
3. Launchpad XYZ – A complete Web 3.0 hub in the works
There are plenty of opportunities in Web 3.0. It is one of the fastest-growing sectors in the world. Despite that, most people are apprehensive about taking their dive into the market.
Launchpad XYZ aims to solve the problem. It will help you onboard a wide range of Web 3.0 sectors and investments, including Non-Fungible Tokens (NFTs), utility tokens, Web3 presales, play-to-earn, and metaverse to name a few.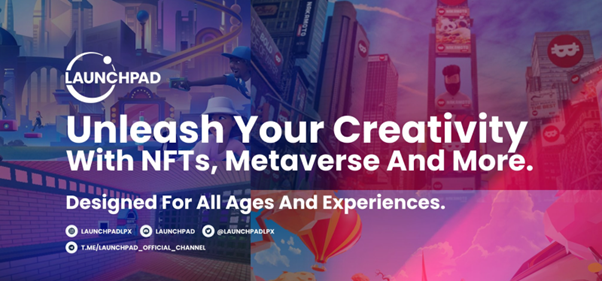 For example, you can find every listed NFT asset on any marketplace using the platform, discover underrated and emerging NFTs, curate an NFT gallery, get exclusive deals on NFT purchases, and stake NFTs to name a few.
When it comes to utility tokens, the hub provides the latest trading insights from top traders and bespoke indicators to assist in technical analysis. It also simplifies the search for exchanges that have the best liquidity and opportunities for arbitrage. Not to mention, you buy and sell tokens from the platform.
The metaverse and play-to-earn libraries, on the other hand, allow you to see potential earnings and active participants of each platform, watch others play, wager on outcomes with other viewers, discover brand experiences, etc.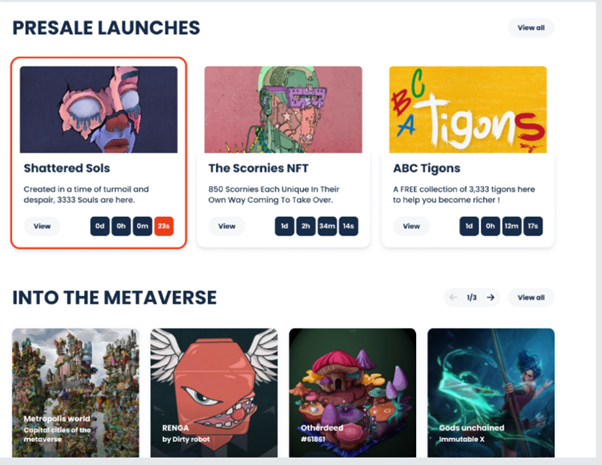 To make it easier for new entrants to sign up on these platforms, Launchpad XYZ provides a Web 3.0 wallet. If you're a beginner, you will be pleased to learn that you just need your mobile number or email address to install the wallet. No complicated steps, seed phrases, or signatures. And, the wallet does more than just store tokens. You can swap tokens, hold assets in self-custody, and interact with DApps here.
Another key feature that highlights the market relevance of the platform is Launchpad Quotient (LQ) – a single value that denotes the risk and reward potential of each crypto token and NFT asset. 400 data points like moving averages, sentiment, and volume go into determining the metric. It is regularly updated to help users make time-relevant investment and trading decisions.
The best way to take advantage of the upcoming bull run is to buy $LPX tokens at the ongoing presale. Judging by its fast progress, the tokens will sell out ahead of schedule. Make sure you enter the presale early for the best discounts.