CryptoLeo is a popular online casino with a modern design available in eight languages. It's fully licensed and regulated by the Government of Curacao and offers a wide selection of games from top software providers.
The website is a booming hub of excitement, currently available in eight languages, including English, Italian, Finnish, Polish, Greek, German, Turkish, and French. On visiting, you are instantly met with a modernized graphics style and captivating gaming options, all neatly sectioned into their respective types.
You can also choose from various games from renowned software providers such as Yggdrasil Gaming, Rubyplay, Betsoft, Nolimit City, Elk Studios, and more, ensuring a top-quality gaming experience.
That's not all; CryptoLeo offers fast and hassle-free withdrawals, adding to the seamless and enjoyable gaming experience. With so much to offer, CryptoLeo is quickly gaining popularity as a go-to online casino for players seeking excitement and variety in their gaming endeavors.
Continue reading to learn more about the amazing offers you get from CryptoLeo.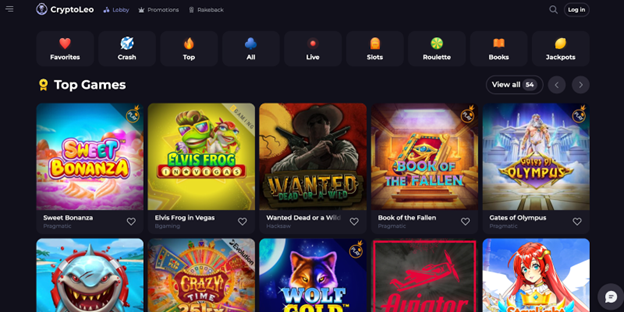 Style
CryptoLeo.com boasts a stunning website design that exudes modernity and sophistication. The sleek interface immediately captivates visitors with its dark background and vibrant colors, evoking a sense of excitement and anticipation. The well-organized 'Lobby' serves as a central hub, offering dedicated sections for various game types, ensuring easy navigation for players.
The website also prominently displays the list of supported cryptocurrencies, making it clear that CryptoLeo.com is a crypto-friendly platform. Tabs for favorite and top games allow you to quickly access their preferred games, enhancing the overall user experience.
Additionally, sections such as 'Last Games,' 'Top Games,' 'Crash,' 'New Games,' and 'Live Games' provide ample opportunities for players to explore and discover new gaming options. Whether you are a seasoned player or a beginner, CryptoLeo.com ensures a streamlined and intuitive user experience, empowering you to start winning without any hassle.
With its captivating design and user-friendly interface, CryptoLeo.com stands out as a top destination for crypto gaming enthusiasts, catering to players of all experience levels.
What You Get
CryptoLeo helps you combine fun with cryptocurrency rewards! As an exclusive cryptocurrency casino, CryptoLeo aims to captivate players with its unique 'Instant Rakeback' offer. This one-of-a-kind promotion returns give you a percentage of their bets, setting CryptoLeo apart from other online casinos. With a generous cap of 25% on the 'Rakeback' percentage, players are in for an impressive treat.
But that's not all! CryptoLeo takes player engagement to the next level with its distinctive user-level system. Starting from Bronze 1 for new players and going all the way up to Platinum at level 151, players can climb the ranks and earn higher 'Rakeback' percentages as they progress. For example, levels 1 to 10 offer an instant 'Rakeback' reward of 7%, while levels 51 to 60 (Silver 1) offer 10%, and levels 121 to 130 (Gold 4) offer a whopping 13%. This incentivizes players to keep wagering and unlocking higher levels for even greater rewards.
With over 3000 high-quality games to choose from, you will never run out of options at CryptoLeo. The front page showcases the hottest games of the moment, including popular titles like Sweet Bonanza, Gates of Olympus, and Beast Mode, all featuring advanced graphics and immersive acoustics for a truly captivating gaming experience.
If progressive slots are your thing, CryptoLeo has you covered with its buffet of jackpot games, including the renowned Mega Moolah by Microgaming, which holds the record for the largest progressive win in history. And for those who crave the authentic casino ambiance, the live games section features a diverse selection of games from leading providers like Pragmatic Play and Evolution Gaming, bringing the thrill of the casino right to your fingertips.
But the excitement doesn't stop there! CryptoLeo offers a gamification system for registered players with daily missions, permanent missions, mission achievement points, tournaments, and an internal store. The 'Leo Pride Tournament' is a monthly highlight, boasting a massive prize pool of 5000 USDT, giving players a chance to compete and win big.
Sports enthusiasts will also find their haven at CryptoLeo, whose lavish sports section offers a wide array of sports betting options and fixtures for all their favorite games. From classic casino games to thrilling sports betting, CryptoLeo offers a comprehensive gaming experience focusing on cryptocurrencies, enticing offers, and many features to keep players engaged and entertained. Join CryptoLeo today and experience the joy of gaming with cryptocurrencies like never before!
Device Interface
In today's rapidly advancing technological era, keeping up with the times is crucial for any company striving for success in the gaming industry. As a new player, CryptoLeo casino understands this and emphasizes being efficient and easily accessible across all devices to provide a satisfying user experience.
Unlike other casinos that limit their offerings to specific platforms, CryptoLeo is accessible on desktop, Android, and iOS devices without requiring users to download an app. The platform is designed to function smoothly and seamlessly on any device, enabling you to access all features and play games wherever they are.

How Secure Is CryptoLeo?
CryptoLeo prioritizes your safety in the competitive global market of crypto casinos. The site uses advanced SSL encryption methods and CloudFare to prevent unauthorized leaks of your personal information. You can register anonymously without providing specific information, ensuring a higher level of safety.
To prove its legitimacy, CryptoLeo employs testing methods to verify the randomness of game outcomes and has a dedicated section for RNG testing and fairness. As a fully regulated and licensed casino by the Government of Curacao, each game on the site caters to the players' interests.
While CryptoLeo aims to attract a global audience, players from countries like the USA, UK, Spain, the Netherlands, Russia, and others cannot play on the site, as stated in the terms and conditions section.
CryptoLeo Payment Methods
CryptoLeo has simplified the process of depositing and withdrawing funds, making it a hassle-free experience with just a click of a button on your registered profile. The site is designed to be user-friendly and easy to navigate.
As a rapidly growing cryptocurrency casino, CryptoLeo supports 12 of the top digital currencies currently in use, including Bitcoin, Cardano, Litecoin, TRON, Ethereum, Tether, BNB, BUSD, and XRP. The casino prioritizes client satisfaction and convenience by offering various digital currencies. CryptoLeo lets you purchase cryptocurrencies directly from the site to make things even more effortless.
Deposit Methods
CryptoLeo offers you seamless deposit methods that are designed to make your gaming journey hassle-free. Once your account is activated, simply head to the 'wallets' section and follow the steps to make a successful deposit. With no maximum deposit limitation and instant deposits for instant play, you can start enjoying your favorite games without any delays.
While there is a minimum deposit requirement, it varies depending on the currency you choose to play with, offering flexibility for players of all budgets. Whether you're a seasoned high roller or a casual player, CryptoLeo caters to all.
Furthermore, CryptoLeo does not impose a maximum deposit limit and offers instant deposits for instant play. However, a minimum deposit requirement is in place, which varies depending on the selected currency. For example, the minimum deposit requirement for BTC is 0.0001, 0.01 for ETH, and 10 for TRX, among others.
Withdrawal Methods
Withdrawals at CryptoLeo are as straightforward as deposits, keeping the simplicity intact. When you're ready to cash out your winnings, head to the withdrawals section conveniently located next to the deposits tab, and follow the easy steps to complete your transaction.
The best part? No verification is needed, making the process even more convenient and hassle-free. CryptoLeo believes in providing a seamless gaming experience for its players, including smooth and efficient withdrawals.
Customer Support
The online gaming industry involves delicate financial matters requiring reliable customer support. At CryptoLeo Casino, this service is in place to ensure an exceptional gaming experience. You have access to a 24/7 support team via online and email services. The live chat icon is prominently displayed on the CryptoLeo.com website, and all contact information is available at the bottom of the page.
In addition, CryptoLeo offers a comprehensive list of frequently asked questions (FAQs) at the bottom of the site, covering a broad range of general issues that may arise. Also, the 24/7 support chat feature is on the website for prompt and reliable support.
Conclusion
CryptoLeo's impressive 7.11 casino rank on askgamblers.com is a testament to the casino's bright future and potential. With a focus on player safety and satisfaction, the casino is rapidly becoming a gaming powerhouse. Its exceptional customer support is just one aspect that keeps players returning for more. As a modern casino with an efficient and sleek design, paired with a wide range of games and winning opportunities, CryptoLeo is poised to establish itself at the top of the gaming industry. Check CryptoLeo's Telegram for regular updates.