Over the course of the last 10 years, the blockchain industry has grown and expanded into a fully-fledged behemoth, worth trillions of dollars, boasting corporations, medium-sized projects and newly founded startups. And somewhere along this development, the bitcoin ad networks appeared, completely changing the rules of the game. From poorly designed banners on bitcointalk.com, they took it to well-designed banners and a global distribution across all possible websites and publications, in turn giving an incremental boost to the adoption of blockchain.
But just how well do these ad platforms work and which platform is most effective?
If you happen to be puzzled by the same question then you are in the right place, because we have conducted an in-depth experiment across three major bitcoin ad networks in a bid to find the most productive and effective ad network on the market.
The experiment
For the purposes of this experiment, we have set out a $250 budget that will be spent on each ad network to advertise our third-party project. It is an up-and-coming startup that operates in the blockchain microfinance industry. Given its domain, such projects don't have many options in terms of conventional marketing platforms that supply ads to similarly regular publications and hence it becomes a perfect guinea pig for us to test on. As for the bitcoin ad networks, our key marketing industry players selected for the test are:
Bitmedia
Coinzilla
Cointraffic
This experiment will concentrate on what is truly important. The outcome a typical blockchain project gets when investing into display ads in search of traffic, conversions and real users that generate revenue! Furthermore, we will keep a score to see which network performs best in each of the following categories:
Sources/Publications they display banners on
GEO and other targeting options
Campaign types
Campaign bids and Minimum Spend
Banner types
Account funding
Ad campaign result
Summary
Bitcoin ad networks overview
Before indulging in the discussion of conversions that our crypto marketing campaign has generated, it is important to note that the first differences between the platforms started to appear as early as the campaign setup stage. Bitmedia, Cointraffic and Coinzilla provide advertisers with a chance to get exposure and attract new users to their crypto product or service but this is where similarities end and here are the major differences between the three…
Traffic Sources
Crypto ad networks specialize in ad distribution. This implies being connected to a wide range of online publications as in the end it is these publications that will become home to the banners that advertisers launch. Is it important to know what these publications are? Some would definitely agree, although, for us, the main index of the campaign success is the final number of users gained by the service our marketing campaigns intended to promote.
Sources, is where Cointraffic beats its competition since it is the only ad network that gives you access to at least some of the publications it has access to. Hardly a game-changer but this piece of information can definitely add to peace of mind when contemplating whether your campaign is displayed on the right websites. Perhaps the ones you would like to be associated with, in the first place. We are confident that both Bitmedia and Coinzilla would have happily disclosed their publishers to us too, if only we were to ask but it is something they don't have readily available and therefore it is only fair to state that they do not openly share their sources.
Cointraffic – 1
Bitmedia – 0
Coinzilla – 0
GEO and other targeting options
Blockchain companies and projects are always global. Nevertheless, a critical factor of a successful marketing campaign is when a brand can quickly adapt to the regions where most of the demand comes from and it is where the flexibility of GEO targeting becomes the heavyweight advantage. In general, all platforms boast quite a similar list of countries, but it is the way you access them, that puts these platforms miles apart.
This is where Bitmedia takes the lead with its simplicity of geo setup and whitelisting feature that is not present on any other bitcoin advertising platform we are experimenting with. In layman's terms, whitelisting allows you to tell the algorithms what countries are of key importance to you, dedicating your budget primarily towards the outlined countries. Blacklisting preset works in the opposite manner, excluding specified countries from the distribution plan, which adds extra detail to the targeting options. The network allows you to select either the whole region or particular countries one by one, which is the industry standard when it comes to conventional advertising platforms. Finally, Bitmedia strikes again with device segregation, the broad options of which delve deeper than generalized mobile and desktop presets, going as far as an operating system specification that the audiences use.
Bitmedia offers:
GEO targeting by countries and regions
Ad Groups
Whitelist countries
Blacklist countries
In-depth device targeting
Coinzilla's geo-targeting is also straightforward and simple. It allows you to select either an entire region or specific countries within this region but this is where the game ends since the whitelisting feature is nowhere to be found. Straightforward and simple also applies to its device targeting setup, although this time it is hardly a compliment, with mobile and desktop being the only options an advertiser can choose from. The campaign setup page greets you with two, peculiar campaign options. Premium traffic and Brand awareness traffic. There is no logical explanation as to what the difference between these options is, but one may assume that Premium traffic stands for good conversions, whilst the latter is dedicated to traffic that most likely won't result in real traction.
Coinzilla offers:
GEO targeting by countries and regions
Blacklisting of websites
Basic device targeting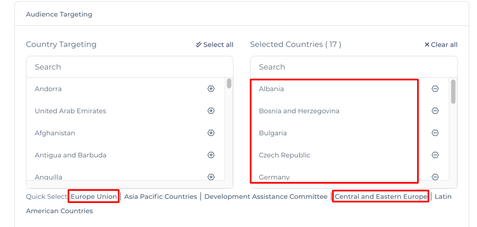 Unfortunately for Cointraffic, geos is where its lead, gained with the openly accessible list of sources disappears and a nightmare of a geo-targeting setup sets the tone for the rest of the experience on this bitcoin ad platform. The targeting menu does not allow you to select a geographical region and therefore if, for example, Europe is your target area, be prepared to input all European countries one by one. Furthermore, lack of device segregation, whitelisting and a very limited blacklist feature only adds to the negative first impression.
Cointraffic offers:
GEO targeting by countries
Blacklist countries (only if you opt for global distribution)
Cointraffic – 1
Bitmedia – 1
Coinzilla – 1
Campaign Types
Campaign types usually come in two flavors. The CPM, where you pay for 100 impressions your banner receives and CPC, where you pay for each click your banner attracts. Former bitcoin ad distribution option is considered to be the main tool behind improving the awareness that your brand gets, whilst CPC is all about final user acquisition, a stage that usually comes in force once brand awareness is achieved.
Besides having similar names, both Coinzilla and Cointraffic boast only one ad campaign type and it is the CPM. Bitmedia on the other hand offers CPM and CPC, which means that it is a bitcoin ad platform that can accommodate not only the initial stages of your marketing endeavors but also the next, similar to what you would get on conventional market-leading display ad networks.
Cointraffic – 1
Bitmedia – 2
Coinzilla – 1
Campaign Bids and Minimum Spend
When it comes to bids, Coinzilla offers two types of traffic, which in turn dictates the pricing policy. The aforementioned Premium and Brand Awareness traffic types show quite a widespread in cost, being 3EUR and 0.2EUR respectively. Coinzilla's minimum daily budget spend is 50EUR.

Cointraffic follows suit with a single traffic type and the CPM bid size valued at 3.50EUR, making it the most expensive bitcoin ad network among other contenders. The targeting menu does not provide any reasoning to such a high price level. Still, for the time being, we will assume that this extraordinary spike is to result in a similarly extraordinary number of attracted leads. The minimum daily spend on the platform is 20EUR.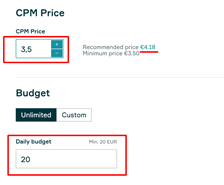 Finally, Bitmedia steps in with CPM and CPC bid levels starting from just 0.30USD and 0.25USD respectively, making it the cheapest platform you can start your crypto marketing campaign on. Minimum daily spend limit only ads to it since there is no preset amount you are bound to.
Cointraffic – 1
Bitmedia – 3
Coinzilla – 1
Banner Types
Banner type is another significant part of any ad campaign since banners are the primary interface that audiences communicate with, or vice versa. Unfortunately for Bitmedia, it is where it does not show the solid performance it has already become known for throughout the first part of our testing. This bitcoin ad network is limited to text ads, image ads, responsive ads and HTML5 ads, although it does boast a wide variety of available sizes: 728×90, 468×60, 125×125, 200×200, 250×250, 300×250, 300×100, 250×100, 336×280, 160×600, 120×240, 120×600, 180×150, 300×600, 320×50, 320×100, 468×90 & 970×90.
Disparate to the above, Cointraffic offers text ads, native ads and pop-under ads that prompt your target link to be launched in a new browser tab. The latter can be displayed in the following forms: popunder desktop & mobile, slide desktop & mobile, in-page desktop & mobile, sticky desktop & mobile. Might not be the best option for conversions but definitely adds more options to choose from. Ad sizes on the other hand are not as broad in range as to what Bitmedia offers, being: 728×90, 300×250, 320×100, 160×600, 468×60, 300×600, 970×250.
Coinzilla is very similar to Cointraffic in terms of banner types, offering all the same options but lagging behind in terms of the variety of available pop-under ads. Available sizes are: 300×250, 728×90, 160×600, 320×100, 300×600, 320×50.
Cointraffic – 2
Bitmedia – 3
Coinzilla – 2
Account Funding
Before launching your ad campaign our crypto ad networks require users to fund their accounts. All three contenders boast a plethora of options that can be mainly generalized by crypto and fiat funding possibilities.
Coinzilla accepts SEPA payments (takes from 1 to 15 days), direct cryptocurrency deposits (BTC, ETH, LTC, USDT) and instant Crypto.com transfers. The latter option is very similar to direct crypto deposits and works with all the same cryptocurrencies (apart from CRO) that are already available as direct crypto transactions. Minimum deposits depend on the currency type and seem to vary with every option, although if done via Coinbase as a connected gateway, it equals 300EUR, which in turn is the smallest amount across all other currencies.
Coinzilla funding:
Crypto (BTC, ETH, LTC, USDT)
FIAT (EUR)
Coinbase
Minimum transfer: Depends on transaction currency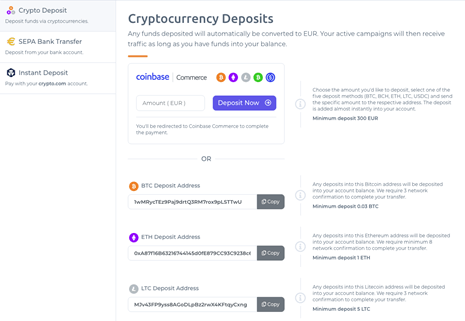 Similar to Coinzilla, Bitmedia also has an option of either crypto or fiat account funding, although crypto transactions are strictly limited to BTC, ETH and USDT. Nevertheless, Bitmedia's fiat module connected to Stripe seems to accept all major fiat currencies (credit cards), whilst your balance gets instantly updated with the transferred amount. This is a class-leading advantage, especially if you find yourself with a quickly depleting budget and need to add more funds to your bitcoin ad campaign. Last but not least, Google Pay payments are also available on the platform.
Bitmedia funding:
Crypto (BTC, ETH, USDT)
FIAT (All major currencies)
Google Pay
Minimum transfer: No minimums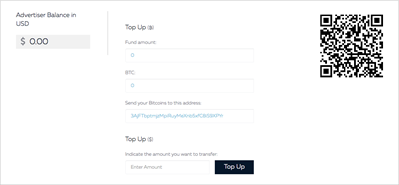 Compared to the above platforms, Cointraffic secures its place as the leader in account funding options. Its crypto transfers are all done via Coingate, which means the platform accepts payments in over 50 cryptocurrencies, whilst fiat transactions can be executed either via a bank transfer or credit card payment. Still, a bitter part of the Cointraffic's variety of payment options is unfortunately the commission that is tied to all types of payments. More so, given that our experiment implied a budget of only $250, the 500EUR minimum deposit meant that it is this amount that we need to transfer and consequently pay the incurred fees on. Needless to say that this ended up in increased costs of our ad campaign.
Cointraffic funding:
Crypto (50+ cryptocurrencies)
FIAT (EUR)
Minimum transfer: 500EUR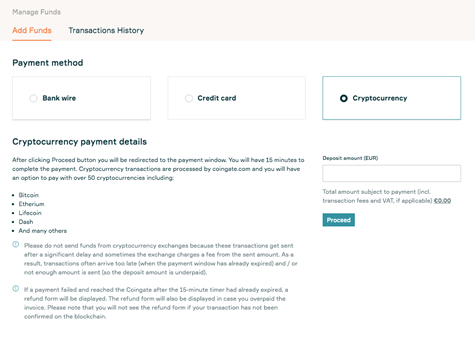 Cointraffic – 3
Bitmedia – 4
Coinzilla – 3
Crypto ad campaign results
Once we have set targeting to be identical on all three platforms, the only thing left was to wait for distribution magic to come in full force. And a couple of days later, the results were in…
Based on the numbers that we gathered from our crypto ad networks, Bitmedia shows the most effective distribution of the campaign's budget, delivering twice as many impressions to the users compared to the other two contenders. However, Coinzilla shows twice the performance of Bitmedia in terms of CTR which stipulates, perhaps, a higher quality of publications that in turn managed to attract experiment-leading conversion. Despite all of this, it is Cointraffic that has managed to pull in more registrations than Coinzilla, nodding towards a more effective distribution network. Finally, we have Bitmedia, with the highest number of registrations, which are most likely derived from a much greater impressions count.
Top bitcoin ad network
To summarise the experiment, all three bitcoin ad networks have performed well and attracted users who registered on the microfinance service. Furthermore, the $250 spent on each marketing campaign resulted in satisfactory conversions but it is the way these conversions have been achieved that differentiates the crypto ad platforms in question. They are all very similar but at the same time are miles apart, which became apparent once we made a plunge into the categories' study. Even once the campaign was over, we returned to these platforms only to find additional distinguishing features. Availability of Ad Groups is one of them and it is a service that only Bitmedia provides. Hence, there is simply no way for Cointraffic and Coinzilla users to set up multiple display ads with different creatives under one marketing campaign, consequently allowing for further tests of the best performing path to audience acquisition.
It is now down to you which platform to choose for your blockchain project's marketing campaign, based on the findings we reached with our bitcoin ad network experiment. All three contenders have generated traffic and all three delivered exposure. The only difference is the final numbers this exposure transformed into and the final score of course…
Cointraffic – 3
Bitmedia – 4
Coinzilla – 3
Image by 

Gerd Altmann

 from 

Pixabay