Having quietly started X.AI, a chatGPT rival, Elon Musk's newest venture could be the next step towards the 'everything' application similar to China's WeChat. He announced on Twitter last year that he hopes to build the X app, which will aggregate services you currently need multiple apps for.
Musk has already hinted that Dogecoin will play a role in the X ecosystem, perhaps allowing users to pay for different services such as advertising, software upgrades, Starlink subscriptions or Tesla repairs, all with the crypto.
One of the main reasons Musk prefers Dogecoin to Bitcoin is that the transaction fees are lower, making it ideal for payments.
The news of the Twitter CEO's newest venture comes just days after he switched the Twitter logo to the Dogecoin dog, which saw the price pump over 37% in just four hours.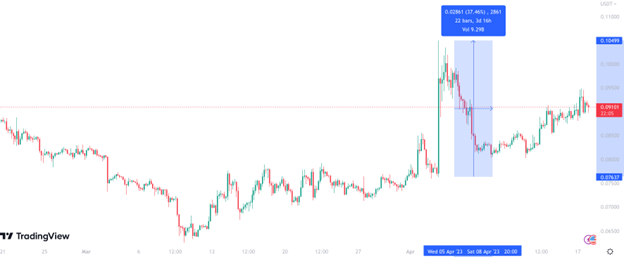 This means we can expect a much higher DOGE price as the market heads towards the 2024 Bitcoin halving.
That said, Dogecoin already has a massive market cap of 12 billion, so it would be tough for it to climb above the $1 price mark.
In contrast, the hottest new meme coin, Love Hate Inu, has recently surpassed $4 million in its presale, having also smashed the 34K follower mark on Twitter and successfully rolling out its Vote-to-Earn mechanism.
With that in mind, many investors could benefit more from Love Hate Inu than Dogecoin in the remainder of 2023.
Musk's Ventures Cause DOGE Price to Pump Again
Following the highs at the beginning of the month, Dogecoin entered into a retracement. The coin found support around the $0.08 mark but has started climbing steadily on the news of Musk's newest venture.
Despite the FUD throughout the 2021 bull market, many experts are accepting that with the backing of Musk and other influential figures, Dogecoin is becoming a well-established coin with real utility.
While it retains its community-first, fun and engaging approach, the Dogecoin core dev team is enhancing the cryptocurrency's software to allow it to become the crypto used for fast and secure payments of all shapes and sizes.
For example, some projects on the coin's roadmap or 'Trailmap', include Libdogecoin, The Dogecoin Standard and the GigaWallet. These developments will make it easier for developers to integrate into the Dogecoin ecosystem, allowing more people to use Dogecoin for payments seamlessly.
Overall, the backing of Musk and the core devs' efforts to make Dogecoin more interoperable gives it enough fundamental power to push forward over 2023 and beyond.
Let's break down the price charts to see where DOGE's price is headed in the mid-term.
Dogecoin Technical Analysis
The key levels of support and resistance are the first things to consider when breaking down the charts. The chart below shows that DOGE is still trading within its 2023 range. The price has yet to break out, making it uncertain whether the coin is ready to surge to $0.20 or higher.
That said, we can determine the interest levels of buyers and sellers with the volume oscillator indicator. Currently, the price is approaching the support level, but the trading volume is far lower than the last time.
This shows less interest from sellers and short traders, meaning a breakout could be imminent. If this happens, the next price target will be $0.15.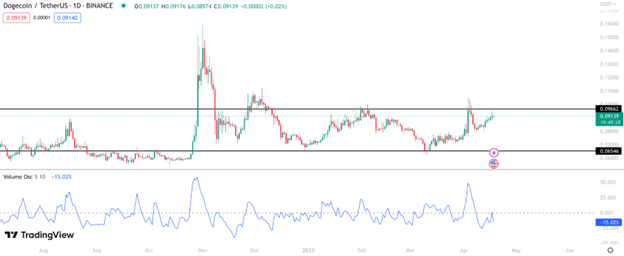 However, note that the $0.10 mark is historically significant for DOGE, having previously seen a lot of price action in this range. This means we cannot rule out a rejection and a move to its support of $0.065.
Love Hate Inu Presale Price Rise Imminent – A Good Time to Buy?
While Dogecoin is approaching a historically important resistance level, Love Hate Inu, the new Vote-to-Earn meme coin, is in the process of rolling out its app.
The coin's presale launched several weeks ago, but it has already piqued the interest of many investors, having already raised $4 million and amassed 34K Twitter followers.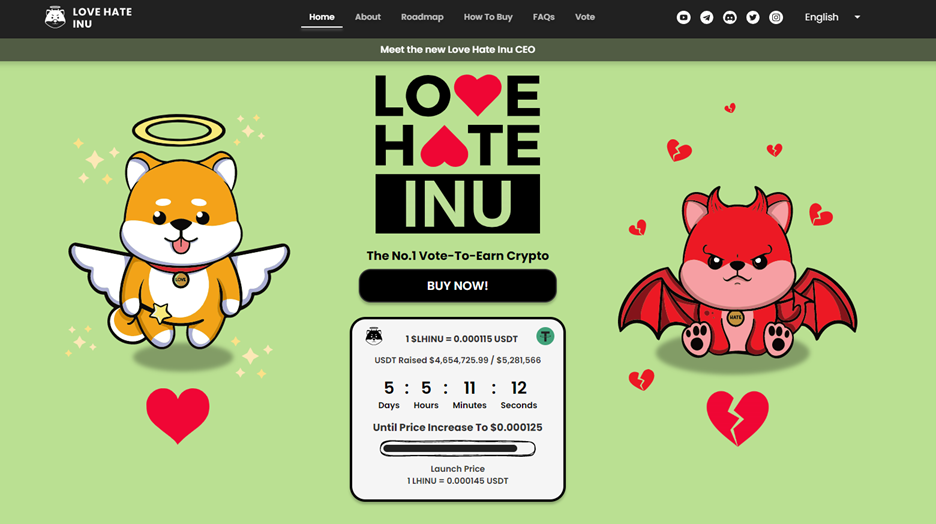 The current presale round's price is $0.000115; but the price will increase in its next round to $0.000125, with its initial exchange offering price set at 0.000145 per coin.
Considering the coin's popularity and utility, it could climb much higher once traders can buy and sell it freely following its exchange launch. That said, now is the perfect time to buy for investors looking to purchase a brand new high-potential meme coins at a fixed price.
Having recently hit the $4.5 million mark in its presale, the coin is still a small cap compared to established meme coins like Dogecoin, whose market cap is over $12 billion.
With that in mind, many pundits expect the Love Hate Inu price to explode in the coming months, with some predicting price could even 100X.
One of the key factors many experts refer to is that Love Hate Inu's token distribution is much more 'fair' than that of Dogecoin or any other crypto presale coins.
90% of LHINU tokens will be available to purchase in its presale, with the remaining 10% being used for exchange liquidity. In contrast, a common criticism of Dogecoin is that its top 13 holders control 49% of all coins.
What Makes Love Hate Inu Stand Out
New meme coins emerge each week, so what makes LHINU different? The main thing is that it is more than a meme coin. Holding the coin provides users with utility which goes beyond payments.
LHINU holders can participate in polls, voting whether they 'love' or 'hate' on different matters. In return for voting, users will receive some crypto back.
The protocol enables users to create polls on any matters they choose. So far, many polls have been on fun issues like whether holders love or hate Donald Trump or Andrew Tate.
However, all votes are recorded on chain, which gives the app many use cases. People could use it for more serious voting matters, such as the direction of a crypto protocol or to have a say on an organisation's governance.