Dogecoin has had a rough week. It took a nosedive from $0.09 on 20 April 2023 and continues to tumble down, well on to slipping below $0.07 at the time of this writing.
With the DOGE price rickety and saturated, meme coin investors are on the hunt for better alternatives. They seem to have found their answer in the Ecoterra presale, which recently flew past the $2M mark within days of going live. It is not only a more stable alternative with an ambitious recycle-to-earn ecosystem supporting its value. Being in the presale stage, the token has larger room for growth with investors predicting a 20X bull run on its initial exchange listing.
More Slips in Sight for DOGE
The meme coin, known for wringing Elon Musk's tweets and nods, has left investors wondering if it's following the path of SpaceX's new rocket that blasted off last Thursday and crashed into the Gulf of Mexico.
What has a harmless-looking crypto got to do with this monumental disaster?
Well, that's the thing about meme coins, and Dogecoin, in particular. You need to have your eyes and ears open in all directions to predict its movements and profit from it.
The DOGE Fear and Greed Index is 38% at the time of this writing, which indicates that the market is overpowered by fear. That can lead to more slumps in the coming days, unless a piece of positive news comes to the rescue of the meme coin. The bearish hue of the broader market has also urged investors to pull away from DOGE and invest in cryptos that are more robust.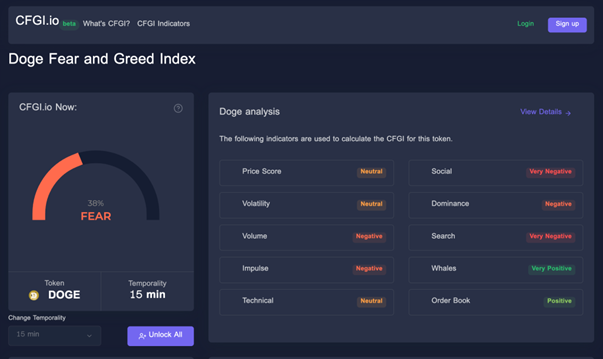 As the broader market recovers, we can expect Dogecoin to follow suit. But it won't bounce back to $0.9 without stronger momentum concentrated inside the meme coin community. Positive price action will rely on external events. That could be anything from a perk in the BTC price owing to macroeconomic movements, more sensational news linking to Musk, and big brand collaborations.
Where is DOGE Headed?
Elon Musk recently replaced the bird icon that has long represented Twitter with the Dogecoin logo. The odd stunt was widely believed to be in response to a lawsuit that accused him of running a pyramid scheme to drive the price of Dogecoin. It goes on to prove that the Twitter CEO won't back off from declaring his affection for the legendary meme coin. That can translate to more pumps in the coming weeks and months.
— Elon Musk (@elonmusk) April 3, 2023
The Dogecoin community believes that the crypto will soon find strong support above $0.1 with more brand and business integrations. The possibility of Twitter integrating Dogecoin can't be ignored either, as the social media platform has long been vocal about its pro-crypto attitude. For example, Twitter recently partnered with eToro to let users trade stocks and cryptocurrencies from the app. It is part of Musk's goal to turn Twitter into a "super app" that provides financial services in addition to discussions and debates.
It can be rightly deduced that more is in the pipeline. In the event Twitter integrates crypto payment, Dogecoin is most likely to be the first on the list.
On the other hand, there are many factors that suggest DOGE is heading toward a challenging year. To begin with, the crypto market is moving in a utility-first direction. A closer look at the market reveals that only projects that push the frontiers of blockchain innovation have been able to win the approval of the investor community this year. Those that fail to prove their worth lose support and are left to their own fate.
For example, top performers in the crypto market this year like Stacks, Audius, Arbitrum, Fantom, and Casper are backed by solid projects. Since they open possibilities of brand adoptions, their value is not just driven by speculation, but also utility from the traditional market. Hollow meme coins like Dogecoin don't stand a chance, as investors rush to these projects.
Dogecoin Price Predictions: 2023, 2024, 2025
Meme coins remain highly volatile. With time, they will be confined to adventurous investors who can endure the steep ups and downs in the market. They don't align with the market's vision of penetrating the masses and being a part of everyday life.
The lack of focus on real-world use cases limits the DOGE price potential. Although some online websites, mostly gambling and gaming, have adopted DOGE as a payment, it has a long way to go in terms of everyday utility. As of now, the price of Dogecoin primarily depends on the hype. It has no intrinsic value derived from an underlying project.
Another factor that can negatively impact Dogecoin's long-term value is the heavy concentration of its supply in a few addresses. The unfair distribution, quite contrary to the decentralized foundation of the crypto market, makes it susceptible to manipulation. Whales can wreak havoc in the meme coin community if they wish to pull out. It is highly likely that Dogecoin will be knocked out of the top-100 crypto chart within a few years.
| | | |
| --- | --- | --- |
| Year | Expected low | Expected high |
| 2023 | $0.08 | $0.14 |
| 2024 | $0.25 | $0.45 |
| 2025 | $0.03 | $0.6 |
Is it the Right Time to Buy Dogecoin?
In the coming weeks, Dogecoin will continue to see significant fluctuations that will favor shrewd investors.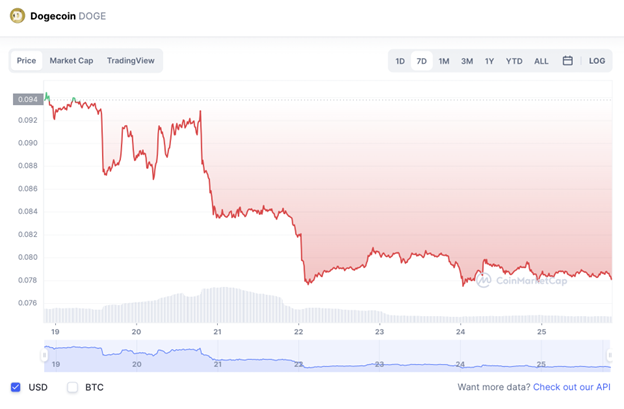 Dogecoin 7D price chart, 25 April 2023, source: CoinMarketCap
Given that the crypto market remains flushed, the DOGE price can sink back to this year's low of $0.053 in a few days, with nothing supporting its price. Since the token is highly sensitive to market events, it can go in any direction within a matter of a week. That said, this is a good time to buy the dips for 20-30% (short-term) returns, if you have time to keep close tabs on the market.
Dogecoin is Saturated, Meme Coin Investors are Buying Ecoterra Instead
The Ecoterra presale, which recently crossed the $2M milestone within days of going live, continues to capture investor attention, paying no heed to the broader market downturn. Ecoterra is a cryptocurrency dedicated to recycling and climate action. Its utility-based foundation, which has scope for traditional user penetration, allows it to stand out in the crowded market.
More brands and consumers are joining environmental projects to reverse the wild weather pattern brought about by climate change. High-impact initiatives like tree plantations, beach cleanups, proper waste management, and recycling are popular. Among these, recycling remains more challenging owing to its technical barrier. In addition, it requires knowledge, willingness, access, space, and time.
Although most of us can surpass these challenges if we put our minds to it, we don't see a point. A little incentivization could go a long way in making recycling mainstream. Ecoterra utilizes blockchain technology to promote recycling among individuals and businesses as part of strengthening climate action. The key highlight of the platform is its recycle-to-earn reward model that encourages participants to take the extra step toward climate action and recycling.
🎉🌱 We have reached another incredible milestone!

Over $2.3 MILLION RAISED 💰

Let's keep pushing towards our goal of a greener future! 🌍🌿

Join the $ECOTERRA #Presale today and be a part of the #Crypto and #GreenFinance movement! 🚀🌿https://t.co/1fYkPOsPYG pic.twitter.com/jE2LSjscVK

— ecoterra (@ecoterraio) April 25, 2023
The project doesn't just educate the public about the importance of recycling. Although helpful, that approach has proven to be inefficient in the past. Instead, it incentivizes users to recycle by rewarding them with Ecoterra tokens every time they recycle an item following the simple steps on the Ecoterra app. In case you're wondering, this will be in addition to the fiat rewards you earn from the reverse vending machines (RVM) in return for a Coke can or a water bottle you pushed in for recycling.
If Ecoterra's underlying green Web 3.0 ecosystem evolves as laid out in the roadmap, we're looking at a cryptocurrency that can potentially make the top 10 list in a year.
How does it work?
Create an Ecoterra account
Scan the barcode of the recyclable items which is linked to the Ecoterra item database
Log into the Ecoterra App
Search for the nearest RVM using the RVM map in the app
Go to the location and place the recyclables in the RVM
Upload the receipt to the app
Get Ecoterra tokens in exchange, depending on the number/quantity of scanned recyclables placed in the RVM via Ecoterra's R2E system.
A closer look at the Ecoterra ecosystem
The Ecoterra ecosystem is built on four pillars – Ecoterra Recycle2earn Application, Ecoterra Carbon Offset Marketplace, Ecoterra Recycled Materials Marketplace, and Ecoterra Impact Trackable Profile.
We discussed the first platform, that is the Ecoterra Recycle2earn Application in the previous section. It encourages a sustained behavior change using a crypto monetary incentivizing mechanism. The second platform, Ecoterra Carbon Offset Marketplace, is a place where you can buy carbon credits secured from verified projects.
And the Ecoterra Recycled Materials Marketplace allows you to boost the sustainability efforts of your business by purchasing recycled plastic, glass, or aluminum from recyclers. It aligns with the project's mission to encourage affiliated companies to adopt a circular product life cycle instead of a linear life cycle. Finally, Ecoterra Impact Trackable Profile improves your brand image and loyalty by showcasing your positive impact actions.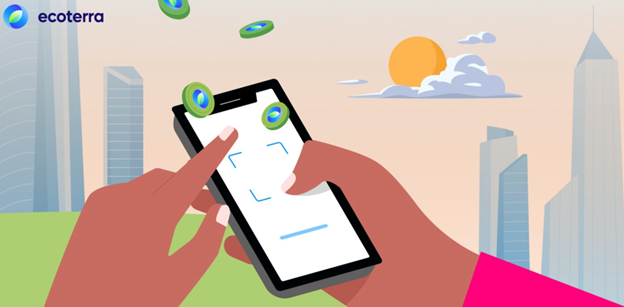 There are more ways to benefit from the platform and even earn financial incentives. For example, you can drop off your clothing items at retailers (like The North Face, H&M, Levi's, Patagonia, and Gap) that will recycle them. The goal is to promote conscious shopping, since the fashion industry is responsible for up to 10% of global GHG emissions. Users who shift to a more sustainable lifestyle by opting for renewable energy consumption or production (through solar panels, wind turbines, etc.) can also earn Ecoterra tokens as rewards.
Businesses, on the other hand, can purchase high-impact plans from Ecoterra. For example, your company wants to recover three hundred tonnes of PET bottles in six months. You can implement it via Ecoterra, which will distribute your funds as rewards to users who undertake its missions. The plans will vary in size and pricing based on the quantity and type of items recycled.
Why is Ecoterra a better alternative to Dogecoin?
The fact that Dogecoin boasts a market cap of $10.8B is essentially the reason it's slowly losing its appeal among investors. It's unrealistic to demand a 2X or 3X bull run from the token, let alone 20X.
Ecoterra, on the other hand, is selling for heavily discounted prices at its ongoing presale. With its token supply capped at 2B and the listing price fixed at $0.01, the presale opens a lucrative opportunity to not miss out on this year.
Having said that, a presale token can't win a market without solid value propositions. This is where Ecoterra stands out. It introduces one of the most promising crypto projects of this year with scope for mainstream adoption.
Buy Ecoterra Before it Explodes
Cryptocurrencies are excellent tools to park money. While some make 10-15% annual returns from their crypto portfolio, some sweep 500-1000% returns. You can use your crypto investment to give you a modest return slightly above FD interest rates. Or, you can use it to exponentially grow your wealth.
The difference lies in two factors. First, the asset – only a utility-rich with high market relevance can stand the test of time. Second is the entry point. Yes, BTC is successful. But you should have invested in the crypto at least 5 years back to profit from its multifold growth.
The market has grown beyond BTC, ETH, and DOGE. Promising new projects like Ecoterra, with real-world relevance have higher growth potential. It's best to buy the token before its exchange listings, which can potentially take it on a steep 10-20X hike by the next quarter.
Ecoterra presale supports purchases using ETH, USDT, or a credit card. At the time of this writing, the token is priced at $0.007/piece. Investors will have to pay higher prices in the next stages, leading to a listing price of $0.01. Grab them early to book the highest returns.