The bird icon that has long represented Twitter has been replaced by a Shiba Inu. The logo change was accompanied by a Tweet from CEO Elon Musk.
— Elon Musk (@elonmusk) April 3, 2023
Last year, a Twitter user suggested that Musk "just buy Twitter" and "change the bird logo to a doge." Musk is now granting his wish, which could be also interpreted as a sarcastic response to the lawsuit that accuses him of running a pyramid scheme to pump Dogecoin.
Dogecoin has climbed 25% in the last 24 hours
Whether the logo change is permanent or not, Dogecoin investors have been reaping the benefits of the Twitter CEO's whims. Musk, known for using Twitter to troll both his fans and his critics, often at the cost of the platform's credibility, has a history of triggering bull runs for the meme coin.
DOGE has climbed 25.3% in the last 24 hours and 30% in the last seven days, capitalizing on each mention.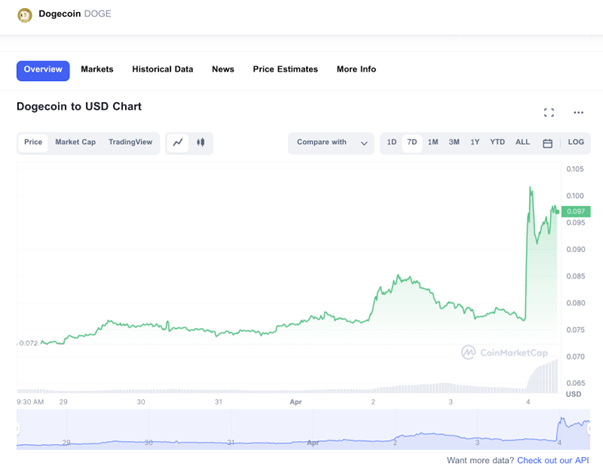 DOGE seven-day price history, Credits: CoinMarketCap, 4 Apr 2023
As expected, other meme coins have followed suit, with Shiba Inu and ApeCoin climbing 8% and 9.8% on the weekly charts. The presale of vote-to-earn meme coin Love Hate Inu, on the other hand, is edging toward $3M.
How long can DOGE hold steady?
Like all rallies, the recent spike should come to an end soon, too. Unless Musk follows up the logo change with another troll and a nod to Dogecoin, the price hike will die down in a few hours. So the real question is how much the meme coin will retain.
That needs a closer look at the token, its price history, and the underlying project development. So let's dive in. Here is an analysis of Dogecoin, accompanied by DOGE price predictions for 2023, 2024, and 2025.
| | |
| --- | --- |
| Dogecoin price (4 April 2023) | $0.097180 |
| Dogecoin market cap (4 April 2023) | $13,483,976,131 |
| Dogecoin price change (24 hours) | 26.7% |
| Dogecoin price change (1 week) | 35.5% |
| Dogecoin price change (1 month) | 32.6% |
| Dogecoin price prediction, Dec 2023 | $0.175 |
| Dogecoin price prediction, Dec 2024 | $0.255 |
| Dogecoin price prediction, Dec 2025 | $0.635 |
Dogecoin: What is it, and how did it come to be?
Software engineers Billy Markus and Jackson Palmer created Dogecoin as a joke in December 2013. It featured a Shiba Inu logo, as a nod to the "doge" meme. As a result of that and the coin's general lack of utility and purpose, it was called a meme coin. But today, the coin is in the top eight cryptocurrencies in terms of market cap.
It is a decentralized, peer-to-peer digital currency that is based on Litecoin, as its source code draws from projects like Litecoin and Lucky Coin. It uses a proof-of-work consensus mechanism to record the transactions on a public ledger. Another important thing to note is that the supply of Dogecoin is uncapped.
Although Dogecoin started with a 100 billion supply, it has a 138,795,226,384 supply now. Once most of the coin was mined out, it was decided to put 5 billion more DOGE into circulation every year thereafter. At this pace, the circulating supply of Dogecoin will double in 20 years. Dogecoin doesn't have a hard cap.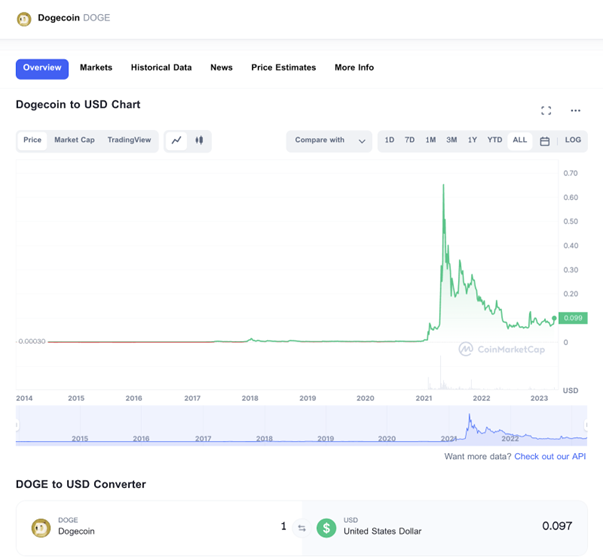 DOGE all-time price history, Credits: CoinMarketCap, 4 Apr 2023
Despite the lazy beginning, Dogecoin gained popularity over time and built loyal communities online. The support from celebrities like Elon Musk and Vitalik Buterin pumped the price of the meme coin to new highs. It stands as an ideal example of what a cryptocurrency is capable of, with a staunch community of supporters.
A simple joke can explode in value and reach a whopping $88 billion market cap. Although cryptocurrencies are known for their advanced use cases that explore blockchain innovation, meme coins continue to establish their presence and grab investor attention without any robust utility. In fact, they have turned many overnight millionaires.
Dogecoin price history: Key highs and lows
2013 to 2017
Dogecoin's presence in the global crypto market was largely limited as a joke during this period. Since it didn't have an ambitious vision or a solid roadmap, it failed to grow and give significant returns to early investors. DOGE was trading for around  $0.0001-$0.0003 from 2013 to 2017.
2017 to 2020
Stepping into 2017, the meme coin concept grew popular. It was gaining momentum among online communities, which helped Dogecoin get more recognition. Capitalizing on the newfound interest, DOGE was trading for $0.0025 to $0.003 during the period.
January to May 2021
The first half of 2021 has to be one of the most successful periods in Dogecoin's journey so far. Thanks to Elon Musk's series of blurt-outs and staunch community support, it soared to an all-time high of $0.74 in May 2021.
May 2021 to May 2022
But DOGE couldn't sustain the profits. It rapidly lost value after hitting the all-time high. During the period, the price roughly stood at around $0.08.
May 2022 to Dec 2023
The long crypto winter of 2022 didn't spare Dogecoin, which slipped to new lows of $0.05 by June. It then continued to tumble down, while momentarily tapping into sensational news like Musk's acquisition of Twitter.
Did Elon Musk buy Twitter because he's a thin-skinned narcissist? Yes.

Did he also buy Twitter to secure the platform from which he performs blatant market manipulation? Also yes. pic.twitter.com/6qdM0v2ku3

— Renfamous⭐️ (@renfamous) April 3, 2023
Despite the price surging on the news development, the FTX fall reversed the gains, quickly. This drastic collapse can be attributed to a combination of high-profile bankruptcies and weary economic conditions.
Jan 2023 – Now
But 2023 has been kinder to DOGE. It has been journeying a slow and steady climb from $0.06941 at the start of the year to $0.097180 in April.
DOGE Fear and Greed Index, credits CFGI.io, 4 April 2023
DOGE price prediction 2023
Most cryptocurrencies are in recovery mode in 2023. The global crypto market cap is back above the much-revered $1T market. Despite the global economic downturn, the crypto market is walking ahead undeterred.
In fact, it has been profiting from the series of bank collapses as an increasing number of investors turned to cryptocurrencies. With the confidence in traditional assets deteriorating, cryptocurrencies are back in the limelight. People prefer it over centralized assets, which are highly sensitive to economic policies.
DOGE, which is close to the $0.1 mark, can climb up to $0.175 by the end of the year. More money will flow to the crypto market, and established cryptocurrencies like BTC, ETH, and DOGE as the economic conditions improve.
Dogecoin price prediction 2024
Crypto recovery is likely to continue through 2024, with many cryptocurrencies trying to reclaim a sizable portion of their lost value toward the end of the year. But for DOGE, it would mean a steep 7X hike to $0.7376. Although the meme coin won't make $0.7376, it can cross roughly one-by-third of the path at $0.25 by December 2024. The macroeconomic recovery will aid the growth, and so will the increasing adoption of DOGE across popular online platforms.
Dogecoin price prediction 2025
The interest in cryptocurrencies and crypto adoption will peak in 2025. If pro-crypto regulations support the market, it will enter the mainstream lifestyle. Crypto integrations will become popular as a means to penetrate the younger generation keen on more decentralized payment methods. DOGE, in particular, is expected to be used as a payment currency, loyalty reward, and gaming reward to name a few. It can climb to $0.6 by the end of the year.
But being a meme coin, Dogecoin's future is volatile and largely unpredictable. It doesn't have a predefined utility supporting its value. If the market conditions are unfavorable, the token can even plummet to $0.05 and fade into obscurity. This is a probability not to be turned a blind eye, as meme coins with robust use cases are entering the market. DOGE can swing either way in the long term.
Is Dogecoin a good investment?
Dogecoin is a solid investment this year. The DOGE label gives it a global appeal. More importantly, Elon Musk's frequent mentions can trigger multiple DOGE rallies in the coming months. Apart from a large online community, the meme coin has received support and mentions from popular crypto and non-crypto influencers.
That said, Dogecoin's long-term projections are blurry due to its lack of a strong roadmap. It is highly sensitive to market downturns and can bite the dust in the event Elon Mush finds other.. obsessions. Unless the project integrates more relevant use cases, it has no long-term relevance. In the short term, that is one to two years, Dogecoin can give 2X to 3X returns to investors if the market is favorable. With a large market cap, Dogecoin's room for growth is limited.
If you want to make large returns from the crypto market, you need to look for emerging cryptocurrencies backed by visionary projects and practical roadmaps. A good example is Love Hate Inu, which has been flaming hot over the last two weeks. The presale of the meme coin, now past the $2.6M mark, is predicted to sell out ahead of schedule in a few days.
Love Hate Inu has more room for growth than Dogecoin
Vote-to-Earn crypto Love Hate Inu is the latest meme coin sensation. With whales scooping up the tokens, it is the talk of the crypto town. Touted as a voting token, Love Hate Inu promotes healthy discussions about important topics while tapping into the meme coin hype. It doesn't settle for the meme coin label, however, and instead uses the fascination with the genre to draw attention to its voting platform.
At the heart of the craze around Love Hate Inu is its scarcely-explored utility. It underpins the value of Love Hate Inu and allows it to stand on its own feet, despite the broader market trends. It will host polls on a wide range of topics like politics, entertainment, popular culture, social issues, or sports.
The voting system is supported by a staking mechanism, secured by smart contracts that prevent spam and manipulation. The vote-to-earn platform is designed to allow verifiable and anonymous voting. This is how it works, in simple terms:
Stake your LHINU tokens,
Participate in the latest polls,
Earn tokens for voting.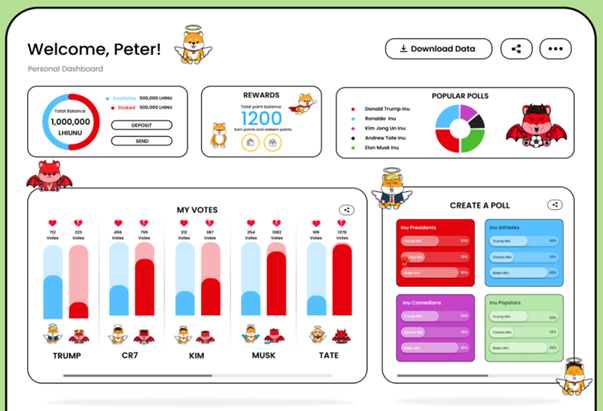 Love Hate Inu dashboard preview
While the team will choose the topics for the polls in the initial stages, the responsibility or power will be handed over to the community over time. The Love Hate Inu Dashboard will be a one-stop to create polls, track rewards, follow the latest trending votes, and more. In addition to the dashboard, Love Hate Inu features a user interface where you can connect your wallet, participate in real-time polls, and earn rewards. The vote submission platform, on the other hand, allows you to submit new poll ideas for the community to consider.
Can Love Hate Inu 10X this year?
Online surveys and polls are gaining popularity. Brands are increasingly using them as a means to understand consumer trends and behaviors.
Love Hate Inu is stepping into the fertile market with a sharp blockchain edge. It will stand out in the market with better transparency, decentralization, and user experience. In addition, the meme coin label gives it a fun appeal. Being a relatively new meme coin project, Love Hate Inu has a larger room for growth when compared to high-cap meme coins like Dogecoin and Shiba Inu. It is an excellent buy this year with multiple milestones like the launch of LHINU staking, management dashboard, and custom polls ahead. The project will also kick-start brand partnerships, sponsored polls, and brand-sponsored rewards mechanisms soon.
How to buy Love Hate Inu?
Love Hate Inu is now selling 90% of its supply at the presale for heavy discounts. It allows the community to hold the majority of the tokens and profit from its upcoming bull runs. (What is remaining of the 10% will be used for liquidity, listing fees, and community rewards.) So the best time to buy Love Hate Inu is now. Since the presale undergoes a gradual price increase, the earlier you get in, the higher the discounts.
You know what to do #LoveHateInu community!👀

Why wait for the price to increase?⏰

Join the #Presale and get your $LHINU now!🚀💰https://t.co/Pu2Bo8WOUy#CryptoCommunity #AltCoins #MemeCoins pic.twitter.com/ORNQVZ7fKh

— Love Hate Inu (@LoveHateInu) April 4, 2023
You would need a crypto wallet stocked with ETH, BNB, or USDT to join the LHINU presale. Once your wallet is set up with enough funds, go to the presale page, click the BUY NOW button, and connect your wallet. Now you need to choose your method of payment – buy with USDT, ETH, or BNB. Then enter your purchase details and approve the transaction.