The crypto market is all set for a good few quarters – at least that's how things look as they stand. Bitcoin is looking up and investors are pleased that it crossed $30,000 albeit briefly. However, one token that's certainly on everybody's radar, even more than bitcoin, is Ethereum.
The market's favorite smart contract network has had a sensational few weeks and it's only looking like it will get better. The project has seen the ETH token blast past $2,000 and this is sure to go even further upon the activation of the Shapella upgrade.
Here we offer a price prediction for Ethereum in 2023. We also provide insight into other tokens that may offer prospects for investors in what looks like could be a bullish year for altcoins.
What is Happening in the World of Ethereum?
Ethereum is second only to bitcoin, and the network and its asset is proving itself to be the token of 2023. It's still a long way to go before the year ends, but the signs are all there: Ethereum staking is strong, the upcoming Shapella upgrade bodes well for stakeholders, and DeFi is as strong as ever, despite the market downturn.
To put into perspective, over the past 24 hours alone, nearly $200 million has been staked, indicating the enthusiasm for the network. People are interested in seeing what Ethereum can become now that some of the biggest upgrades have taken place or are imminent.
The ability to unstake ETH is the primary reason why Ethereum is doing so well and why it could regain that $3,000 mark that was so coveted. Speaking realistically, however, where could ETH go? The crypto market is certainly in a bullish state, but can Ethereum break its all-time high in 2023?
Where Could Ethereum Go?
It's always difficult to make a price prediction in the crypto market and the past 12 months have made this even more challenging. The crypto market has seen some ups and downs during this time and some particularly unique events like the fall of FTX have made the future more uncertain.
However, one thing that is indisputable is the fact that fundamental technology continues to develop. This is what Ethereum is showing time and time again, and is what puts it in a great place to cross the $3,000 mark this year.
That's a decent price prediction for Ethereum in 2023. $3,000 is within the realm of possibility and it may even shoot past that number this year.
On a longer time scale, Ethereum could breach $4,000 and even cross its all-time high of $4,878 in 2024. That's a little more uncertain but provided the sharding upgrade goes off without a hitch, it's not at all unreasonable to think that it will attain that goal. As such, Ethereum enthusiasts will have a good year in 2023, all things considered.
It's also important to note that there are other tokens beside Ethereum that look like they will have a strong year. Two of those are Ecoterra and Love Hate Inu, both of which look like stellar altcoins.
What Tokens Other than Ethereum Will Do Well in 2023?
Of course, the general advice is to go for major tokens that have proven themselves time and again. Still, those who want substantial gains will always go for the market's hidden gems. It can be difficult to discover these but there are always signs that indicate a token's true potential.
Two tokens that do this very well are Ecoterra and Love Hate Inu, both of which have been in the news lately.
Ecoterra Looks Like a Shining Example of Utility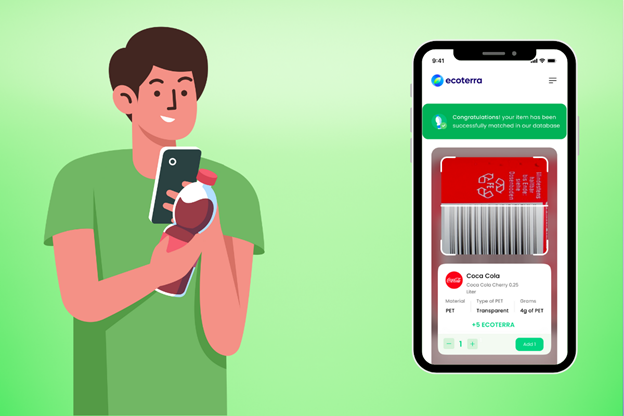 Ecoterra is a blockchain-based platform that enables individuals and businesses to join the fight against climate change. However, it's crucial to comprehend the project's purpose and overall objective before delving into its functionalities.
The Ecoterra team has a dual mission: to promote environmental awareness through green education and encourage people to participate in recycling. To achieve this, they have developed the Recycle2Earn system, which rewards individuals who recycle with Ecoterra tokens through the Ecoterra app. This rewards program offers additional benefits to users for recycling, and the tokens they earn have the potential to increase in value. Additionally, users can stake these tokens to passively earn dividends from Ecoterra's revenue streams.
Ecoterra is a platform that benefits not only individuals but also offers advantages to companies involved in recycling or producing recyclable materials. When informed consumers dispose of their recyclable packaging properly, they provide a consistent supply of materials to recycling companies, who transport them to recycling centers for processing into raw materials.
The Ecoterra platform's goal is to establish a circular product life cycle by providing a shared marketplace where recycling and product companies can interact and promote sustainable practices. Recycling companies can sell raw materials to product companies through this marketplace, allowing them to purchase materials to create new products.
The Recycle2Earn app is integrated with user profiles, which track and record their climate actions. Likewise, companies have their own impact trackable profiles, which they can use to purchase impact packages containing various material types from users to offset their production processes' negative effects. This allows all stakeholders to demonstrate their commitment to sustainability.
Apart from its existing features, Ecoterra provides a carbon offset marketplace and a recycled materials marketplace. The carbon offset marketplace enables users and companies to offset their carbon emissions using Ecoterra tokens through verified and reputable projects worldwide that meet high standards. The amount of carbon offset can be converted into achievements, which can be transformed into NFTs. The recycled materials marketplace is a platform that enables companies to locate recycled materials, connect with recyclers, and perform other relevant actions.
Ecoterra's technology allows for flexibility in payment methods, enabling companies to pay for their transactions on the platform using fiat currency, stable coins like USDT, Bitcoin, and Ecoterra tokens. Companies opting to use Ecoterra tokens can also benefit from reduced transaction fees and staking opportunities.
Ecoterra is currently in its presale phase, and those interested in participating may want to consider doing so. The initial phase offers 1 Ecoterra token for $0.0055, with payment options such as ETH, USDT, or credit card. The ECOTERRA token is an ERC-20 token, and the total token supply is 2 billion. In the next stage, the token price will rise to $0.00625.
It's worth noting that Ecoterra is still in its early stages, indicating that there are many exciting developments to look forward to. Following the conclusion of the first presale phase, the team will concentrate on marketing and promoting the platform, registering users for Recycle2Earn, and developing the carbon offset marketplace. During the subsequent growth phase, the team plans to form partnerships, establish the recycled materials marketplace, and undertake additional initiatives.
Once all presale stages are complete, or the fundraising goal is reached, the team will focus on securing exchange listings and continuing to develop the platform.
Ecoterra is a shining example of a crypto project that is doing good for the world. Such projects seem to be a major trend in 2023 and investors can expect more such projects to pop up. As such, it's not out of the realm of possibility that Ecoterra will do particularly well when it comes to social projects because it is one of the first to enter the market.
Love Hate Inu is a Meme Coin with Utility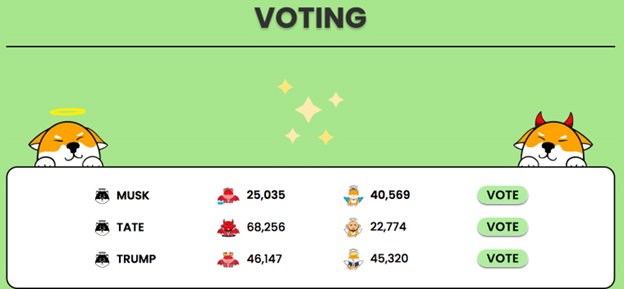 Love Hate Inu is a unique meme token that offers its holders the ability to participate in a decentralized voting system. By staking their tokens, users can vote on various issues, and the system is designed to prevent spam and manipulation of votes using smart contracts. In addition, active users can earn rewards in the form of tokens for participating in the voting process and engaging with the platform.
To participate in Love Hate Inu polls, users are required to stake a minimum amount of $LHINU for at least 30 days, which helps to prevent spamming and manipulation of votes. The ecosystem consists of two main components: the Vote Submission Platform, where poll concepts are proposed, and the Management Dashboard, which oversees the voting process in a transparent manner.
The Love Hate Inu team will also conduct surveys to ensure that the community has access to relevant topics to engage with. The token is set to launch in Q3 of 2023, and from Q4 onwards, both LHINU token holders and interested brands will have the ability to create and promote their own polls.
Love Hate Inu empowers its LHINU token holders to actively engage in meme polls by staking their tokens and voting on various topics, ranging from entertainment and politics to societal issues. The Love Hate Inu development team ensures that the blockchain-powered voting process is secure, transparent, and unbiased.
Token rewards are distributed to users who stake their LHINU tokens and participate in the polls, with the voting power assigned based on the number of tokens staked and the length of the vesting period.
Initially, the Love Hate Inu team manages the available polls on the platform. However, they plan to enable community participation through the upcoming Vote Submission platform, which is set to launch later this year. This platform will allow users to submit their poll ideas for evaluation by the community.
Love Hate Inu has raised over $4.3 million. It recently announced Carl Dawkins, the Head of Growth at Tamadoge, as its CEO. Currently, the project is conducting a presale of its LHINU token, which is gaining significant attention from investors. The presale offers 90% of the total token supply and allows for both cryptocurrency and traditional credit card transactions. The remaining 10% of the token supply will be set aside for marketing, development, and rewards distribution through Vote to Earn. With the presale segmented into eight stages, early investors can benefit from the current price of $0.000115 per LHINU token, but should act quickly before the opportunity passes.
It is advisable for potential investors to act quickly as the price is expected to increase to $0.000125 in the subsequent round, allowing initial investors to potentially earn a profit of almost 70% by the conclusion of the presale. LHINU tokens have no vesting period, allowing holders to freely trade and sell them as desired.
The Love Hate Inu presale ensures equity by offering 90% of the total 100 billion tokens to the general public, eliminating the possibility of rug pull schemes from malicious individuals. Investors can purchase LHINU tokens with either ETH or USDT. Those who already possess these cryptocurrencies in their wallets can directly purchase LHINU from the website, with payment possible through credit cards.
On the face of it, Love Hate Inu may seem like only a meme coin, but the project is much more than that. It offers those who like a joke coin to use their assets for a purpose and there is something to be said about the voting system. This is precisely the kind of use that meme coin enthusiasts like, so Love Hate Inu is worth keeping an eye on.
2023 is a Big Year for Altcoins
Compared to the challenging year of 2022, the crypto market appears poised to have a more promising year. While it's difficult to predict, the market seems to be on the brink of a bull run. It's beneficial to identify which altcoins have the potential to shape the industry's future, and two of them are Love Hate Inu and Ecoterra.
2023 is setting itself up to be an exciting year for altcoins, so investors should keep a close eye on new tokens that arrive. As usual, it's important to do your own research.