The FTX collapse has everybody on edge – and rightly so.
The fallout from the exchange breakdown wiped out over $200 billion from the cryptocurrency industry, and people are now questioning how they can avoid getting involved in the next FTX.
One thing is for sure; you should only hold some of your assets on centralized crypto exchanges.
In addition, research is one essential tool that people should take advantage of. The signs have been there for some time about FTX's credibility – most just chose to ignore it.
The problem is that research takes a lot of time, and most people need help figuring out where to start.
This is where using a signal trading platform is your best option – and Dash 2 Trade has the perfect solution.
Dash 2 Trade – World-Class Trading Analytics and Insights.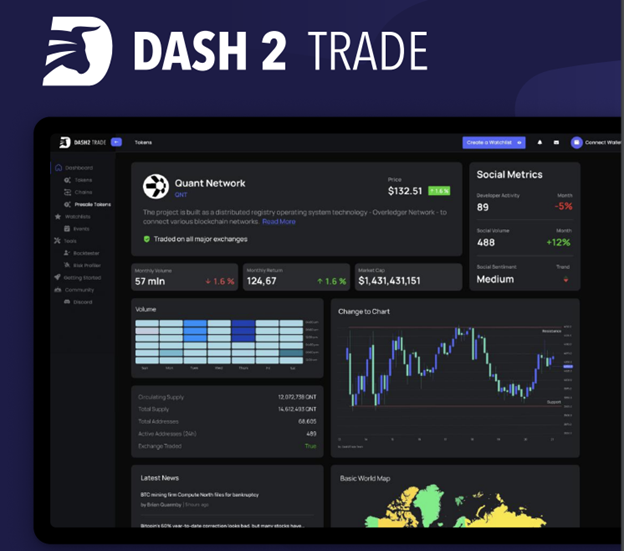 Dash 2 Trade is a world-class crypto trading analytics and intelligence platform designed to help traders to take their profitability to the next level.
The Dash 2 Trade dashboard will provide actionable trading signals to allow traders to profit from the insights of experts.
In addition to the actionable trading signals, Dash 2 Trade also can boast the following features;
Price Predictions
Social sentiment and on-chain analysis
Strategy builders
New crypto listings
Presale launches
Trading Competitions
The entire idea of the platform is to provide in-depth market insights to help traders create market-beating strategies. In addition, the platform will allow them to develop and test new trading strategies and keep track of the latest news and essential on-chain data.
💻 INTELLIGENT INVESTING 💻

Simplify your crypto investing with the all-in-one intelligent platform Dash 2 Trade!

Join our existing community of 70,000+ traders⬇️https://t.co/ExvBBjKIU6 pic.twitter.com/GTtS7sb2Ep

— Dash 2 Trade (@dash2_trade) November 12, 2022
With thousands of tokens being launched in the cryptocurrency market every month, it can take a lot of work to keep up with all the latest developments as the crypto space moves at lightning speed. Dash 2 Trade aims to keep traders up to date on the latest developments in the market to make the best trading decisions possible.
How can Dash 2 Trade Help to Prevent You from Entering the Next FTX?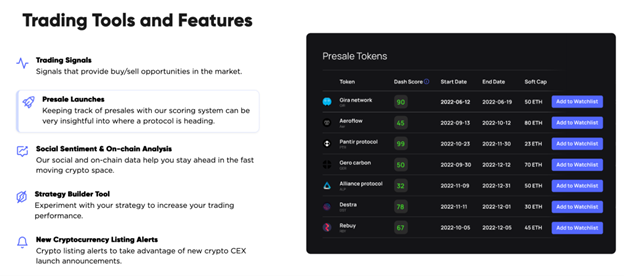 Alongside the actionable trading signals and social on-chain metrics, one of the best features of the crypto signals platform is that it provides a bespoke presale and ICO scoring system.
The presale space is challenging to track as it requires time to research new projects that appear daily. However, the great thing about the presale sector is that it provides an insight into where the general market might be heading next – allowing you to develop an edge if you follow it consistently.
The Dash 2 Trade platform provides essential information and metrics to help traders assess the legitimacy of presale tokens. In addition, they have created a bespoke scoring system that allows traders to quickly gauge the future potential for an upcoming crypto presale or ICO.
Furthermore, the team manually scores projects to assess metrics that automatic software cannot evaluate. For example, the scoring system considers metrics such as team credentials, contract audits, and tokenomics.
Having a second pair of expert eyes on a presale that you might be investing in can be game-changing – and prevent you from getting involved in the next FTX-type disaster. In addition, the additional insight can bring to light aspects of the project you might have missed in your research and potentially prevent you from entering into a project with a shady team behind it.
Expert Team With Expertly Audited Contracts
Taking things further, it's important to note the Dash 2 Trade team's credentials. They are a world-class development team – backed by quant developers and venture capital investors – with a very successful track record.
The Dash 2 Trade project is being developed by the team behind Learn 2 Trade – a trading FX education and signals platform established in 2017. Learn 2 Trade is one of the most popular FX platforms on the market, and it managed to gather a user base of over 70,000 traders.
The same team that created Learn 2 Trade has partnered with profitable crypto traders, quants, and AI developers to deliver a crypto trading dashboard and ecosystem with the hopes of replicating the success of Learn 2 Trade in the crypto space.
Furthermore, the Dash 2 Trade contracts are audited by SolidProof – one of the highly respected auditors in the industry – and the team is KYC verified by Coinsniper.
Dash 2 Trade Presale Currently Underway
🚨We are selling out fast!🚨

🚀 The #D2T presale is live and so far it is a huge success! 🚀

Don't miss it – buy $D2T now ⬇️https://t.co/ExvBBjLgJE#crypto #presale #investing #trading pic.twitter.com/wLVHU62l6J

— Dash 2 Trade (@dash2_trade) November 12, 2022
The presale for the D2T token is currently underway and is selling out astonishingly quickly – especially with the industry's current state following the FTX collapse.
In the short few weeks active, Dash 2 Trade has managed to raise over $6 million in its presale.
The D2T token itself will be used to power the Dash 2 Trade dashboard. Users will need the token to access the platform through a subscription-based model – which is paid in D2T tokens.
Overall, if you want to avoid getting involved in the next FTX disaster, Dash 2 Trade is undoubtedly a dashboard for you.