E-commerce has become an essential part of our daily lives, redefining commercial activities worldwide. Internet penetration has done wonders for the industry and contributed to its growth significantly.
The global e-commerce industry was valued at $13 trillion in 2021 and is expected to reach $55.6 trillion by 2027. The Asia-Pacific nations account for more than 70% of all e-commerce activities. For example, China alone contributes $740 billion in e-commerce sales, while the United States accounts for more than $560 billion.
This multi-trillion-dollar sector is now evolving to its next level, thanks to innovations in Web3. To this end, traditional e-commerce organizations are beginning to recognize the potential of technologies like blockchain and crypto. While blockchain provides secure and reliable infrastructure,   cryptocurrencies introduce novel financial aspects and opportunities. And with these factors combined, we are now witnessing the rise of a new commercial paradigm, namely crypto commerce.
Crypto Commerce: The New Word in Town
Crypto commerce refers to buying and selling goods or services online using cryptocurrencies. C-commerce platforms are blockchain-based and thus support cryptocurrency transactions. However, unlike traditional e-commerce platforms that accept crypto payments, c-commerce provides additional crypto-based utility. It also incentivizes or rewards users for purchasing and referrals.
The most distinctive feature of c-commerce is that it simultaneously benefits consumers and platforms. This is mainly due to the speed, cost-efficiency, and global accessibility of blockchain transactions. Moreover, users can easily create secure and cryptographically verifiable digital identities. And most interestingly, customers can earn by shopping in c-commerce.
C-commerce also helps businesses scale better and faster. Its borderless nature lets merchants expand their outreach and scope for innovation. Additionally, crypto payments minimize chargeback frauds since transactions on the blockchain are tamper-proof and irreversible. Platforms like Shopify are thus accepting crypto payments nowadays, while blockchain-native cCommerce platforms show much potential.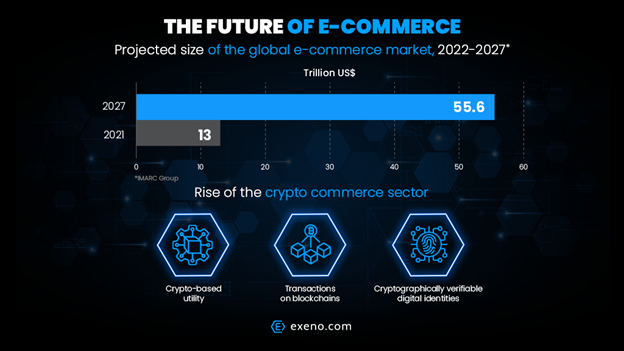 The Rise of Utility-Driven C-commerce Startups
The e-commerce industry has been around for more than a decade, whereas the crypto revolution has only just begun. However, emerging startups are taking crypto seriously and developing utility-driven c-commerce stores.
Exeno, for example, is one blockchain-based startup building a spectrum of a crypto-commerce ecosystem. The platform is a shopping marketplace powered by its native exeno coin ($EXN). It features a wide range of products that customers can purchase using their favorite cryptocurrencies and payment gateways, besides offering an immersive user experience. Moreover, it is one of the first to provide complementary features such as ID management, messaging, and bridges.
The Future of E-commerce is on the Blockchain
The transition from traditional e-commerce firms to blockchain-enabled ones has already begun. Blockchain technology significantly enhances e-commerce enterprises' security, productivity, and transparency. This will enhance the user experience, allowing e-commerce platforms to attract new consumers while retaining existing ones. Furthermore, this may aid platforms in increasing revenue and consumer satisfaction.
The nature of blockchain and the utility of cryptocurrencies have the potential to create a multi-trillion-dollar opportunity for e-commerce platforms. With the crypto market gradually becoming more prominent, e-commerce may transition to c-commerce. It's merely time before people witness the new Web3 Amazon.