Since last year, the crypto industry has remained bearish. Despite the investment craze of the first half of 2022, the total amount of crypto investment dropped to $2.3 billion in Q4 2022, a decrease of over $10 billion from the beginning of the year. However, according to Cointelegraph Research's 2022 Venture Capital Report, in 2022, VC investment totaled $36.6 billion, up $6.1 billion from the previous year. The Web3 category alone attracted a whopping $9.2 billion in capital inflows, accounting for 25.14% of the industry total.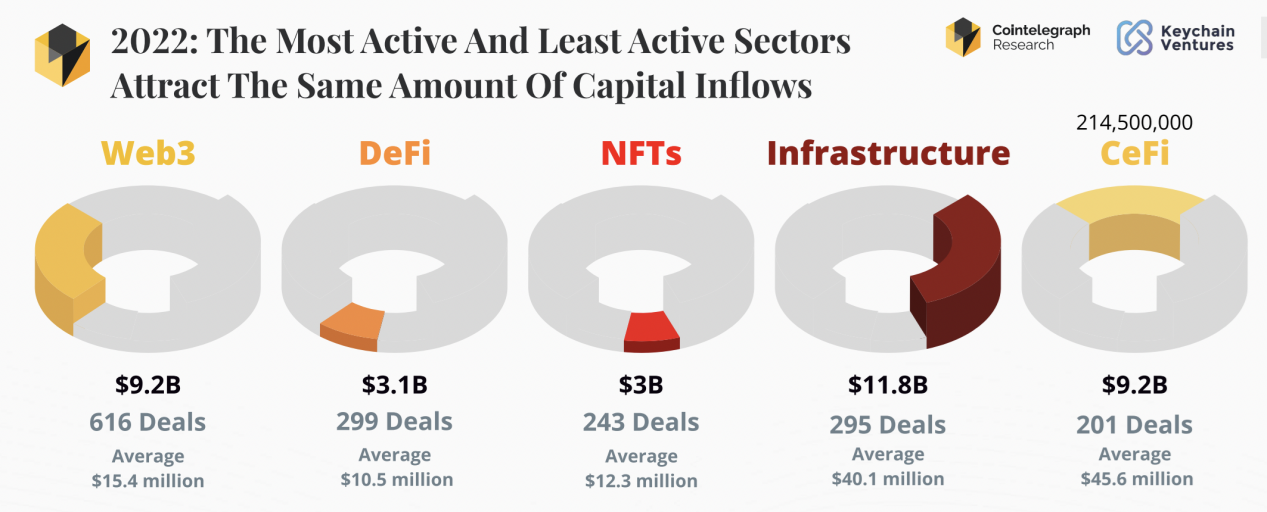 Source: Cointelegraph Research's 2022 Venture Capital Report
For crypto investors, investing in a bear market is an excellent strategy, as many promising projects are born during the crypto bear, and plenty of hit projects are survivors of the cold winter.
Crypto investment gaining popularity
In 2023, as the Bitcoin price rebounds, the crypto market is showing signs of recovery. Meanwhile, primary crypto investment markets have become more active. According to a report by cls.cn, in January 2023, Web3 projects raised $517 million, up 36.05% from December 2022. Compared with other crypto categories, Web3 has witnessed the emergence of more projects. At the same time, infrastructure projects and those with specific use cases are still favored by capital investors.
Today, we will review some of the Web3 projects backed by prestigious institutional investors. Let's explore the trends of Web3 in 2023 through the forward-looking insights of institutional investors.
a16z
Andreessen Horowitz, founded in 2009, is a VC firm investing in crypto and Web3 startups. On February 17 this year, a16z led the investment in Web3 security company Stelo Labs and play-to-earn gaming guild YGG; on February 21, the firm invested $10 million in NFT game Azra Games; on February 23, it led the investment in Web3 social protocol Towns, a project that has raised $25.5 million. According to public statistics, a16z invested in over 80 Web3 projects last year, including BreederDAO, Metatheory, Tally Labs, and Ready Player Me. Its portfolio covers categories such as games, the metaverse, NFT, and decentralized identities.
Pantera Capital
As the first asset manager in the US to focus on blockchain technology, Pantera Capital prioritizes investments in digital assets and blockchain companies. On January 17 this year, the company led the investment in Obol Labs, a provider of distributed validator technology. On February 23, Pantera Capital invested $10 million in Web3 game Worldwide Webb, which is also a metaverse game. Previously, Pantera Capital had led investments in a number of new projects, spanning NFT trading protocol Waterfall, crypto wallet Braavos, and crypto technology developer Fordefi.
ViaBTC Capital
ViaBTC Capital, the investment branch of ViaBTC Group, integrates capital, resources, and post-investment services. ViaBTC Capital announced its investment in METAMORPH, the first Web3 mobile life simulator, on February 22, 2023.
Metamorph is the first life simulator based on 3D blockchain. In this game, players get to control their virtual characters, Morphs, to perform a wide range of activities, such as decorating houses, managing social relationships, earning virtual assets, and going on adventures.
According to its official website, ViaBTC Capital invested in multiple Web3 projects, including Web3 social data gateway Port3, NFT Twitter analysis tool TwitterScan, and metaverse game PEPO Paradise.
Based on the above portfolios, it is clear that institutional investors aim to grab the perks that Web3 might bring. So far, Web3 technologies and application scenarios are still expanding, and the sector will see more challenges in the future. However, it is undeniable that Web3 represents the direction of future tech development. In crypto investment, Web3 categories include metaverse games, infrastructure, Web3 social media, and NFTs. In particular, Web3 social media and metaverse games are the favorites of investors, raising funds from top institutional investors. They might also reflect the overall trend of Web3 in 2023.
In the future, as we usher into a more immersive Web3 environment, categories like metaverse games, NFTs, Web3 social media, and decentralized identities will continue to gain momentum and attract more investors.