Dogecoin was a path-breaker in 2021. It proved how community support and hype can drive the crypto movement. Things have been a little disappointing for the coin and the community this year, however. It has shed most of its value amid the series of crypto crashes.
Does DOGE have what it takes to overcome the crypto winter?
In this article, we will analyze the project in detail, accompanied by long-term and short-term Dogecoin price predictions. That will be followed by expert opinions about the investment potential of Dogecoin. We will also look at promising cryptocurrencies that can be good alternatives to Dogecoin next year.
TL;DR – Is it too Late to Buy Dogecoin?
Seeing DOGE tumble down, investors are wondering whether the meme coin is on the path to extinction.
We need to consider many factors to answer this question. Dogecoin has derived its value mostly from community support and payment integrations in the past. If DOGE consistently expands its utilities and regains the confidence of investors, it can bounce back into action. It is still one of the top cryptocurrencies in terms of market cap.
The persistent inflation and looming recession in the global economy have taken a toll on the crypto economy this year. As the broader market recovers from the long crypto winter in 2023, so will Dogecoin. Another factor that is likely to give a boost to the meme coin next year will be payment integrations, especially into Twitter and other platforms helmed by Elon Musk. If more platforms follow suit, DOGE can break past its all-time high in the coming years.
Dogecoin Price History & Performance
Dogecoin gained close to 1,250% in 2021. When it hit $0.74 for a brief period, a rise to $1 didn't seem like a long shot. It scaled the all-time high in May 2021, in contrast to most of the market, which went on to perform well toward the last leg of the year. The meme coin has come a long way since that, following a downward trajectory. Throughout the year, it has struggled to give good returns to users, apart from momentary pumps.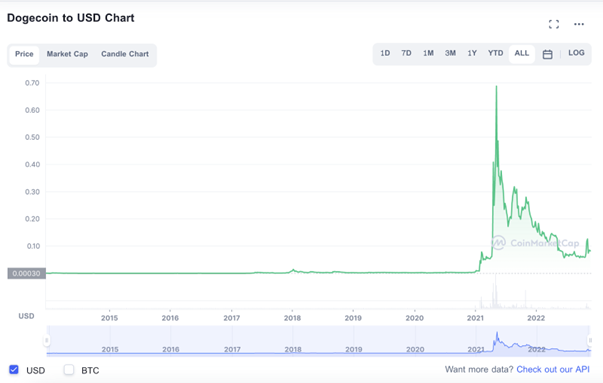 Dogecoin all-time price chart, 23 Nov 2022, source: CoinMarketCap
The gradual fall gained momentum from the crypto winter and the series of crypto crashes. But Elon Musk's acquisition of Twitter is reinstating faith in the future of the meme coin. The community is optimistic that DOGE will be the first to make the crypto payment integration on Twitter, if it takes that route.
That would broaden the utility of the token, in turn, driving its demand. It is also likely to expand the community to traditional users and influencers.
As a result of the widespread speculation, DOGE has gained close to 35.4% in the last 30 days (at the time of writing). On 1 Nov 2022, it hit $0.14, kindling hype around the project. It didn't last long. The bankruptcy of the FTX exchange and the subsequent collapse of FTT tokens tossed the market into a sea of red. Dogecoin wasn't spared. It is trading for $0.081550 today, 88.87% down from its all-time high. That also means the token has the potential to give 88.87% returns to investors.
Dogecoin Journey: Key Highs and Lows from 2013 to 2022
Here is a quick look at the most important milestones in Dogecoin's journey from 2013 to 2022.
2013 to 2017: Dogecoin was launched as a joke on the crypto community. Without an ambitious vision or a solid roadmap, the asset failed to grow and give returns to early investors. It was trading for roughly $0.0003 during the period.
2017 to 2020: From 2017, the meme coin concept was gaining momentum, which helped Dogecoin get more recognition in the crypto community. As a result, it was selling between $0.0025 and $0.003.
January to May 2021: One of the most successful periods in Dogecoin's journey so far. The meme coin became one of the fastest-growing cryptocurrencies in 2021, thanks to Elon Musk's continuous support and the staunch community. It soared to an all-time high of $0.74 in May 2021.
May 2021 to May 2022: – DOGE has gradually lost value after it hit an all-time high. The price stood at around $0.08 during the period.
May 2022 to Now: Dogecoin has mostly remained dull during the period, following the broader market trends. However, investor confidence in Dogecoin has been improving, after Musk's acquisition of Twitter. Although the price shot up tapping into the news, the FTX fall has reversed the gains in the last two weeks. Dogecoin is trading for $0.081550 today.
An Analysis of Dogecoin Performance in 2022
To understand how Dogecoin will perform in the coming months and years, it is important to look at its historical performance. We need to understand why the coin has struggled to maintain its momentum in the last few months.
In this section, we analyze the project developments during 2022 and how external factors, including broader market trends, have impacted it.
Persistent crypto downturn
2021 has been an excellent year for the crypto industry in general. Most tokens, including BTC and ETH, climbed during the period, breaking records and hitting their all-time highs. As more investors started to stock up on the assets, the price took off, making them unfeasible over time.
Long-time investors with large holdings began to cash out, taking advantage of the upturns. That resulted in a cascade of price falls, beginning in late 2021. It still continues, aggravated by multiple crashes – the LUNA debacle and FTX bankruptcy, to name the worst.
While the crash affected BTC and ETH the most, it paved the way for deteriorating confidence in the industry. Add to that the worsening inflation, threats of a global recession, and uncertainty around the war. With little savings, investors are unable to channel funds to the market like they used to. That could change next year, however.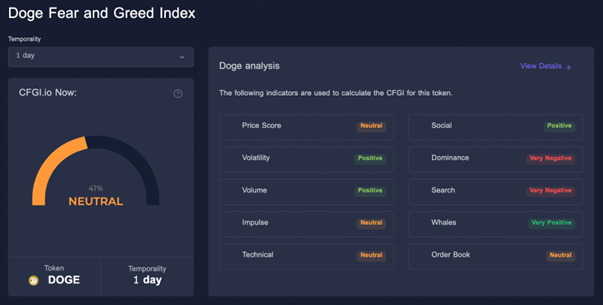 DOGE Fear and Greed Index, 23 Nov 2022, Source: cfgi.io
Declining investor confidence
Last year, the market witnessed a large influx of investors. Most of them were new to crypto, drawn by the rags-to-riches tales of long-term crypto investors. Meme coins were especially known for their high volatility. The holdings could give and wipe out fortunes overnight, triggered by small movements in the market. Dogecoin was one of the cryptocurrencies with the highest upside potential in 2021.
People began to hoard Dogecoin to tap into its volatility, in the hope of making huge profits in the short term. The fact that most of them knew little about crypto or Dogecoin didn't help the crash that was to follow. Dogecoin has little utility, apart from payment integrations. There is no underlying project that is driving innovation or value to the coin. So, of course, 2021 was a bubble waiting to burst.
The market began to turn its back on DOGE much before the crypto winter began in late 2021. Short-term investors got rid of the token as fast as they could, and the prices fell prey to the growing selling pressure.
The sell-off has gained pace in 2022, with nothing supporting the token price. Even 'Godfather' Elon Musk gave up on cryptocurrencies amid the worsening market conditions, selling 75% of Tesla's BTC holdings. Traditional market conditions like inflation and the energy crisis caused by the Russia-Ukraine war also stop investors from spending their money on volatile assets like crypto.
Dogecoin year-to-date price chart, 23 Nov 2022, source: CoinMarketCap
Where does that take DOGE?
Given the lackluster conditions in the crypto and traditional markets, investors are wondering whether it's too late to buy Dogecoin. The question is well-founded. According to top industry experts, the recent crashes will be a game changer for the crypto industry. They go on to prove that crypto projects can't survive on speculation alone.
The industry needs to create value through blockchain innovation to stay relevant in the long run and build a loyal community. Flimsy crypto projects have lost most of their value in the collapse, rendering them dead. High-cap cryptocurrencies, on the other hand, are undergoing a series of price corrections. This includes Dogecoin as well. Once that is over and the market attains stability, so will Dogecoin. In fact, Dogecoin could be one of the first cryptocurrencies to reverse the losses made in the past few months.
DOGE has found strong support at $0.0544, despite the grim circumstances. Things will start to look up for the meme coin soon. But not without building its intrinsic value. That can happen only if more platforms accept DOGE as a payment currency. The most speculated platform is, of course, Twitter. If Elon Musk moves ahead with the plan to integrate DOGE into its payment system, the token could take off, with a larger market impact.
Musk's interest in improving the monetization of Twitter adds momentum to the rumors. He has introduced multiple changes on the social platform since his takeover, beginning with monthly charges on official accounts. Although the initiatives are still evolving, they are highly likely to be implemented in the coming weeks and months. DOGE, as a payment on Twitter, would align with Musk's pro-crypto stance and will play a key role in bringing cryptocurrencies to more people. That would in turn pave the way for a market revival in 2023.
To answer whether it is too late to buy Dogecoin, it is not. It is one of the best cheap cryptocurrencies to buy now. The strong support will encourage more investors to stock up on DOGE in the next weeks, leading to a slow price rise. And the rapid price gain will begin with more payment integrations. It may not be limited to Twitter, as more companies are likely to follow suit. The fact that the crypto market is predicted to slowly recover in the coming months also makes the path smoother for Dogecoin.
Check out #Dogeathon Hackathon attendees using #Dogecoin in regional Australia. Such currency! pic.twitter.com/m6sU9mShbw

— Dogecoin (@dogecoin) November 18, 2022
Dogecoin Price Prediction From 2023-2030
Dogecoin may have had a dull year. But it hasn't killed the crypto, unlike most meme coins and hype-driven assets. That instills faith in the future of the project and its potential returns. Given that DOGE has already found its bottom, we will now see it gradually climb the charts. With no major crypto crash in sight, it could begin as soon as November.
If the broader market trends work in favor, the token might give a few pumps in December. They may not last, but definitely will take it higher in the long run. As discussed above, Elon Musk's Twitter acquisition and controversial Tweets will also throw the token into the limelight. His actions will play a key role in driving the DOGE price, at least for now.
As DOGE comes to the mainstream with an expanding network of payment integrations, it will steadily grow in the next few years. The main factor that gives Dogecoin relevance in the highly competitive crypto market is its low price. It allows for its use as a fast and low-cost transactional crypto.
Many pro-crypto platforms have already integrated Dogecoin into their payment system, citing these advantages. It will continue with more people entering the market and understanding its edge against traditional financial services.
Here is a summary of our Dogecoin price prediction from 2023 to 2030.
Dec 2023
Dogecoin will reclaim its support and resistance zones throughout 2023, as the crypto market recovers from the drawn-out winter. Funds from traditional markets are also expected to channel to crypto next year as a result of lackluster performances.

DOGE can climb to $0.15, with renewed investor confidence.

Dec 2024
Things would further look up in 2024. The payment integration of penny cryptocurrencies like Dogecoin will gain momentum as global brands take the lead.

Despite small crashes, the meme coin has the potential to hit anywhere from $0.28 to $0.35 during this period.

Dec 2025
Factoring in the past performance, Dogecoin will reclaim its all-time high toward the end of 2025. By then, most people would be using cryptocurrencies for one purpose or the other.

As one of the most popular cryptocurrencies, investors and users will begin to pump demand for Dogecoin.

But DOGE could hit the current all-time high of $0.74 much earlier than that, with payment integrations that draw massive traction.

On the other hand, it can also be delayed with an increasing mint rate or the meme coin failing to stay relevant.

Dec 2030
If things go in favor of the project, DOGE will set new all-time highs from 2026-30, with the potential to cross $1. A rise to $1.5 is not a long shot for Dogecoin if the mass adoption of crypto and meme coins continues. The market will find resistance at $1.3 toward the end of the period.
Is it too Late to Buy Dogecoin — What Experts Say?
We analyzed the Dogecoin price history and predictions in the earlier sections. Now let's see what top industry experts and crypto analysts have to say about the matter.
DOGE is good for gambling, not investing
According to Susannah Streeter, Dogecoin is better suited for gambling than investing. She is not confident about the crypto market in general.
"With the rules of the future games of mining, staking, and trading still pretty murky, and the value of crypto assets hugely sensitive to volatile conditions in financial markets, it's clear investing in the crypto Wild West is still a very risky business," she said.  Susannah Streeter is an investment and markets analyst with Hargreaves Lansdown.
DOGE is a strong buy
Crypto exchange platform Changelly believes that DOGE is capable of more. According to Changelly's DOGE Price Forecast for 2022 – 2030, the average price of Dogecoin can reach an ambitious $0.0939906 by the end of 2022. And in five years, the token could climb to $0.59994. The platform is also bullish on the meme coin in the long term. If the conditions favor, it can reach new heights in terms of price in the following periods, with the potential to hit $2.14 by 2030.
Dogecoin 3-month price chart, 23 Nov 2022, source: CoinMarketCap
DOGE can swing either way
Trading platform Capital.com is neutral about the future of Dogecoin. The price prediction analysis stresses that the coin can go upward or downward depending on the broader market conditions. While Twitter's prospective integration of DOGE payments hints at a bull run for the token, it can also tumble down if that doesn't materialize. The platform warns investors against purchasing more DOGE than they can afford to lose.
Summing Up: Is it too Late to Buy Dogecoin?
Dogecoin is one of the most promising cryptocurrencies to buy now, given its high-cap status and credibility. That said, the meme coin has little to no intrinsic utility. It depends on external integrations and speculative news to drive value. That may prove fatal in the coming years as the market shifts its focus from hype to utility. DOGE will be unable to find investors without global brands stepping in to sustain its value.
Which Cryptocurrencies Will Make Good Alternatives to Dogecoin?
High-cap cryptocurrencies have limited room for growth, despite being safe investments. If you're looking to make significant returns from the market, early-stage projects are your best bet. Make sure to analyze the project's market relevance, utility, and credibility before investing your money.
Listed below are two new cryptocurrencies that are performing well amid the bearish market. Judging by their white paper and roadmap, they can give good returns to early investors next year.
To give you a head start, here's a brief look at the underlying projects and how they are positioned to build value for the tokens.
1. Calvaria (RIA) – Play-to-Earn Token with the Highest Growth Potential in 2023
Games account for a large share of blockchain use. So, it doesn't come as a surprise that gaming tokens are one of the most utility-driven cryptocurrencies. The blockchain gaming mania is predicted to take off in 2023, as projects prioritize gaming mechanics over buzz.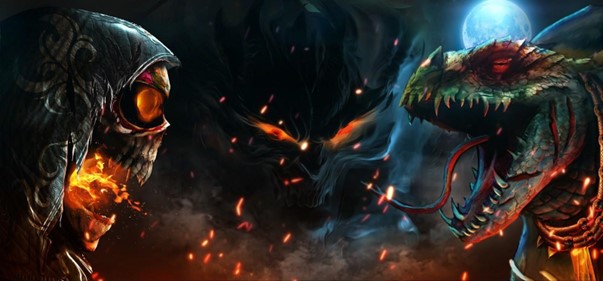 Calvaria is an NFT battle card game centered around the afterlife. According to industry experts, it can outperform top NFT card games like Gods Unchained and Splinterlands if the roadmap unfolds as laid out in the white paper.
There are two key reasons why. First, Calvaria's theme is new and engaging. Afterlife has rarely been explored in gaming or popular media, which opens broad creative possibilities for the project. Another key factor that will help Calvaria grow a large user base is its lower entry requirements. Calvaria games come in both free-to-play and play-to-earn versions, allowing traditional gamers to try their hands on blockchain gaming.
If they choose to, they can later shift to play-to-earn and collect crypto rewards for their gameplay. The ecosystem also includes a gamified staking platform, a scholarship system, a DAO, and an in-game store. Calvaria (RIA) is hosting the fourth stage of its presale at the time of writing. The fast-paced progress of the presale toward early sell-out hints at the project's large growth potential.
A giveaway worth $100K is currently open for the Calvaria community.
2. RobotEra (TARO) – Metaverse Token Backed by Sandbox-Inspired Builder Game
RobotEra is another project that is likely to perform well next year. The blockchain builder game introduces a new planet called Taro, set in the future. As the name gives it away, robots rule Taro. You are also one of the robots among the emerging civilization on Taro.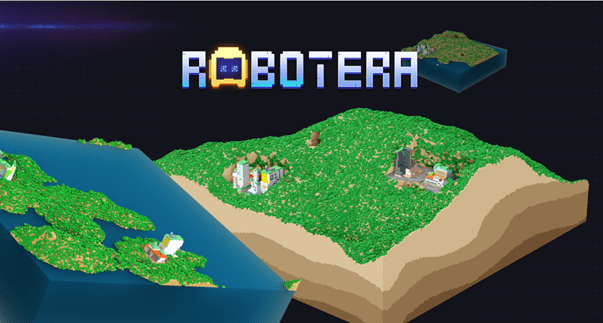 As a new resident of Taro, you need to contribute to its growth in a way that best suits you. It could be by participating in mining, construction, energy collection, or production. Your goal is to collect rewards as you turn the place livable for the growing metaverse community. You can also build games and content experiences for users, in exchange for rewards. Don't worry, it requires no coding skills. The platform will provide you with the tools to get started.
With time, RobotEra will grow into a shared multiverse that connects with other worlds, houses theme parks and museums, and hosts concerts. According to the white paper, you will be able to participate in multiple quests hosted on the platform, as well.
The ongoing presale of TARO tokens is possibly the most profitable entry to the project, as the token is predicted to climb 10X to 15X on the game launch.
FAQs
Is it worth buying Dogecoin in 2022?
Yes, Dogecoin is worth buying in 2022. But make sure you don't spend more money than you can afford to lose on the meme coin. The market can swing both ways, and Dogecoin is not immune to volatility. Do independent research before buying any crypto assets.
Can Dogecoin recover soon?
According to our price prediction, Dogecoin can reverse the losses it made in the last few months, aided by larger-market recovery and payment integrations. A rapid go-back is unlikely, however. It will take a few months for the coin to find a stronger resistance level.
Will DOGE ever hit $1?
Not in the short term. But with the mass adoption of cryptocurrencies, Dogecoin can cross $1 in a few years.
Is it possible to mine Dogecoin?
Yes. Dogecoin can be mined using the proof-of-work consensus mechanism.