The crypto market is showing clear signs of changing its trend. Even popular coins like Shiba Inu (SHIB), which often goes against negative market momentum, are difficult to call. However, is it really too late to buy Shiba Inu?
SHIB is nearly 90% down from its all-time high, so it's not surprising to see investors being a little cagey about investing in it. In this guide, we look at whether SHIB is a good investment from many angles and we also detail what the industry, in general, is saying about it. From price history to potential alternatives to Shiba Inu, there's a lot to unpack here.
Is it Too Late to Buy Shiba Inu Coin? Our Summary
Meme coins are a little hard to predict as far as investing entry points are concerned. Just looked at Dogecoin, which has experienced multiple ups and downs this year. Shiba Inu is trying to do a little more than Dogecoin, with many new features lined up. As such, there's potential, but it's hard to say if it is too late to too early.
However, the question of whether Shiba Inu is still worth investing in can be answered a little more clearly. There are a few aspects of Shiba Inu that are worth noting when thinking about this:
The market cap of SHIB is less than $5.4 billion, which indicates there might be some upside
SHIB is about 90% down from its all-time high
Meme coins are often subject to quick upward runs and Shiba Inu has some utility to offer on top of its meme coin nature
Meme coins often experience price bumps that go against the market cap – the hyped nature makes them unpredictable
So it is too late to buy Shiba Inu? It's always risky in the crypto market so there's no question that investors must be careful.
Shiba Inu Price History
Shiba Inu has come a long way from when it first launched in Aug. 2020. Back then the token was a fraction of the price it was today. However, over the course of the next few months, it gained enormous traction. By the middle of 2021, it gained over 3 million in value as the meme coin frenzy took over.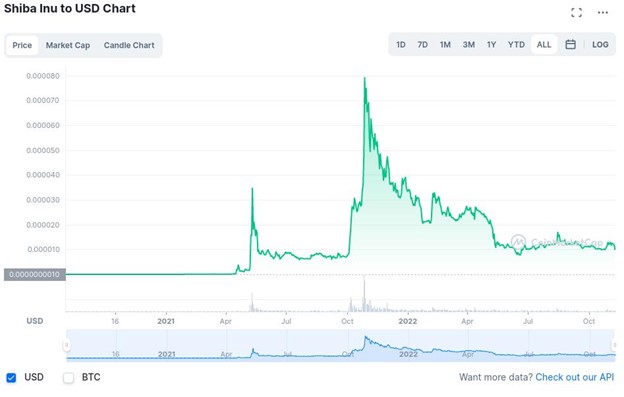 Bear in mind that SHIB also took many tumbles, including one soon after it rose spectacularly. This is the life of meme coins, subject to sharp ups and downs in a short period of time.
Some key moments in Shiba Inu's price history are:
May 2021 – Shiba Inu hit a market cap of around $13.7 billion
June 2021 – The market cap dropped to $2.4 billion – representing an 80=% drop
October 2021 – Shiba Inu reached a new all-time high market cap of $43.5 billion
January 2022 – Shiba Inu started 2022 with a market cap of $18.3 billion
November 2022 – By the first week in November, Shiba Inu had fallen to $5.3 billion
How Has Shiba Inu Performed in 2022?
2022 has been hard on almost all crypto assets and SHIB is no different. At the time of writing, SHIB is about 90% down from its all-time high, and it may take some time for it to recover.
It may not be too late to buy Shiba Inu if you are in it for the long run, but short-term trades should think twice about entering right now. There is certainly a buzz for meme coins, but the market remains unpredictable.
While meme coins may be somewhat immune to general market effects, the crypto winter hit all tokens. Shiba Inu started off the year with a market cap of $18.3 billion, and this continuously plummeted ot its current value of around $5.3 billion.
The collapse of the market due to the Terra crash and more recently the FTX bankruptcy hit Shiba Inu and other tokens hard. There seemed to be a brief respite in October but the FTX collapse put an end to that.
Shiba Inu Price Prediction 2023-2030
Is it too late to buy Shiba Inu coin? Here, we take a look at where the SHIB token might be going over the next 10 years. There have been a number of price predictions for the token, though it's hard to be entirely sure where the token will be precisely in whatever time frame.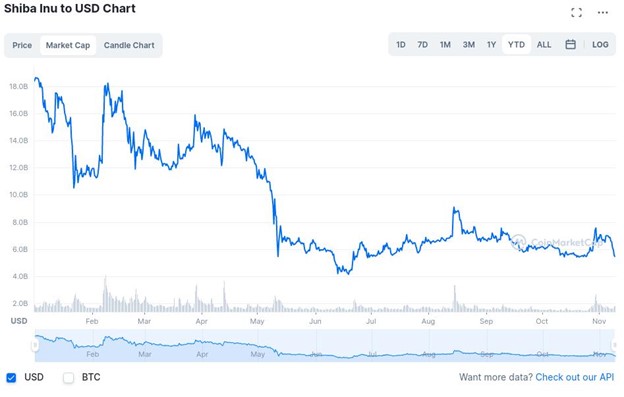 Still, analysts are optimistic about SHIB in 2023. Some technical analyses have put the price between $0.0000160584 and $0.0000193081 in 2023, which is still a good deal up from its current price in the market. Nearly double, in fact.
The average price predictions that analysts have made for SHIB are detailed below:
2023 – $0.0000165383
2024 – $0.0000257174
2025 – $0.0000366463
2030 – $0.0002326967
Of course, none of these are set in stone, so SHIB could go either way in the future. Take these figures as very vague guide stones and nothing more.
Where to Buy Shiba Inu Coin
Shiba Inu is a popular token that can be bought on multiple platforms. The token is available on both centralized and decentralized exchanges, including the most popular ones on the market. If you're looking to buy Shib Inu, you can try an exchange like Binance or a trading platform like eToro.
Is it Too Late to Buy Shiba Inu Coin? Our Verdict
It isn't really easy to say whether it is too late to buy Shiba Inu. The token is a meme token after all and there could be any number of things that happen. Shiba Inu is certainly very popular, so you can expect it to be in the news a lot. It wouldn't be too surprising to hear this happen in 2023.
Shiba Inu's success will depend on whether the market picks up, the hype train continues, and technical developments take place in its ecosystem. Fortunately, there is a lot slated for Shiba Inu in 2023, so there's hope for investors.
Analysts also seem somewhat optimistic about SHIB and its future. The prices listed are just guideposts but it's clear that it's more upwards as opposed to downwards. With Shibarium, a metaverse, P2E games, and staking on the table, SHIB could very well hit those numbers as the years progress.
Cryptos to Consider Buying Alongside Shiba Inu
While Shiba Inu may or may not experience a strong 2023, there are a few crypto tokens that are looking like they will have a good year ahead.
🤯 NFT Fact Of The Day: The NFT market grew 18,000% in 12 months

💰 Don't Miss A Chance To Break The Bank! 💰

🔥 Join #RobotEra to create, share, and trade NFTs!

The presale is live now ⬇️https://t.co/UJ3inonrXH pic.twitter.com/eZEKjgTWJ7

— RobotEra (@robotera_io) November 22, 2022
The first of these is RobotEra (RIA), a futuristic-robot-themed metaverse that has a strong focus on the social element. The team's goal is "to provide players with a powerful multi-dimensional metaverse platform that integrates entertainment, creation, management, exploration, and interaction."
Features on the platform include the ability to build companion robots. Players can sell these robots, and even continents on the marketplace, earning their fee in TARO. The token can also be staked for an attractive APY, which is a good source of passive income.
However, the most salient feature is the fact that players can build interactable experiences all without any coding knowledge. They can also host events and sell tickets for these events in TARO. This is an excellent way of encouraging players to create a social atmosphere.
RobotEra launched its TARO presale a few days ago, but it has already managed to raise almost $119,000 in this short time. It's in the first stage, with the price of the token being $0.020. The second stage will see it go up to $0.020 and the third and final stage will see it go to $0.032.
The team is looking to raise a maximum of $2.88 million and this looks like an easy achievement by the way things are going.  TARO can be bought with either USDT or ETH, and the minimum investment is $20.
90% + sold in the 4th stage!

Hurry up before price increases!https://t.co/xB0JFw39gl#CalvariaGang #presale #altcoin #blockchain #cryptocurrency pic.twitter.com/kZjcbVshFg

— Calvaria: Presale is Live! ✨ (@CalvariaP2E) November 23, 2022
Another major project that could do very well in 2023 is Calvaria (RIA). This is a P2E card battler game that has both Play-to-Earn and Free-to-Play modes. The main principle behind the game's design is accessibility and the two modes make it attractive to crypto and non-crypto users alike. Users don't even need to hold or purchase any assets to start playing the game. The game is also available on both desktop and mobile devices.
There are differences between the P2E and F2P versions, but both offer players reward for their in-game activities. Calvaria also has features absent in other P2E games, like a story mode.
Conclusion
Shiba Inu may or may not have a good 2023 depending on a number of factors. Investors should not worry about the question of is it too late to invest in Shiba Inu, but rather look at how the project is developing. In the meantime, there are other projects that look like they should have strong performances next year.