As we progress through the final quarter of 2022, it's time to start looking ahead to see where to place your investment today to benefit you next year. We have our sights on Decentraland (MANA), Stepn (GMT), IMPT (IMPT), and Ripple (XRP) and are trying to assess which token is more likely to hit $1 in 2023.
These tokens are fantastic ground-breaking projects that either pushed the industry into a new direction or gave birth to an entirely new sector, and all are great candidates to soar when the bull returns next year.
Decentraland (MANA) – Metaverse Continued Development Should Guarantee $1
Decentraland started development as early as 2015, released parcels of land for sale in 2017, and launched the metaverse in early 2020. Following its initial release, the entire concept from Decentraland birthed a plethora of metaverses in the industry.
The cryptocurrency behind the metaverse, MANA, is one of the top candidates to hit $1 in 2023, mainly because it hit $5 during its peak in December 2021;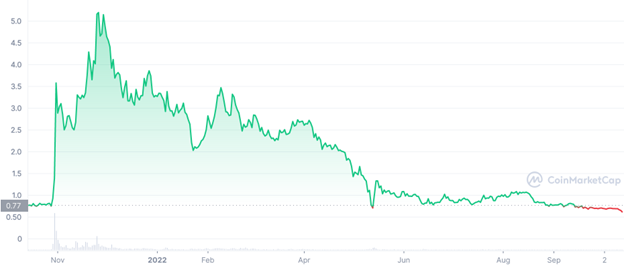 The entire metaverse sector is in a lull right now, but when the bears come back, MANA has every chance to be one of the first tokens on this list to hit $1 in 2023. Furthermore, the team behind Decentraland continues to improve its metaverse as they continue development through the bear period. Furthermore, Decentraland continues to amass high-profile partnerships with top-tier global brands selling products in the metaverse;
Mana currently trades at $0.77, which is not too far from the target price.
Stepn – Incentivizing Users to Stay Healthy
People need to stay healthy, even during a bear market. Stepn (GMT) has the perfect solution to keeping users healthy by incentivizing them with rewards to walk, jog, and run. The platform launched in August 2021 and quickly became one of the most popular play-to-earn (P2E) games, giving birth to the move-to-earn sector.
Users quickly flocked to the platform that paid you to stay healthy, causing the GMT token to surge as high as $4 during the April 2021 peak;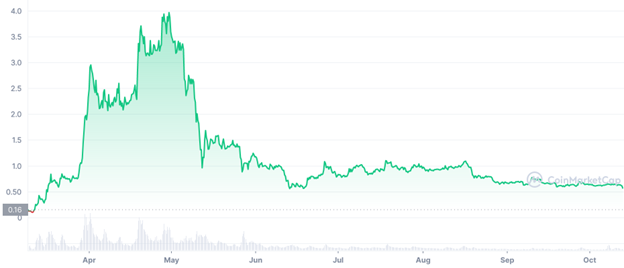 Since then, GMT has slowly declined alongside the entire industry and currently sits at $0.16. However, the concept has not changed, and people will continue to earn GMT by keeping active. GMT has every chance to hit the $1 target again when the bulls return to town.
IMPT – Helping Individuals, Businesses, and Crypto Turn Green for a More Sustainable Future
IMPT, an NFT-based carbon credit marketplace, is a great candidate to hit $1 in 2023. The project removes the barriers to entry into the convoluted carbon credit market by providing a straightforward method for buying, selling, and retiring carbon credits.
The great thing about the platform is that the carbon credits are hosted as NFTs on the blockchain, removing carbon credit fraud such as counterfeit credits and double-counting.
The entire ethos of the project is to help individuals and businesses positively contribute to the environment by reducing their carbon footprints.
IMPT is currently hosting a presale for its token, and investors are keen to get their hands on the token that is helping crypto go green. The presale has managed to raise over $3.5 million within 10-days of going live;
With the project gaining so much momentum, it is reasonable to expect it to be able to hit $1 in 2023, which would provide early-stage investors with more than a 20x return.
Furthermore, IMPT also has a shopping platform that allows users to earn carbon credits when shopping at famous global brands. These brands have allocated a certain margin of sales toward environmental projects. When a user purchases a product on the platform, the sales margin allocated is held in IMPT tokens until they have enough to buy a carbon credit.
Overall, the ecosystem is designed to help individuals, businesses, and crypto projects to reduce their carbon footprints, which was previously almost impossible for most.
Ripple – Battling the SEC for everybody
Last but not least is XRP, which is currently involved in a multi-year lawsuit with the SEC – and looks to be coming out with the upper hand. If XRP were to receive a favorable outcome from this court case, the price for the token is likely to surge well above the $1 target by the end of 2023.
Recent developing news that suggested Ripple might be winning already caused XRP to surge from a low of around $0.30 to climb back above $0.5;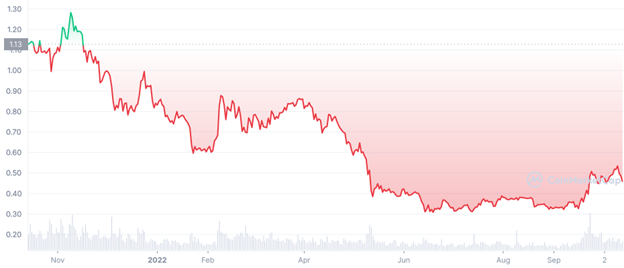 The SEC, the United States Securities and Exchange Commission, is suing Ripple and its executives for hosting unlicensed securities offerings. They claim that Ripple should have registered the token offering with the SEC, and Ripple is willing to take the challenge of winning for the entire industry.
If Ripple were to win, it could even kickstart another crypto bull run and help every token on this list to hit the $1 target.
Image by Classically Printed from Pixabay