According to the Stacy Jo Dixon research, the market of social media users has been growing exponentially, and will reach about 5.2B potential users all over the world by 2024. Considering this data, Cheelee challenges traditional mechanics of earning in social media by introducing a fresh perspective on money making within socials.
The Revolution of Attention Economy
Cheelee brings a pivotal moment in the evolution of the attention economy. Unlike existing social networks, Cheelee doesn't exclusively absorb advertising profits. Instead, the team distributes 70% of the generated funds among users as fair compensation for their interest and activity on the platform. As the audience engages with Cheelee's feed, they receive financial bonuses (tokens), becoming integral participants in the business process.All you need is just watching the feed and Cheelee turns your time on the app into cash.
All Cheelee`s users earn by watching the feed, regardless of content production or subscribers. Cheelee embodies an actual economy within a single application. Users have a vast field to develop their strategies for increasing income. In-app assets can be used to enhance gaming experiences, stored for potential value appreciation, or traded on secondary markets.
The initial interaction with Cheelee requires no investments. Immediately after registration, users receive a tool for earning – Digital Glasses. This helps users familiarize themselves with the social network and earn their initial wallet balance rewards. Accumulated funds can then be utilized within the app or converted into fiat currency.
To achieve optimal financial results, the project team recommends acquiring rarer Digital Glasses on the Cheelee marketplace and investing in enhancing their attributes or "modules." For instance, one app user spent around $1,000 on an instant upgrade and within a month not only recouped their investment but also doubled it.
Let's delve deeper into the mechanics that underpin Cheelee's attention-based economy and gain a comprehensive understanding of how ordinary users can earn within this revolutionary platform.
How I Used Cheelee to Earn $LEE
Upon opening the Cheelee app (available for both iOS and Android), the first thing that strikes is its user-friendly interface. Much like TikTok, the app offers a familiar layout, allowing its users to seamlessly scroll through a feed of short videos. Yet, there were two intriguing additions: the "NFT" and "Wallet" tabs (which would later prove to be the gateway to earning opportunities).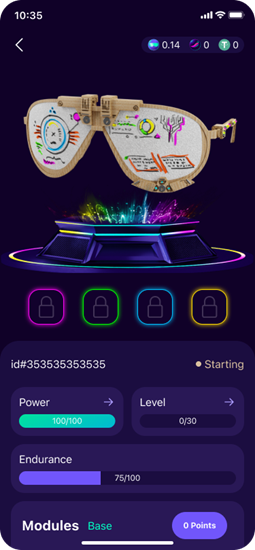 After a clear registration process, you will get a tailored feed of videos aligned with your interests.The preferences are being anticipated by the platform's AI-driven mechanics. Here's where things got exciting. Cheelee's Digital Glasses is an innovative way to earn tokens, so by "wearing" these virtual glasses while watching videos, you could accumulate rewards over time.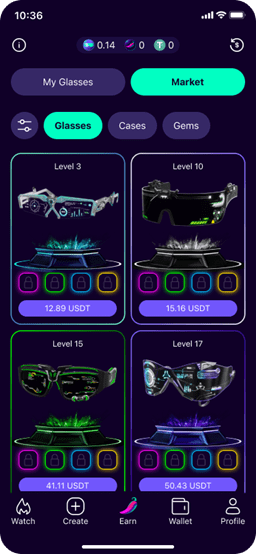 As you engage with the content, you earn LEE tokens. After several minutes of watching, you will also gain your first box, revealing LEE tokens inside. These tokens serve as a starting point to familiarize with the earning process. As well as Starting Digital Glasses are more about education than significant earnings.
Unlocking the Potential of Cheelee
If you're curious to explore further, you can venture into the marketplace to experiment with different Digital Glasses, as higher-rare glasses have the potential to yield substantial earnings. The platform even showcased users making $1,560 in a single day through this method. The mechanics are simple: timely charging and consistent upgrades.
To access these higher rarity Glasses, you need to get into the marketplace in the NFT section and purchase Glasses. Simple Digital Glasses now cost 51.5 USDT, and can be purchased via bank card as well.
By the way, there are lots of payment methods presented in the app, and users from India, for example, can pay via bank transfer BRI to get Digital Glasses.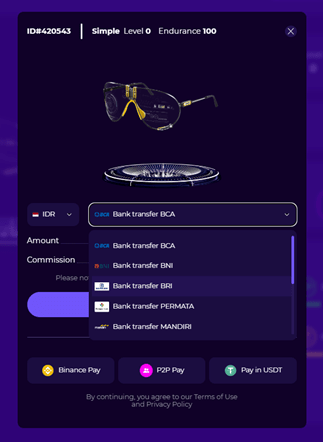 Earning in a New Era
The transition to the attention economy is irreversible. However, if a decade ago regular people couldn't profit from their interest in business, now we have this choice: to monetize or not to monetize?
The Cheelee project is at the very beginning of its establishment, but early enthusiasts are already actively leveraging its innovative capabilities. The development dynamics of the social network demonstrate that society is increasingly engaging with its concept: in less than 3 months, the app has been downloaded over 700,000 times, and the number of those earning on the platform is continuously growing.
According to Cheelee's founder, Ruslan Sharov, "each new user is not just a number." This is evidence that the world is full of potential and talent waiting for the moment to showcase themselves.
"I am proud to see how our users are not only downloading the app but also finding a platform within it to achieve financial independence and creative self-expression. Together, we are building a future where everyone can translate their efforts into continuous success."
Products like Cheelee will continue to emerge if the trend toward a mutually beneficial attention economy persists. For now, an intriguing "crash-test" awaits us: Cheelee's novel approach against the established business models of social media, where the only people who earn – content creators and advertisement companies.