Stop the presses because there are two projects that everyone should be taking a look at before we head into the final month of the year: Meme Kombat (MK) and Bitcoin Minetrix (BTCMTX). Both of these have been performing phenomenally well in the past few weeks but, impressively, they are doing even better as time passes.
What makes them so special? Why have they managed to do so well even before the crypto bull run kicked in? Those are the questions that we answer, while also providing all the essential information one needs to know about the projects.
Meme Kombat Brings Even More Fun To The Meme Coin Niche

Meme Kombat (MK) introduces a potential game-changing element to the gaming industry by seamlessly merging a gaming/betting platform with memes. The primary aim of this endeavor is to create an imaginative gaming environment enriched with dynamic features like passive staking and active betting, providing players with thrilling opportunities to win.
In the inaugural season, eleven distinct memes will compete for the coveted title of top meme. Subsequent seasons are poised to introduce a plethora of new features and reward prospects, ensuring sustained engagement and substantial benefits for players.
With half of the supply allocated for the MK token presale, Meme Kombat's presale has garnered significant interest. Staking and battle rewards account for 30% of the allocation, while community rewards and DEX liquidity receive 10% each. The team's commitment to ensuring the community reaps substantial benefits is evident in their generous allocation strategy.
Meme Kombat has already raised over $1.4 million. The MK token can be acquired using ETH or USDT, with its current price standing at $0.189. With its innovative concept poised to impact both the gaming and cryptocurrency industries, this opportunity holds significant promise. If the current momentum persists, accessibility to the project may be limited.
Furthermore, the platform now offers a tool with an impressive annual percentage yield of 112%. There's no need to wait for the battle feature to commence. It's as straightforward as acquiring Meme Kombat tokens during the presale and staking them.
Season 1 introduces battles, staking, and other essential features. Season 2 is scheduled to debut in Q4 2023, bringing additional possibilities, rewards, and battle formats. The team envisions exploring potential new gaming formats, collaborations, and other ventures starting in 2024.
Bitcoin Minetrix Can Change The Shape of The Crypto Industry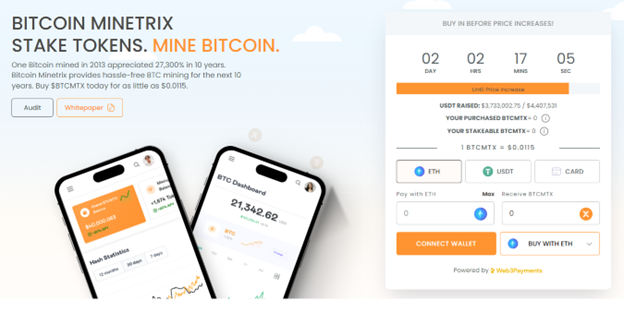 Bitcoin Minetrix (BTCMTX) is a tokenized cloud mining platform that not only showcases remarkable efficiency but also places a strong emphasis on user-friendliness. Traditional Bitcoin mining has historically posed challenges for the average individual. However, this platform, along with its associated token, levels the playing field, enabling anyone interested in mining the world's most renowned cryptocurrency to participate. This not only enhances accessibility but also allows investors to stake BTCMTX and earn credits for further Bitcoin mining. Furthermore, this approach effectively addresses concerns regarding the reliability of cloud mining and the prevalence of fraud in the industry.
The project has earned a reputation for reliability, rooted in its unwavering commitment to security and transparency. Through user-friendly wallets like MetaMask, which are compatible with Ethereum, users can seamlessly acquire and stake BTCMTX tokens within the ecosystem.
This endeavor offers several advantages, including low initial costs and a secure, user-friendly interface. It also provides a straightforward onboarding process, involving the acquisition of tokens, opting for the buy-and-stake feature, and subsequently reaping rewards in Bitcoin.
The team has meticulously outlined an initial roadmap, demonstrating a forward-thinking approach to the project's progression. Following the presale, their primary goals include securing listings on exchanges and launching a comprehensive marketing campaign across various channels. Concurrently, they will kickstart the development of both desktop and mobile applications, necessitating an expansion of the team. Additionally, ongoing discussions with reputable cloud mining firms suggest promising potential for substantial growth. During this phase, prioritizing the creation of the stake-to-mine contract will be of paramount significance.
The upcoming phase will concentrate on introducing stake-to-mine desktop and mobile interfaces, as well as enabling initial Bitcoin withdrawals to wallets. Ongoing plans include incorporating the capability to exchange mining credits for hash power. Looking ahead, the team's primary focuses will encompass marketing endeavors, potential expansion into cloud mining rentals, and strategic business operations.
Bitcoin Minetrix has achieved significant milestones during its presale period. The token, known as BTCMTX, is presently valued at $0.0115, having garnered over $3.7 million in funding thus far. Transactions can be conducted using credit cards, ETH, USDT, and BNB to acquire BTCMTX tokens. Additionally, an enticing Gleam competition offers participants a chance to win a $30,000 mine drop reward.
Conclusion
Meme Kombat (MK) and Bitcoin Minetrix (BTCMTX) are going to be some of the best performers as we close out the year. 2024 is going to be particularly exciting for the crypto space and these two tokens are leading the charge. Learn more about them through their social channels and consider taking a look at their presales.