It seems like 2023 will be a massive year for crypto because of the abundance of interesting projects being launched. 2022 was a bit of a downer, with a handful of projects proving to be true dark horses – by and large, however, it was a slow year for the crypto market. Of course, it's only January, but it looks like that will not be the case in 2023.
The project that is leading that charge is Meta Masters Guild, a Web3 mobile gaming guild that is causing a lot of fuss in the crypto community for its innovative ideas. The team is building a robust ecosystem of features that incentivizes players to play for the fun of it – not just to earn tokens.
The project has already been seeing tremendous participation in its presale, and it has only been running for two weeks. We explain everything you need to know about Meta Masters Guild and its MEMAG presale here.
The MEMAG Presale is Lighting the Market Up
🚨 ATTENTION #MEMAGFAM 🚨

🤯 It is official, we have raised over $1M in the $MEMAG Presale in 2 weeks!!! 😱

🥊 Our community is a force to be reckoned with, and we're not slowing down! 🏆

💪 Join the community & buy $MEMAG today! 🚀https://t.co/SBqVjX5mWn pic.twitter.com/XsPzfwrrkU

— Meta Masters Guild (@MEMAGgames) January 23, 2023
Meta Masters Guild is currently hosting the presale for its MEMAG token, which is at the center of the ecosystem. The utility token will power all the features.
The presale is so popular that it has managed to hit $1 million in investment in only two weeks. By the looks of things, it will soon blast past $2 million.
The token is currently in the second stage of its presale, with 1 MEMAG costing 0.01 USDT. There are only about 5 days remaining in this presale, so investors will want to hop in quickly.
Once this stage is over, the price of the MEMAG token will be 0.013 USDT. The token can be purchased with ETH, USDT, or a card. The card option is powered by Transak and is especially helpful for crypto beginners.
If you'd like to get more involved and stand a chance to win some rewards, consider joining the Meta Masters Guild giveaway contest. This $100,000 giveaway is simple, and all it requires you to do is complete a few minor tasks. Examples include following the project on Twitter, joining the Telegram group, tweeting about the project, visiting the subreddit, and so on.
Visit the Meta Masters Guild Presale
What is the Meta Masters Guild Exactly?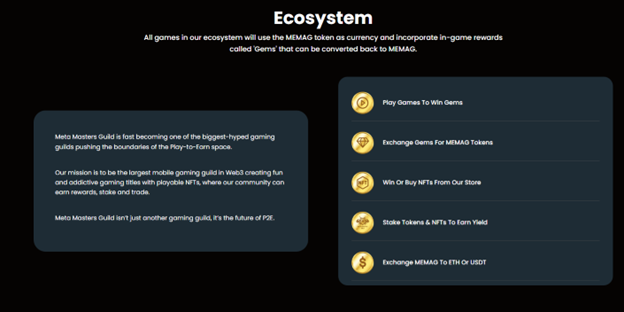 Meta Masters Guild has a large ecosystem.
Of course, you should learn more about Meta Masters Guild before jumping into the presale. This will tell you more about what exactly that project is doing and how much potential it has.
In the simplest terms, Meta Masters Guild is a Web3 project. Specifically, it is a mobile gaming guild for Web3. The ecosystem as a whole has everything one needs to have a fun and rewarding experience in the world of mobile gaming, which is fast growing.
The wealth of features that Meta Masters Guild offers is quite expansive, so you can see why it aims to be the "future of P2E." One thing to note is that the project describes its P2E model as "Play & Earn", not "Play-to-Earn." This is because it doesn't want earning to be the sole idea motivating players. Rather, it wants to create good games that people can enjoy regardless.
The robust system is tightly constructed, with the features incentivizing players to be active in the individual elements, which include staking, earning rewards, and trading. Meta Masters Guild will also feature NFTs, and these collections will no doubt excite the NFT collectors in the crypto market.
The existence of Meta Masters Guild is all the more important when you realize that the current gaming world has issues. These issues are something that the team is eager to tackle, as they feel like it prevents the video game industry from growing even more.
The Issues That Meta Masters Guild is Tackling and How it Differs from Other Such Projects
The video games industry is no doubt one of the biggest entertainment markets in the world right now. This billion-dollar industry has been on a steady upward trend for over a decade, and this will not slow down, especially as technologies improve.
However, it does come with issues, such as predatory pricing practices and a lack of adherence to a standard. The Meta Masters Guild team notes this, saying that it is "among the most predatory industries in our world today."
Those are the issues that Meta Masters Guild is attempting to address. It wants to build a platform that holds players' in high regard. It wants players to enjoy games, with the money they put into them acting as an investment that results in meaningful rewards.
As such, its Play and Earn model wants to create games that gamers play to enjoy themselves, with the earning of rewards being a happy coincidence and not the primary way they play those games.
There are few such projects in the crypto space that do this. They all focus on incentivizing players to play games by telling them that they can earn money from it. This takes away from the idea of building quality games that can stand on their own. Most gaming guilds in the crypto space are just ecosystems with revenue-generating features and often don't emphasize creating quality games that players can enjoy independently of the financial aspect.
Having said all of that, what are the exact features that Meta Masters Guild offers?
What Features is Meta Masters Guild Building?
As mentioned, Meta Masters Guild is a comprehensive platform that aims to establish it as a playground for Web3 enthusiasts. The team has described its mission as building "high quality, blockchain-integrated mobile games that will form a decentralized gaming ecosystem, allowing members to sustainably earn rewards in exchange for their contribution to the ecosystem."
The principles driving this design are fun comes first, players truly own their assets, communities drive the games, and play to earn. Specifically, these features focus on the ability to play games to win gems, exchange those gems for MEMAG tokens, win or buy NFTs from a store, stake tokens and NFTs to earn yields, and exchange MEMAG for other tokens like ETH and USDT.
Every game in the ecosystem will have in-game rewards in the form of GEMs and these can be exchanged for the MEMAG token. These tokens can then either be cashed out or reinvested into the Meta Masters Guild ecosystem.
Meta Masters Guild will of course features various NFTs.
There are also premium, in-game NFTs, which can be purchased from the Meta Masters Guild store on the website, and these will be held in the wallet and can be used in-game. Premium items have better stats and will give players a better chance of winning various games and, in turn, increase the number of gems that they earn.
Additionally, the team is encouraging developers to work in the ecosystem to build good games. Meta Masters Guild will focus on forming partnerships to this end.
The project will also work with eSports teams and content creators. The project will support any official eSports team and creators who wish to play its developed titles. This will help in marketing the titles. These creators can access some of the better in-game items and features right off the bat, which is good for showcasing the possibilities.
Meta Masters Guild has also had its contracts audited and verified by SolidProof, with the team's KYC credentials checked by Coinsniper.
Several Games Already Lined Up

There are 3 games lined up for launch in the Meta Masters Guild ecosystem.
None of what has been said so far would matter if there weren't some high-quality games. Fortunately, the team has several such games in the pipeline, namely Meta Kart Racers, Meta Masters World, and Raid NFT.
The first game to be launched is Meta Kart Racers, a racing game that is being developed by Gamearound, which is one of the developers in the Meta Masters Guild ecosystem. This is your standard PvP racing game where players compete in the Meta Kart Championship. Furthermore, players will have to escape from the evil Meta overlords, and doing this nets them gems that can be traded for MEMAG.
The next game is Meta Masters World, which is an actual metaverse. This is a universe that players can explore and carry out various activities. These include exploring, collecting resources, and entering competitions, among other things. However, this game is further down the pipeline and is still in the conceptualization stage. Once Meta Kart Racers has launched, the game will enter actual development.
The third game that is lined up is Raid NFT, which is a strategy game where players compete against each other or by themselves. This turn-based fighting game lets players choose from several different warrior classes. These units fight players or bots in harsh environments as well as complete challenges. It is currently in the design stage.
Visit the Meta Masters Guild Presale
Who is Building Meta Masters Guild?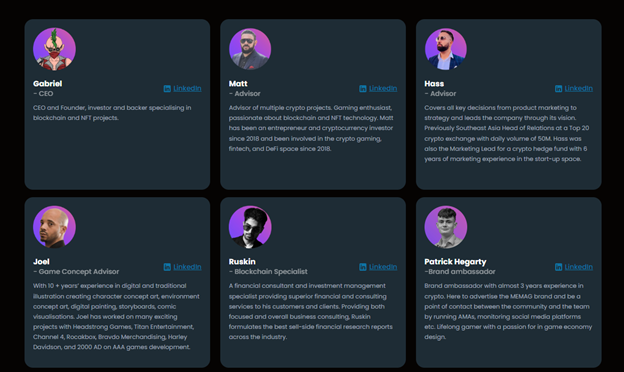 The team has several years of experience across various industries.
A project is only as good as its team – and here, Meta Masters Guild has many plus points going for it. There is currently a team of 7 working on the project, and they have years of experience in gaming, finance, art, and product and strategy.
The project is led by Gabriel, who serves as the CEO and is also the founder. Matthew Fishtal and Hassan Naveed serve as the project's advisors. Their experience includes advising crypto projects, product marketing, and strategy.
Joel Carpenter serves as the platform's game concept advisor, and he has over 10 years in digital and traditional illustration. He has worked with Headstrong Games, Titan Entertainment, Channel 4, Rocakbox, Bravdo Merchandising, Harley Davidson, and 2000 AD on AAA games development.
Patrick Hegarty serves as the project's brand ambassador, and he has over 3 years of experience in crypto. His job will be to communicate with the public, such as engaging with the community.
As mentioned earlier, Gamearound is the platform's lead game developer. The team has experience working with NFTs, games, music, movies, entertainment, art, sports, and virtual real estate. Games include Broken Civilization, Time Travel Racing, Pure Golf, and Stride N Seek, among others.
Meta Masters Guild has partnered with RWaltz, Ruskin Felix, and Pushed. They will help in different ways, including in platform and game development.
The Roadmap for Meta Masters Guild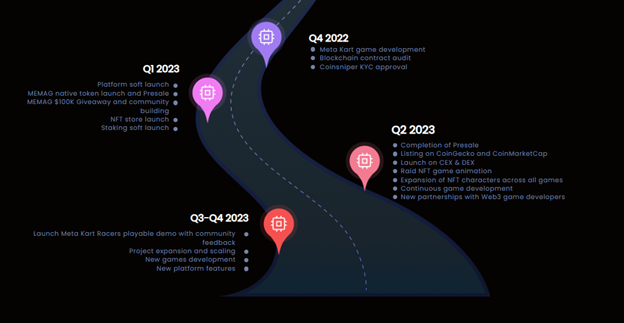 Meta Masters Guild will launch its racing game soon.
The project has only just managed to take off, so there is a lot in store for the future. Both the short-term and long-term goals of the project are exciting and showcase how much of an impact Meta Masters Guild can have on the gaming and Web3 markets.
The team spent 2022 laying the groundwork for the project, focusing on vesting, releasing a detailed whitepaper, and the GDD for Meta Kart. They then turned their attention to MVP creation and product planning, partnerships with leading NFT artists, and platform design and NFT marketplace development on Ethereum. Towards the end of 2022, the team began the animation and development of Meta Kart. They also completed a blockchain contract audit and Coinsniper KYC approval.
This year will focus a lot on actual development and releases. In Q1 2023, there will be the soft launch of the platform, the NFT store launch, a soft launch of staking, and the MEMAG presale. After that, they will begin working on listing the MEMAG token on CoinGecko and CoinMarketCap, and then ensure that the token gets listed on various centralized and decentralized exchanges. They will also begin animation on the Raid NFT game, expansion of NFT characters across games, continuous game development, and new partnerships with Web3 game developers.
In the second half of 2023, the team will launch the Meta Kart Racers demo. Other priorities will include project expansion and scaling.
Meta Masters Guild Will Forever Change Web3 Mobile Gaming
With the way the MEMAG presale is going, it doesn't look like it is going to last much longer. Investors are flocking to the presale and expecting great things from the Meta Masters Guild ecosystem. The launch of the first game is not too far away, and the project is surely set to explode when that happens.
In the meantime, investors can consider the MEMAG presale, as it should set them up well. For more information, it's worth checking out the general Meta Masters Guild ecosystem and the upcoming games and development features.
Visit the Meta Masters Guild Presale