The crypto market has entered a period of uncertainty in recent weeks, with majors like Ethereum struggling to maintain upward momentum.
However, while legacy cryptocurrencies battle bearish sentiment, new disruptive projects are emerging to capture investor attention.
One such rising star is Bitcoin Minetrix, whose innovative cloud mining solution and wildly successful presale have propelled it into the spotlight. As Ethereum wavers below key support levels, all eyes are on whether Bitcoin Minetrix can sustain its epic start and become the next big thing in crypto.
Ethereum Price Struggles to Maintain Momentum
Ethereum has been facing some struggles this week. The price of ETH is now trading below the crucial and psychological $1600 level amid a broader crypto market downturn.
According to top analyst Ali on Twitter, Ethereum whales have been capitalizing on surging prices since February 2023, offloading or redistributing over 5 million ETH – equivalent to roughly $8.5 billion. This selling trend is apparently continuing, with no indication yet of a shift towards ETH accumulation.
Ali notes that Ethereum is hovering above a critical demand zone, advising traders to keep a close watch. A daily close below $1530 could signal a steep correction ahead for ETH.
From altFINS' technical analysis perspective, Ethereum recently saw a bullish breakout from the Falling Wedge pattern. This could suggest buyers have absorbed all the supply from sellers, and the price is ready to resume an uptrend.
Ethereum is currently retesting that breakout level around $1600. The upside potential is the $1800 horizontal resistance zone if bulls can maintain control. This area also coincides with the 200-day moving average, making it a stiff resistance point.
The Falling Wedge pattern usually results in a bullish breakout. When the price breaks above the upper trendline, it often continues trending higher. Traders can play the emerging pattern between the convergence lines before the breakout. However, most traders wait for a complete pattern and confirmed breakout before going long.
The momentum indicators are currently bearish for Ethereum. The MACD line is below the signal line, and the RSI is below 45. This reflects the recent downturn and loss of upside momentum.
The nearest significant support zone for Ethereum is $1600, which has already been broken on Monday. Below that lies $1500, which could see buyers emerge to defend this area. On the upside, resistance is seen at $1800 (previous support turned resistance), followed by the psychological $2000 level.
Hottest New Cryptocurrency Bitcoin Minetrix Raises Close To $1 Million
While Ethereum faces some uncertainty in the short-term, an interesting new project called Bitcoin Minetrix has been gaining substantial momentum.
Bitcoin Minetrix's presale recently hit a major milestone, raising $925,000 within the first few weeks. Hitting $1,000,000 is only a matter of time at this pace.
With its innovative approach to cloud mining and current low entry point, could Bitcoin Minetrix become the next explosive crypto success story that creates tremendous wealth?
#BitcoinMinetrix has once more crossed a crucial milestone! 🚀

We have raised over $900,000. pic.twitter.com/zWvJsUwiBb

— Bitcoinminetrix (@bitcoinminetrix) October 10, 2023
The possibilities are certainly there for major upside. Bitcoin Minetrix aligns perfectly with the opportunity to enhance the user experience for Bitcoin mining. Its presale also offers investors a chance to buy in at a very low starting price.
The presale consists of ten rounds, with each round seeing a 10% token price increase. However, those purchasing now at $0.011 per token will be pleased to know this is the base price. It won't get any cheaper than this stage one cost.
The main feature of Bitcoin Minetrix is its decentralized cloud mining solution. It tackles the common issues of excessive hardware costs and deceptive scams associated with Bitcoin mining. Users can buy and stake BTCMTX tokens to gain cloud mining credits, ensuring a more secure and transparent mining process.
Bitcoin Minetrix's novel Stake-to-Mine concept throws open the doors of Bitcoin mining to all crypto enthusiasts. Users can now participate in this potentially lucrative activity without grappling with technical complexity or sinking money into prohibitive hardware costs. By leveraging this innovation, the project strives to make BTC mining genuinely accessible and democratic like never before.
Here's how it works:
Users need an Ethereum-compatible wallet like MetaMask to purchase and stake BTCMTX tokens. Staking the BTCMTX tokens earns users non-tradable ERC-20 token credits. These credits must be burned in exchange for actual Bitcoin cloud mining power. This innovative Stake-to-Mine concept makes bitcoin mining accessible for regular crypto investors.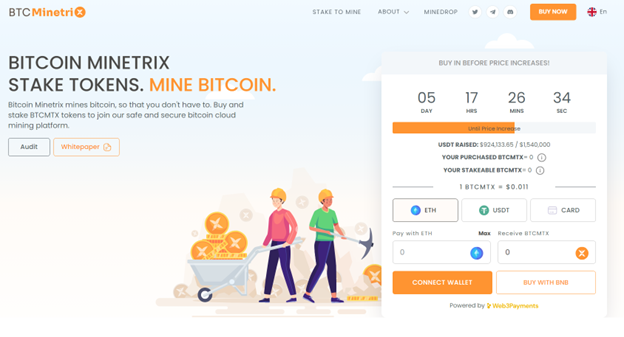 Cloud mining provides several advantages, including easy entry, cost efficiency, and avoiding the physical annoyances of noise and space from mining rigs. It removes the need for technical skills, hardware setup, and maintenance, making it user-friendly even for beginners.
Marketing Efforts
The project's high potential yields have already attracted the attention of major crypto influencers. YouTube analyst Jacob Bury predicts returns of 10x or greater once BTCMTX makes its market debut after the presale. Meanwhile, Zach Humphries and Michael Wrubel have also endorsed Bitcoin Minetrix's novel cloud mining approach.
Bitcoin Minetrix is currently undertaking massive marketing efforts across the crypto space. It's being featured on all the top crypto media outlets, including CryptoPotato, CaptainAltcoin, NewsBTC, Cryptonewsz, and many more.
While Ethereum is facing some temporary uncertainty, Bitcoin Minetrix is just getting started on what could become an explosive journey.
Its innovative cloud mining solution, coupled with a low-cost presale entry point, makes Bitcoin Minetrix a very intriguing crypto investment opportunity worth watching closely in the weeks ahead.