The year 2021 has turned out to be exceptionally good for OKB. A creation of leading crypto exchange and derivatives trading platform OKEx, OKB global utility token broke all the previous records after its price hit $22.9 earlier this month.
As a valuable component of the OKEx ecosystem, OKB has been consistently outperforming itself over the past few months. The last month was no different either as OKB, following the launch of OKT initial mining and positive market sentiment established a new record by attaining a value of $9.50 from $7.55, before ending January 2021 at $5.7. However, it carried forward the upwards momentum into February 2021 to recover and register a new ATH over 200% of the previous value.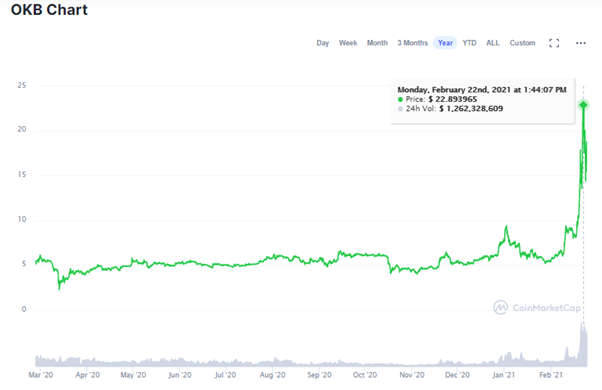 OKB holders in the OKEx ecosystem are eligible to receive various privileges including up to 40% discount on trading fees, access to Jumpstart token sales, staking rewards, and more. These tokens can also be used to pay for products and services on various OKEx partner websites.
The rising value of OKB can be attributed to many real-world use cases, both within and outside the OKEx ecosystem. Recently OKEx launched OKB Staking where tokenholders could stake their OKB tokens in OKB/USDT and OKB/OKT liquidity pools to earn rewards. The staking rewards are paid out in OKT – a native token of the decentralized OKExChain public chain designed specifically to cater to the requirements of decentralized applications and trading-focused services. It is the same blockchain infrastructure that powers the OKEx DEX.
OKT is not to be confused with OKB as the former is a utility and governance token for OKExChain, whereas the latter is a global utility token for use across and beyond the OKEx ecosystem.
Apart from increasing adoption, OKB Buy-Back and Burn program is also very instrumental in sustaining the token value. In the last year alone, OKEx has bought back and burnt over 14.5 million OKB, effectively throttling the supply to increase its value. Further, OKEx conducts various promotional campaigns and trading competitions to encourage more users to trade on the platform. Winners and participants in these year-round programs are rewarded in OKB. Currently, OKEx is offering rewards of up to $80 for new users who have joined after August 29, 2020.
The value of OKB is expected to continue its upwards trajectory as OKEx introduces new features and forges partnerships with key players in the crypto industry. OKB Staking, rewards and increasing interest in cryptocurrencies and DeFi solutions will also play a role in influencing the growth of OKB.