Pepe has vastly outperformed all other major cryptos over the past 24 hours, pumping almost 40% to highs of $0.000001025 earlier today. The crypto has undergone significant downward movement over recent weeks, but today's euphoric pump has propelled it to its highest price since August.
Meanwhile, new presale meme coin Meme Kombat looks primed to be the next to explode, with a respected analyst predicting 10x returns thanks to its viral potential and robust tokenomics.
Pepe Chart Turns Bullish As Technical and Fundamental Influences Align
With Pepe's price driven mainly by hype and speculation, its price chart is often the key to determining market sentiment and momentum.
Over the past weeks, a popular trade idea has been that Pepe has formed a double bottom and could be primed to reverse.
An analyst on TradingView who goes by Ifiok-2sydes first noted the double-bottom formation on 20 October, also noting that the price was breaking out of a falling wedge. As well as a double bottom, a falling wedge break out is another bullish signal that indicates a trend reversal.

The price has jumped significantly since then, exploding by 40% and breaking above several critical technical indicators. As seen on the Pepe price chart below, the recent move has propelled Pepe above the 50-day EMA and the monthly volume weighted average price.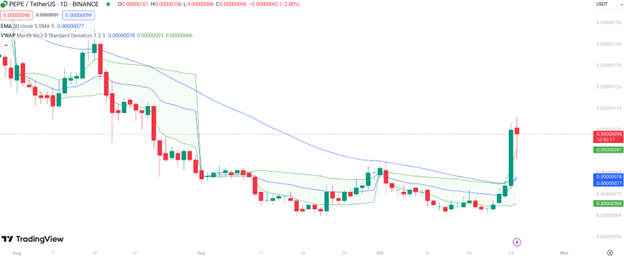 Despite the double bottom chart pattern formation and ascending wedge breakout, such bullish price action from Pepe still comes as a surprise, considering its continuous downward trajectory in recent months.
However, the recent green candle is due to an announcement by the Pepe team that it has burned 6.9 trillion PEPE worth $6,000,000 and that a new team of advisors has come on board to guide the project forward.
This comes after a severe mishap earlier this year where a group of rouge ex-team members stole $15 million from Pepe's multi-signature wallet. The event diminished investors' confidence, but this recent move is a notable recollection, evident in its 40% pump.
Pepe currently holds a market cap of $381 million and a 24-hour trading volume of $440 million, up 224% on the last day.
After a brief pullback from its highs earlier today, its current price is $0.0000009763, up 32% in the last day, 48% in the previous week, and 44% in the last month. However, it remains down 76% from its May all-time high of $0.000004354.
While Pepe has fared significantly bullish over the past 24 hours, analysts are even more optimistic about the new presale project Meme Kombat, with some traders calling for 10x returns.
Will Meme Kombat Explode Next? P2E Project Raises $680K at Presale
Meme Kombat ($MK) is a new cryptocurrency presale project merging the two trending topics of meme coins and crypto casinos. The project lets users gamble on the outcome of AI-generated battles between popular meme coin characters with $MK and offers a 112% staking annual percentage yield, furthering the token's utility.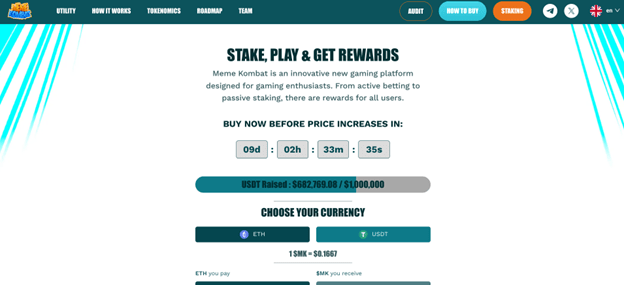 The project also features a fully doxxed team highly versed in blockchain, business, and tech. This is a significant advantage over Pepe, which has struggled due to its lack of transparency.
Despite launching recently, Meme Kombat's presale has already proven immensely popular, raising $680K, with investors drawn to its viral potential and lucrative staking APY.
Prominent analyst Jacob Bury recently called the project a "10X Potential Crypto", also stating that he invested $1K into the project in its early stages.
Bury is renowned for discovering high-potential, early-stage cryptos and was one of the first to pick up on Wall Street Memes, which became one of the most successful presales of 2023.
Yet, with compelling fundamentals and support from investors and analysts, it seems only a matter of time before the Meme Kombat presale sells out. Therefore, those looking to buy before it hits exchanges should act fast.