The meme coin market is experiencing a pullback, with the price of Pepe (PEPE) and Dogecoin (DOGE) declining in the past 24 hours.
Both coins appear to be taking a breather after a period of bullish momentum, which saw them soar by double-digit percentages.
While DOGE and PEPE may be down, a new meme coin called Meme Kombat (MK) continues gaining traction in its presale – with early backers believing it could be the next token to experience a significant bull run.
Pepe Rallies on ETF Hopes But Pulls Back From Local Peak
Like most meme coins, PEPE has been rallying recently due to increased market optimism around a potential spot BTC ETF being approved.
Although not directly related to PEPE, the launch of one of these ETFs in the US would likely positively affect the overall cryptocurrency market.
More mainstream investment exposure to Bitcoin through an ETF could boost confidence in cryptocurrency as an asset class.
This increased market confidence would likely benefit most coins and tokens, including meme coins.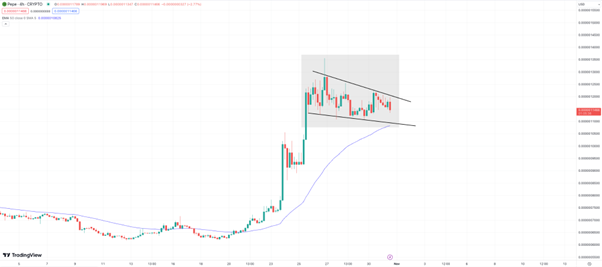 Although ETF approval hasn't been confirmed yet, investors have been piling into meme coins to gain exposure to their price movements.
Investor interest helped PEPE reach a high of $0.00000135 last Thursday, although the token has since experienced a 15% pullback.
At the time of writing, PEPE is trading around $0.00000114 and appears to be forming a large bull flag pattern on the 4-hour chart.
As such, although PEPE's momentum has stalled, its current technical setup suggests that it could be preparing for another upward move, provided that market conditions remain favorable.
Dogecoin Surges 30% on Investor Speculation Before Profit-Taking Commences
Dogecoin has also benefited from the hype surrounding a spot BTC ETF approval, with the coin's value soaring to $0.075 on Thursday.
This marked DOGE's highest value since mid-August and represented a 30% surge from October's low.
However, like PEPE, DOGE has pulled back from this peak and now trades around $0.068.
Notably, DOGE's spot trading volumes have surged by 64% in the past 24 hours, exceeding $400 million.
This is higher than major players like Litecoin (LTC) and Binance Coin (BNB), indicating that there's still significant interest and activity around DOGE despite the pullback.
Although profit-taking has caused a dip in the coin's price, there's widespread belief that the uptrend could resume if Bitcoin continues its rally this week.
Overall, DOGE is now only down 2% year-to-date, meaning there's finally scope for the world's largest meme coin to finish 2023 in the green.
Meme Kombat Poised to Be the Next Viral Meme Coin as Limited-Time Presale Raises $950k
While established meme coins like Pepe and Dogecoin see increased volatility around macro events like potential ETF approvals, a new meme-powered gaming project is just getting started.
Meme Kombat (MK) is an innovative Ethereum-based platform that combines viral meme culture with competitive gaming mechanics.
In simple terms, Meme Kombat lets users bet on battles between popular internet meme characters brought to life through advanced AI animation technology.
Players can wager MK tokens on unpredictable fight outcomes and climb the leaderboard for hefty rewards.
The platform also features staking rewards of 112% APY for those who opt to lock up their MK tokens.
With a fixed supply of 10 million MK, Meme Kombat has allocated 50% to presale buyers, 30% to staking/gaming rewards, 10% to DEX liquidity, and 10% to community incentives.
The project's development roadmap begins with the ongoing presale, which has already raised more than $950,000.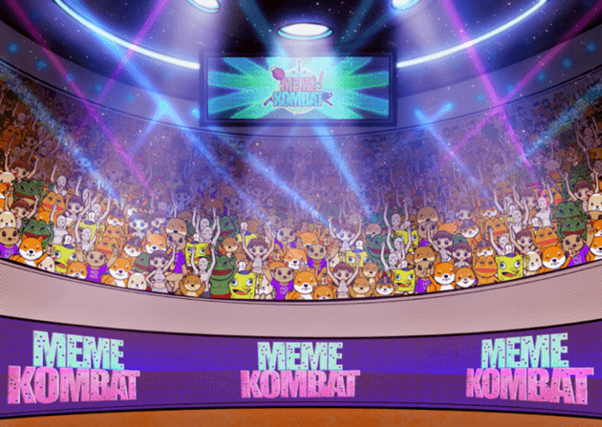 After the presale ends, the Meme Kombat platform will officially launch, with Season 1 featuring 11 meme characters.
Season 2 will follow a few weeks later, bringing new battle types and gameplay improvements.
As a unique platform combining memes and crypto gaming with sizable earning opportunities, Meme Kombat is generating significant hype.
The project's Twitter following has grown to 7,800 people, while its official Telegram community now boasts 3,000 members.
All in all, Meme Kombat's groundbreaking design positions it as a serious contender to become the next meme coin to experience a bull run.