SAKURA NFT Platform is a platform providing NFT market and various functions related to NFTs, to which EGI contributes with their development technology. They revealed this new information about the contract with a great car racer, Ai Miura.
NFT collaboration with athletes on SAKURA NFT Platform:
SAKURA NFT Platform is aiming to be entertaining and also dreamy for those who trust the infinite possibilities of NFT, around the world. They will invite young and energetic creators and also worldwide celebrities into this platform. SAKURA NFT Platform made the first contract with an athlete, Ai Miura, the first female F3 Japan champion in 2014.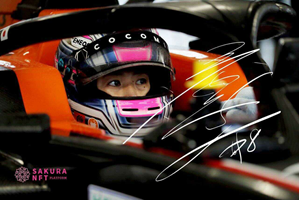 Profile:
[Name] Ai Miura(三浦 愛)
[Birthday] 1989.11.24
[Height] 154cm
Official website: https://ai-miura.com/
Ai Miyra's SNS: https://lit.link/aimiura#
Achievements:
—2020—
KYOJO CUP Series champion
FCR VITA Series champion
Participated in FORMURA REGIONAL JAPAN
Participated in SUPER TAIKYU
Participated in MINI CHALLENGE JAPAN
—2019—
Participated in Japan Formula3 C Class
FIA Solar Car Race Suzuka ClassChampion
—2018—
Japan Formula3 C Class Ranking 12th, Best result 6th
FIA Solar Car Race Suzuka Ranking Class 2th
—2017—
Japan Formula3 C Class Ranking 8th
Best result 4th
FIA Solar Car Race Suzuka ClassChampion
—2016—
Japan Formula3 C Class
FIA Solar Car Race Suzuka ClassChampion
About SAKURA NFT Platform:
 This NFT platform provides not only the NFT market but also some other functions. You can manage your wallet for your tokens on that page. And you can make your wish list as well.
Those NFT products' reliability is secured by the labels of product status and other details
required on this platform. As it is a symbol of Japan and it's very easy to find that this project is related to that country, this logo image shows SAKURA(cherry blossom).
About EGI:
EGI aims to engage the next generation of eSports, on the blockchain. EGI creates meaningful engagement like never before between fans and players of esports. On the eGame platform, users create communities, provide insight, create fantasy tournaments, engage in safe betting, and sponsor the growth of up-and-coming players all over the world.
EGI also has an NFT Exchange service and they are providing the NFT creation and NFT trading platform there.
Check the official website and view the promotion video of EGI from here.
Current News About EGI:
・EGI was listed on CoinMarketCap
→https://coinmarketcap.com/currencies/egame-initiative/
・EGI is developing a Digital NFT Town