After a strong month, Solana and Polkadot have suffered pullbacks. In the last 24 hours, the projects are down 6.45% and 3.97%, respectively. This has raised fears that further corrections may occur before the next leg up, as many major altcoins struggle.
However, other cryptocurrencies continue to show bullish momentum, and we'll look at 5 promising tokens further down this article.
Further Downside Expected for SOL and DOT Before a Reversal
According to analysts, Solana and Polkadot could experience a deeper retracement before an uptrend continuation.
Prominent trader Rekt Capital noted that Solana's current price action resembles that of 2021. It has found resistance at the same level of $63, which was followed by a selloff to around $20 last time.
The analysis highlights that Solana could be poised for a strong final pullback before commencing a longer-term bull rally.
One potential source of the recent pullback is FUD surrounding Solana's stakeholders. A recent tweet by an X commentator, Duo Nine YCC, said, "When you buy #Solana, this is who you are giving your money to."
The tweet displays an image of Solana's venture capitalist investors, including Almeda Research, Andreessen Horowitz, Polychain Captial, and many more. It has 35K impressions and 373 likes, undoubtedly fairing a source of fear and uncertainty within the community.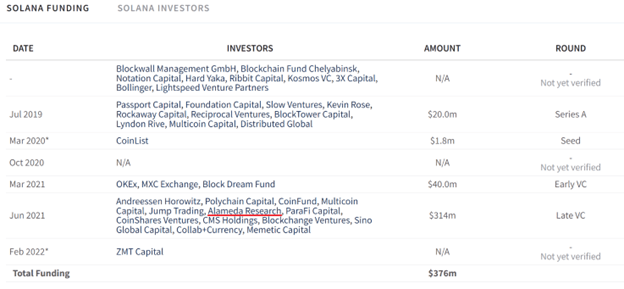 Similarly to Rekt Capital, analyst JACKIS believes that a deeper pullback is on the horizon for some altcoins. A recent tweet referred to the pump of Polkadot, Solana, and other cryptos as a "suckers rally," alluding that a better buying opportunity will arise shortly.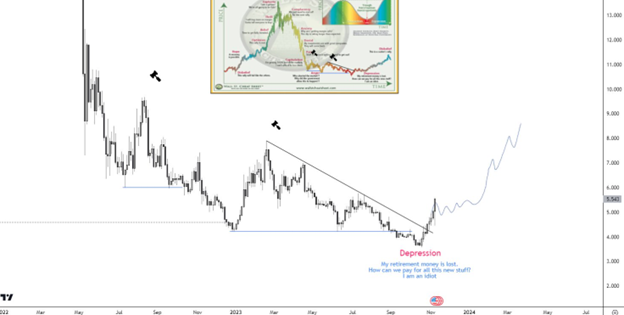 JACKIS also referenced Avalanche, Arbitrum, and Ethereum.
Despite their recent pullbacks, both cryptos have seen tremendous gains recently, and neither Rekt Capital nor JACKIS seemingly believes that the ongoing retracements will cancel out said gains.
Instead, these pullbacks will likely retest key areas of previous support and resistance to form a more distinctive market structure before continuing to rally.
Top 5 Altcoins to Buy Now
However, not all cryptocurrencies are poised to pull back in the coming months. Instead, liquidity is cycling through the market, starting with Bitcoin, then large-cap altcoins, followed by mid-caps and newer projects. Therefore, the next cryptos to explode could be newer projects and some large caps yet to pump.
Five candidates are Bitcoin ETF Token, Meme Kombat, Bitcoin Minetrix, TG Casino, and XRP.
Bitcoin ETF Token
Bitcoin ETF Token is a promising new presale focused on the upcoming Bitcoin ETF approvals. The project launched one week ago and has already raised over $500K, tapping into the unfathomable hype and liquidity derived from Bitcoin ETF excitement.
Bitcoin ETF Token boasts three main features: staking, burning, and news content-providing.
Holders who stake $BTCETF will receive a 450% annual percentage yield (APY). Indeed, this yield is impressive, but it will not last long. It will decrease as the staking pool size grows, incentivizing market participants to buy in early.
Staking will also reduce the token's available supply, enabling incoming demand to impact its price better.
Its burn mechanism will destroy 5% of tokens at five key Bitcoin ETF milestones, inducing scarcity when hype is highest. Moreover, $BTCETF features a 5% burn tax on each transaction. This will promote long-term holding and contribute to its scarcity, further bolstering its price potential.
The last feature is its aggregated news feed. This will pull the most crucial Bitcoin ETF-related news from around the web into one dashboard, fostering an active community by making it easier to navigate the market in times of high volatility.
Visit Bitcoin ETF Token Presale
Meme Kombat
Meme Kombat is a pioneering project that brings the fun-filled excitement of meme coins to the explosive crypto gambling niche. Essentially, it enables users to gamble on AI-generated battles between meme coin characters.
There are many game modes and betting options available, and it also includes NFTs, making for a truly engaging and immersive experience.
Its cutting-edge use case has led to tremendous presale success, with it raising $1.6 million so far. Moreover, it has also been picked up by prominent media outlets like Cointelegraph and Coinpedia.
The project's native token, $MK, is used for gambling and staking, providing two considerable streams of demand that could bolster its price.
Presale investors can currently earn a whopping 752% staking APY. However, like Bitcoin ETF Token, this figure will drop as the staking pool grows.
Another benefit to Meme Kombat is that it boasts more robust security than traditional meme coins. For instance, it received impressive results on a smart contract audit and features a doxxed team.
The combination of solid security, a promising use case, and viral potential from its meme coin allure has generated massive excitement, indicating a quick presale sellout and explosive IEO.
Investors can buy $MK at $0.189, but must be fast as its price will rise to $0.205 in two days.
Bitcoin Minetrix
With the Bitcoin halving looming, one of the hottest topics currently is Bitcoin mining. However, a new presale project, Bitcoin Minetrix, revolutionizes the mining process, enabling anyone to begin earning Bitcoin rewards easily.
It works by users staking $BTCMTX tokens in return for Bitcoin mining credits. They can then burn these credits on the Bitcoin Minetrix platform for cloud mining power, translating to free Bitcoin.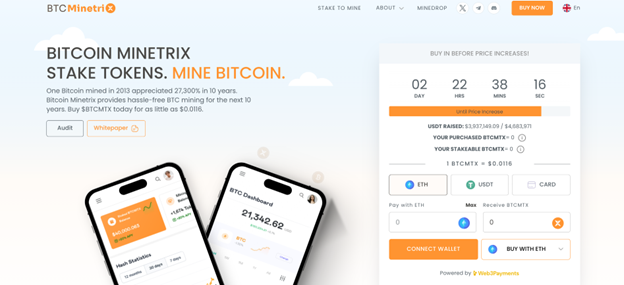 As well as enabling anyone to mine Bitcoin effortlessly, this ingenious use case also provides tremendous price potential for $BTCMTX.
The reason is twofold: first, demand will be high due to $BTCMTX's central role in the operation. Second, supply will be limited as most tokens will be staked, and rewards are paid out in mining credits, not $BTCMTX.
These factors led to massive presale excitement, with it raising $3.9 million in six weeks.
Its hype has been heightened by backing from mass interest from top analysts. Countless influencers have covered the project recently; some of the most notable are Jacob Bury, Michael Wrubel, and Joe Parys Crypto.
Market participants can buy the presale for $0.0116 but must hurry as the price will increase in two days.
Visit Bitcoin Minetrix Presale
TG Casino
With the crypto casino trend continuing to explode, investors are rushing to cash in on the latest and greatest innovations. Currently, the best crypto casino token to buy is TG Casino.
It is a Telegram-based casino with full user anonymity and a flurry of different perks and benefits.
Launching on Telegram makes it much more accessible than the average crypto casino and makes placing bets much easier, too. Moreover, it also means TG Casino is available to Telegram's one billion user base.
The platform is KYC-free, ensuring the users' privacy and anonymity. Furthermore, it is one of the only fully regulated Telegram casinos, providing users with an extra layer of security and protection.
Its native $TGC token also boasts a range of benefits, indicating significant utility-driven demand. The benefits include free rewards, exclusive access to special games and rooms, 25% cashback on losses, and a 263% staking APY.
The project also boasts a buyback mechanism, repurchasing $TGC tokens from the open market with a portion of the platform's revenue. It will burn 40% and send 60% to staking rewards, enabling holders to benefit from the casino's success.
Its benefits have equated to tremendous community interest, leading to its presale surpassing $2 million in six weeks. Currently, it is priced at $0.155, but this will rise in two days.
XRP
While many other top cryptocurrencies have struggled over the past 24 hours, XRP has held firm. This is because it has not pumped as much as some other projects recently, and as mentioned, liquidity will cycle through the market.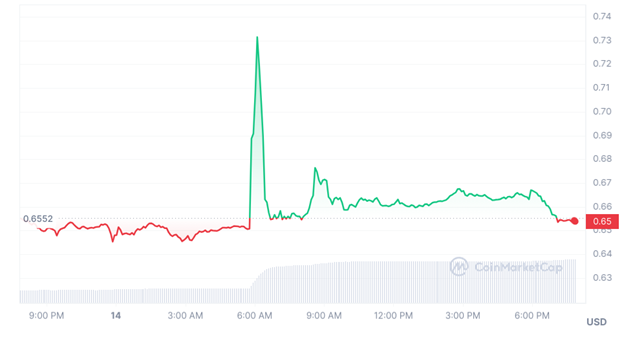 This means that XRP could be poised to pump next, particularly given its industry-leading use case and continued success in its lawsuit defense against the SEC.
The XRP price received a massive pump earlier today following a false report of Blackrock filing for an ETF. However, the claim was quickly redacted, and its price retraced.
However, if it wins its case against the SEC, an ETF filing would be no surprise, given Blackrock has recently planned for an Ethereum ETF.
If this occurs, investors could buy XRP on traditional brokerage accounts, which are more accessible, reputable, and trustworthy to many investors than centralized or decentralized cryptocurrency exchanges.
Factoring in an unprecedented spike in utility-driven demand if it defeats the SEC, XRP could become one of the top-performing cryptos in the upcoming bull run.