The price of Solana's SOL token has surged by 10% over the past 24 hours, making it one of the best-performing cryptocurrencies.
This price increase comes as the broader crypto market sees renewed optimism and buying pressure from investors.
Among the other altcoins benefiting is the new TGC token from the TG.Casino project, which is being touted as an exciting investment opportunity in the crypto gaming space.
Solana Sees Uptick Amid Fake ETF Reports and Significant FTX Staking
SOL has been one of the top-performing cryptocurrencies over the past day, currently ranked fourth in CoinMarketCap's list of trending coins.
This price pump comes amid renewed optimism in the crypto market and can be attributed to a couple of key catalysts.
First, there was brief excitement around false reports that the SEC had approved a spot Bitcoin ETF, boosting Bitcoin and other major altcoins like SOL.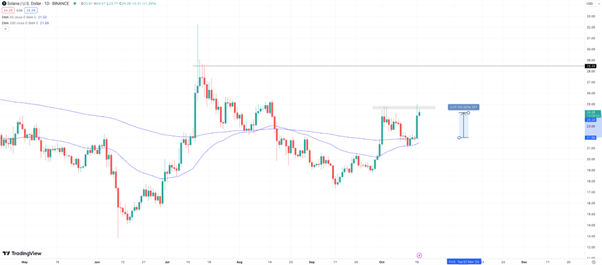 Although this report was proved inaccurate, it provided a temporary boost and highlighted the market's sensitivity to regulatory developments.
Second, it emerged that the estate of the now-bankrupt crypto exchange FTX had just staked over $122 million worth of SOL tokens.
This suggests that the estate does not plan to sell them in the near term – easing concerns about a potential price drop.
These developments have fueled renewed interest in Solana, now trading around the $24.35 level.
Dubai Partnership Provides Additional Momentum for SOL
Solana's price pump comes after being announced as an ecosystem partner for the Dubai Multi Commodities Centre (DMCC), one of the free economic zones in the United Arab Emirates.
As part of this partnership, Solana will provide technical and business support to DMCC members seeking to use its blockchain platform.
The DMCC will also give preferential treatment to Solana's partners – potentially boosting adoption.
This latest partnership further validates Solana in a global financial hub like Dubai, with the blockchain also gaining traction in other regions worldwide.
As such, investor confidence in SOL has been lifted further, evidenced by CoinGecko sentiment analysis revealing that more than 81% of users are "feeling good" about the token's prospects.
With SOL now up 142% since the start of 2023, the momentum seems to favor continued growth, especially given the broadening institutional interest and strategic partnerships like the one with the DMCC.
TG.Casino's TGC Token Gains Attention for Anonymous Gaming & High Staking Rewards
Another emerging altcoin gaining traction is TGC, the native token of TG.Casino.
This project aims to build a revolutionary blockchain-based casino integrated directly into the Telegram messenger app.
With nearly 9% of the global population using Telegram monthly, TG.Casino is well-positioned to tap into a large and active user base for rapid adoption of its gaming services.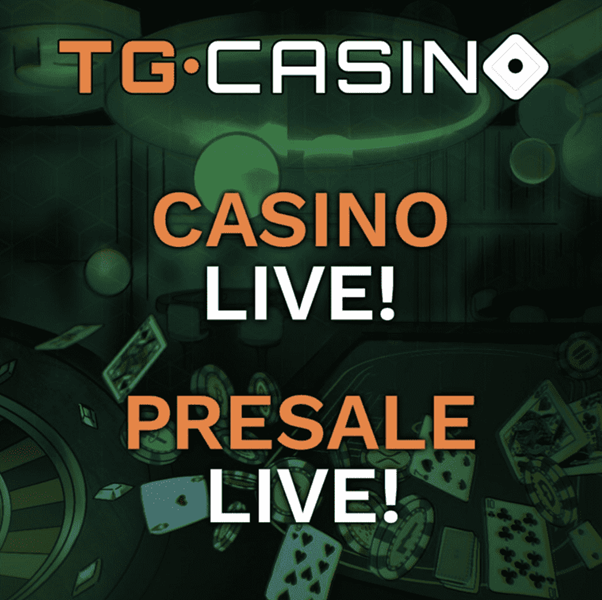 Using TGC, users can securely play casino games, earn rewards, and benefit from staking yields of 441% annually.
All of this is achievable without the need for lengthy KYC processes, allowing users to play anonymously and using crypto.
Importantly, this doesn't come at the expense of safety – TG.Casino has a full gaming license from Gaming Curacao and has been subject to a comprehensive smart contract audit from Coinsult.
TG.Casino is in the midst of a presale to fund the platform's future development, offering TGC tokens at the low price of $0.125.
Not only do TGC holders benefit from the reduced price offered via the presale, but they'll also receive a portion of the casino's revenues, along with other perks like high-roller NFT rewards.
Several high-profile names in the crypto sector have already participated in the presale, including YouTuber Michael Wrubel, who revealed that he invested $1,000 in TGC.
With hundreds of games on offer and 20% of the TGC supply reserved for exchange liquidity, TG.Casino looks strategically positioned for long-term success in the market.