After a strong performance on Thursday, the Solana bull rally is beginning to show signs of weakness. The Solana price has experienced a 13% correction since hitting its yearly high of $68 on Thursday, retracing all the way back to the $59 mark.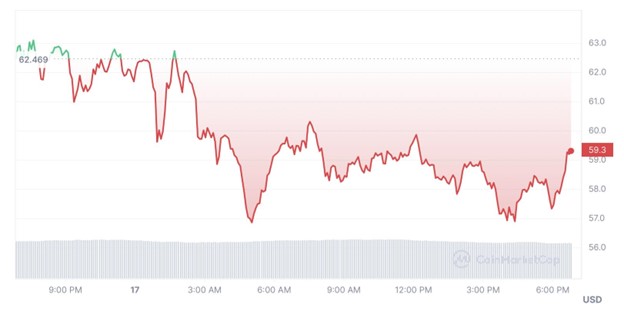 More importantly, SOL has lost the crucial support levels of the 30-month simple and exponential moving averages, both of which are currently hovering near the $61.4 mark and acting as strong resistances.
The Solana market capitalization is on the brink of falling below that of USDC, which would push it down to the 7th spot on the top 100 cryptocurrency list. The token's daily trading volume has also decreased by 11%, making it harder to kickstart a bullish bounce back.
Data from LookOnChain reveals that whales are trimming down their SOL holdings, with one whale unstaking and selling close to $31 million worth of tokens. Another whale – with the pseudonym of H4yiPh – unstaked close to $128 million worth of SOL, of which $18.5 million worth of tokens were sold out.
Other major cryptocurrencies are also showing weakness, with Bitcoin and Ethereum both depreciating by 3% over the past 24 hours. The crypto market cap is now down by 3.3%, below the $1.4 trillion mark.
5 Best Altcoins To Buy Now
With the crypto bull rally coming to a halt, investors are now searching for alternative investment opportunities. Kaspa coin is one such cryptocurrency that has piqued the interest of traders, considering its bullish performance this year.
Moreover, new presale tokens, particularly the ones offering important real-world utility, are also gaining traction.
With this in mind, we list the 5 best altcoins to buy now that are being backed by experts to generate high returns on investment.
Bitcoin ETF Token ($BTCETF)
The crypto bull rally over the past few weeks could largely be attributed to the anticipation surrounding spot Bitcoin ETFs. Market insiders are confident that the SEC will approve multiple BTC ETFs by January of next year.
To celebrate the launch of Bitcoin ETFs in the US financial market and to harness the ongoing hype, a new cryptocurrency – Bitcoin ETF Token – has been announced and is currently in its presale. $BTCETF has displayed a strong performance in its ICO, having already raised close to $1 million in just two weeks.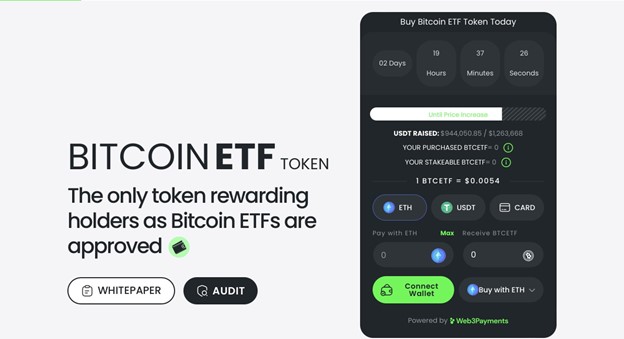 The Bitcoin ETF Token offers a unique value proposition – tracking the ETFs and rewarding investors when they reach five designated milestones. The initial milestone involves $BTCETF achieving a trading volume of $100 million. The second and third milestones will be achieved upon the approval and launch of the first Bitcoin ETF, respectively.
Finally, the fourth and fifth milestones encompass the cumulative asset-under-management of all ETFs reaching $1 billion and the Bitcoin price hitting the $100k mark, respectively.
At each milestone, 5% of $BTCETF tokens will be burned, leading to a deflationary supply and potentially boosting the cryptocurrency's value. Furthermore, a transaction tax – which will be at 5% at the start of the token's trading – will also be reduced by 1% at every milestone.
To help investors navigate any potential FUD, the Bitcoin ETF token is also offering passive income right from the presale, currently at an APY of 268%.
Visit Bitcoin ETF Token Presale
Bitcoin Minetrix ($BTCMTX)
Another BTC derivative – Bitcoin Minetrix – has emerged as a consensus pick amongst experts for the best crypto to buy now, thanks to its innovative cloud mining solution.
Bitcoin Minetrix allows users to mine Bitcoin and earn passive rewards, simply by staking $BTCMTX tokens. Considering that the traditional crypto mining industry is being monopolized by wealthy corporations, Minetrix's utility could see strong demand, especially amongst retail investors.
They can simply purchase $BTCMTX tokens and stake them to receive mining credits, which can be burned for cloud mining time or a percentage of the yields, both options leading to BTC rewards. The accumulated rewards could end up offering significant profits, considering that the Bitcoin price is expected to hit a new all-time high after next year's halving.
While the concept of cloud mining isn't entirely novel, Bitcoin Minetrix's decentralized approach offers significant advantages over other legacy platforms. For instance, instead of any long-term, cash-based contracts that carry centralization risks, Minetrix users can choose to unstake and sell their tokens at any point.
Moreover, investors don't even have to wait for the launch of the stake-to-mine platform – they can start to earn staking rewards from the ICO itself, currently at an APY of 144%.
Consequently, experts are bullish on the $BTCMTX token, which has raised over $4 million in its ICO. Popular trader Jacob Bury predicts the token to display a 10x bull rally after its launch.
Visit Bitcoin Minetrix Presale
TG.Casino ($TGC)
Smart money traders continue to be bullish on GambleFi tokens, predicting the niche to explode during the next crypto bull run. One such cryptocurrency – $TGC – is experiencing a strong demand in its ICO, having already raised over $2.2 million in just over a month.
TGC serves as the native token of TG.Casino – a Telegram-based crypto casino that offers anonymous gambling services without the burden of any KYC verification or account setup. Players can access hundreds of games and sports books, on top of competing with each other in live casino events, where they can also enjoy a generous 150% bonus up to $30k and 500 free spins.
While the platform accepts multiple cryptocurrencies and even fiat, $TGC users enjoy significant benefits. For instance, players betting with the token receive a 25% cash back on all their losses, while some exciting games are only accessible through the token. Token holders can also earn lucrative staking rewards – presently at an APY of 250%.
TG.Casino's integration with Telegram offers numerous key advantages – for instance, players are protected by Telegram's end-to-end encryption, a popular security and data privacy tool.
Moreover, Telegram is the home to millions of crypto and online gambling enthusiasts, which could boost TGC's user adoption. As a case in point, the admin of the Crypto Whale Pumps channel on Telegram – which has over 25k subscribers – has already purchased 10 ETH worth of $TGC.
Meme Kombat ($MK)
Meme coins are once again expected to lead the next crypto bull run, especially tokens such as Shiba Inu and Floki that offer high utility. A new meme token – Meme Kombat – has also impressed investors, thanks to its Play2Earn, GambleFi and staking features.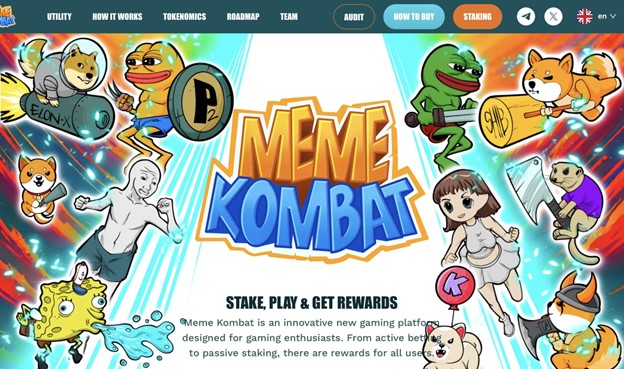 The token will launch a Play-to-earn platform consisting of 11 fictional characters – each of them representing a popular meme coin such as Shiba, Pepe, Doge and Floki. These characters will engage in AI-simulated battles, the outcome of which will be decided on-chain through random sequencing.
This unpredictability allows players to bet on the outcome of the game. They can wager on their champion against each other or against the house itself, on top of some side action betting.
The $MK token is currently in its presale, where it is nearing the $2 million milestone. Presale buyers can already start to earn staking rewards, currently at an APY of 600%. Meme coins offering staking utility are in high demand, as recently displayed by Floki –  consequently, experts such as Michael Wrubel are bullish on $MK, expecting it to display an explosive rally similar to FLoki.
However, Meme Kombat's most impressive feature is its fully doxxed team. Meme coin projects with anonymous developer teams always carry the risk of scams and rug pulls. To combat this, the identity of every key developer behind $MK has been revealed, including its founder Matt Whiteman.
Kaspa ($KAS)
Kaspa has been the most bullish cryptocurrency since the start of the year – therefore, its inclusion on this list of best altcoins to buy is no surprise.
The cryptocurrency started the year with a market capitalization just north of $80 million. Since then, it has skyrocketed by 2150%, currently boasting a market cap of over $2.6 billion. In fact, it is one of the rare few cryptocurrencies that has even outpaced Solana, both in the monthly and the yearly time frame.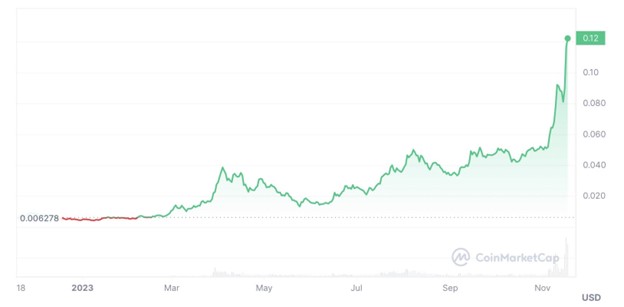 According to CoinMarketCap, Kaspa coin is currently the 28th largest token on the crypto market. The token is currently trading near the $0.12 price mark.
However, experts believe that the token still has tremendous upside, considering that it still hasn't been listed on Tier-1 crypto exchanges such as Binance, Coinbase and ByBit.
According to @CredibleCrypto, who has over 350k followers on X, $KAS could hit the $1 mark by the end of next year and the $0.44 price target in the short term. Even a 7% depreciation in Kaspa today has not invalidated his bullish prediction – instead, he believes this to be an excellent "Buy The Dip" opportunity.