Sonik Coin and Shiba Inu are the two trending meme coins of this week. Let's take a look at how they stack up against each other in terms of potential ROI in 2023.
Shiba Inu is standing solid
Shiba Inu has gained 25.51% over the last thirty days. The project has successfully managed to translate the hype around the SHIB hardware wallet and the upcoming Shibarium L2 Network to a price increase.
According to on-chain data, Shiba Inu investors are holding on longer to their tokens in anticipation of more bull runs in the coming years, with the ecosystem expanding. Thousands of investors have become long-term Shiba Inu holders in August.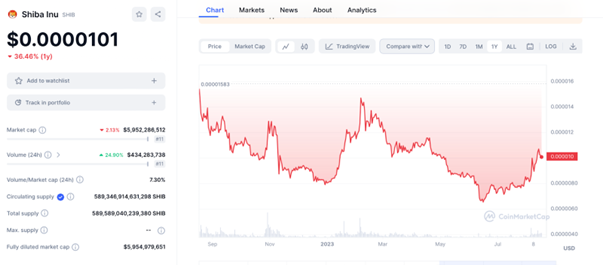 Shiba Inu 1-year price action, 16 Aug 2023, CoinMarketCap
The total number of long-term holders stood at around 883,000 at the time of writing. They make for 69.16% of total Shiba Inu wallet addresses.
The growing number of long-term holders hints at the optimism in the project. It has also attracted whale investors.

Shiba Inu Fear and Greed Index, CFGI.io
However, established meme coins like Shiba Inu and Dogecoin with their market caps in the billions leave little room for growth as far as new investors are concerned. They are drawn to projects like Sonik, Pepe, and Wall Street Memes instead.
They need more than just a solid investment.
Sonik – Fastest $100M MCAP meme coin?
Sonik is a new meme coin inspired by the popular animated movie character Sonic the Hedgehog.
Turned into a ridiculously funny meme coin, Sonik comes with stake-to-earn utility. Sonik holders can deposit their coins into the accompanying staking smart contract in exchange for attractive rewards.
The juicy annual percentage yield (APY) has expedited the ongoing presale, and is expected to fuel Sonik's race to a $100M market cap. It is touted as the "world's first stake-to-speed crypto!".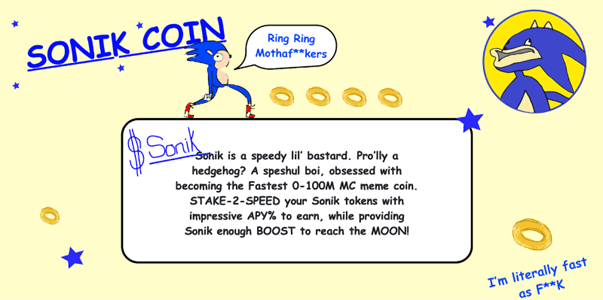 Staking and earning have begun
Sonik Coin has set aside 40% of its total supply toward community staking rewards. They will be paid out over the course of four years. Given that the presale has a remarkably low target of around $2 million, the APY will be highly lucrative for early investors.
Staking limits selling pressure
Crypto staking has always been popular. Projects use it as a way to limit the selling pressure during initial exchange listings, which can kill the token before it even has a chance to enter the market.
Staking takes away the pressure to a great extent by the promise of staking rewards.
A recent example of this phenomenon is BTC20 – an ERC20 token that mirrors the tokenomics of Bitcoin when it was selling for $1 in 2011. Its key value proposition is recreating the BTC FOMO through staking rewards.
Interestingly, more than 60% of BTC20 token buyers continue to stake their tokens, despite the token price going up 600% on its listing.
Sonik is replicating the strategy in the meme coin space. While most meme coins of 2023 unabashedly flaunt their lack of utility and purpose, Sonik gives a compelling reason for buyers to keep holding their tokens. The integrated utility gives it long-term relevance in the market.
It will diminish the selling pressure when the meme coin launches on the Uniswap DEX.
How high can Sonik go?
Judging by the white paper and the website, Sonik is one of the most promising meme coins to enter the market this year. The popular theme and content give it a solid meme-coin foundation. The stake-to-earn utility, on the other hand, gives it long-term relevance, unlike most meme coins.
But it's still too early to predict how high Sonic can go.
If the meme coin grabs the attention of investors as it deserves, it can race to a $100M market in less than two weeks of going live. In the event the listing catches fire, the market cap could explode to $1B.

At the ongoing presale, buyers can grab the token for just $0.000014. Even if you're just buying $1000 worth of Sonic, it can easily fetch anywhere from $50,000 to $100,000 as the meme coin explodes anywhere from 5000% to 10000% over the next two to three months.
Jacob Crypto Bury is one of the first crypto analysts to publish a SONIK price forecast. He expects a 10x growth for the meme coin. But given that Sonik has a modest initial market cap, 50X-100X is a realistic price prediction in the meme coin market.
Sonik to grab the attention of the Asian market
Sonik is a meme coin that has the potential to become a global phenomenon. But it is expected to do particularly well in Asian markets like Japan. This is because Sonic the Hedgehog character was created by the Sega team of Yuji Naka and Naoto Ohshima.
It is to be remembered that Sonik has no affiliation with Sega's Sonic. But that doesn't stop it from  tapping into the character's fandom in Japan and other Asian countries. Interestingly, these are also some of the hottest crypto markets in the world. It is clear that the team's choice of theme was well-planned.
The official Sonik website will feature Japanese, Simplified Chinese, and Korean, alongside other languages. The project's audit report will be out soon.
The presale has just gone live, but there is not much time left
Sonik has a robust tokenomics, with 50% of the total token supply set aside for presale, 40% for staking rewards, and 10% for exchange liquidity.
The project's plan is to go live on the Uniswap DEX directly as soon as the presale is over. With the presale target limited to just $2,098,547, there isn't much time left to buy the token. It will sell out in the next few days.
🚀 Welcome to the world of $SONIK! 🦔💨

Get ready to experience the fastest #Crypto meme coin in action! 🔥

🌐 Join our #Presale now and be part of #MemeCoin history!

👉https://t.co/NkNhQrZ41q #Sonik #AltGem #Altcoin pic.twitter.com/BsnUlKCZfZ

— SONIK COIN (@Sonikcoin) August 3, 2023
Verdict – Sonik or Shiba Inu?
Sonik emerges as a clear meme coin choice this month.
To put it in numbers, Shiba Inu's $5.9B market cap leaves little room for growth. The best that it can do this year is 100-200%. Even that is a highly ambitious price prediction for the meme coin which has been lukewarm for the most part of the year.
Sonik, on the other hand, has yet to go live, leaving large room for returns to early investors. The most conservative price prediction for the coin is 10X or 1000%. That is significantly larger than Shiba Inu's 100-200%.
That said, investors need to be quick to act and grab Sonik for $0.000014 at the ongoing presale if they want to take advantage of its bull run.
Can Sonik outperform Wall Street Memes?
Wall Street Memes is the biggest meme coin sensation of this year. The project is all over the internet and is preparing for a grand token launch, having raised $24M out of its $30M presale target already.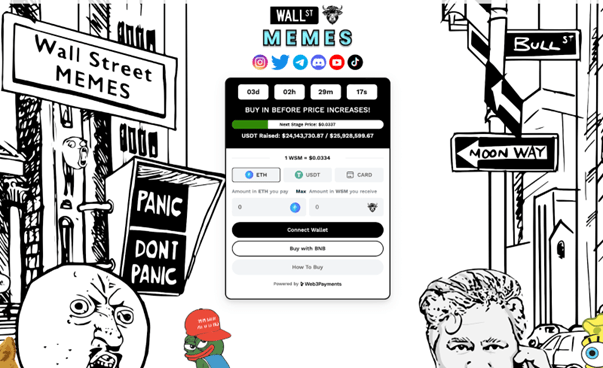 Obviously, Sonik has a long way to go to beat Wall Street Memes' popularity. But Sonik's low presale target of $2M gives it a small but significant advantage in the short term.
Wall Street Memes is widely predicted to enter the top-3 meme coin chart within days of its token launch. While Sonik can outperform established meme coins like Dogecoin, Shiba Inu, and Pepe with a ridiculously higher potential ROI, it remains to be seen whether it can come out as a winner in a race against WSM.