The effects of the crypto winter appear to be continuing to affect projects in the market, with popular move-to-earn investors heading out of the STEPN app. There have also been reports that the STEP team has reduced its headcount in a layoff that saw over 100 employees dismissed. The news comes courtesy of reporter Colin Wu and the South China Morning Post.
The Solana-based app STEPN allows users to earn money for moving about. Essentially a fitness that rewards users for their exercise, the project made headlines in 2021 for allowing users to buy NFTs that could be used in the real world. The project had two tokens, the Green Satoshi Token (GST) and the Green Metaverse Token (GMT), both of which have dropped considerably from their all-time highs.
What's Happening with STEPN?
Reports emerged that the project would lay off more than 100 employees laid off, who are mostly MODS and ambassadors. Community sources told Colin Wu that this development was taking place, and he also added that it would reduce investment in STEPN and that some development had been delayed.
Perhaps more importantly, Wu said that the parent company Find Satoshi Lab would focus on new products such as an NFT marketplace. It also plans to promote Find Satoshi Lab more.
It began to focus on promoting its parent company Find Satoshi Lab, and mainly focused on new projects to be released such as the NFT exchange market. In addition, the large amount of GMT's investor saft will be unlocked in March next year.

— Wu Blockchain (@WuBlockchain) October 12, 2022
STEPN has denied the rumors that it has laid off any employees, telling Decrypt that the reports were inaccurate and that the firm was just parting ways with volunteer MODs who had been inactive. It also said that it was hiring for new roles.
The alleged layoffs follow a report that Crypto.com also laid off more than 2,000 employees. The platform also said that those reports were inaccurate. These developments hint that many crypto companies are suffering because of the bear market – though not all.
Investors Moving to Tokens like IMPT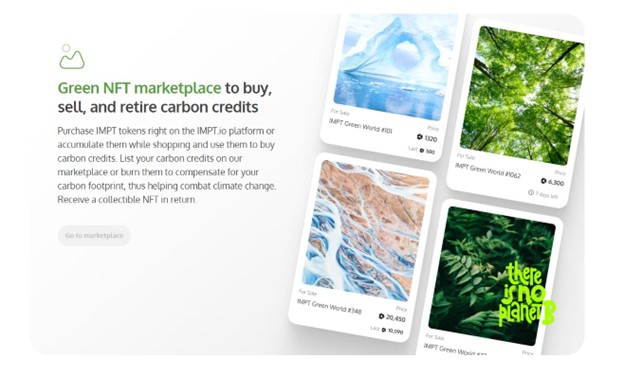 IMPT will have a green NFT marketplace.
As STEPN faces hurdles in a bid to popularize its unique move-to-earn use case, investors are flocking to other tokens that are also working on unique solutions. One of the most active tokens in recent weeks has been IMPT, the native token of the IMPT carbon credits platform.
Social media discussions indicate that users have become smitten by the project's focus on helping the environment. The IMPT platform bundles several features that encourage the reduction of carbon footprint, such as a shopping platform, a social platform, a green NFT marketplace, and the ability to support hundreds of vetted environmental projects.
The interest in IMPT is evident in the high participation of its presale, which is currently undergoing its first stage. Each token is priced at $0.018 and is quickly being snapped up, indicating that users want to grab the token at the lowest possible price. The project has managed to also raise $4 million in 11 days. IMPT has also already begun trending on social media in countries like Italy.
? LET'S GOOO #IMPT CREW!! ?

♻️♻️ ANOTHER MILESTONE ACCOMPLISHED ♻️♻️

?? $4 MILLION USD RAISED IN 11 DAYS ??

Hurry Before Stage 2 Price Increases To $0.023 !! ⏰

BUY NOW! ? https://t.co/XC2c4hpXpx#Blockchain #Presale #CryptoPresale pic.twitter.com/6i2jTwVQBY

— IMPT.io (@IMPT_token) October 13, 2022
One apparent reason why the IMPT project is doing well is that the project is focusing on a pressing social cause, and investors are keen on playing their part. The IMPT token can be used to purchase carbon credits on the platform and 1 carbon credit is the equivalent of 1 ton of carbon output.
As such, users seem to want to get their tokens at a low price and play their part in bettering the environment. They can also burn their carbon credits to earn an NFT which can then be traded on NFT marketplaces, like IMPT's own green NFT marketplace.
Another project that is drawing in a lot of investors is Tamadoge (TAMA), a meme coin that is winning investors over because it offers a lot more in addition to being a meme. The project has its own metaverse called the Tamaverse and multiple Play-to-Earn features that rewards users in the TAMA token.
The project also has its own NFT collection and this has also grown very popular quickly. The ultra-rare Tamadoge NFTs have hit the trending collections on OpenSea. Players use these NFTs in a battling system.
Top trending NFT collection on @opensea! pic.twitter.com/Azhox4cGZF

— TAMADOGE (@Tamadogecoin) October 13, 2022
Investors See Potential in Other Tokens
While some projects have been hit hard by the crypto winter, there are bright spots in the market for investors. Among other projects, they seem to be shifting their attention towards projects with novel ideas and working for a charitable cause like IMPT.
It remains to be seen whether the project will attract even more investors, but so far the IMPT presale indicates that the project is heading that way. However, It is becoming evident that eco-friendly projects are the future of the crypto market and IMPT is leading that charge.