If you're investing in cryptocurrencies as an alternative to stocks or commodities, you can go for high-cap assets like Bitcoin and Ethereum. They are safe, reliable, and established. And for the same reason, they have less room for growth. Expecting more than 40-50% returns from these assets in the short term is wildly optimistic.
If you want to make multifold returns by taking advantage of crypto market volatility, you should go for promising new cryptocurrencies. If you have done your research, and you know what you're doing, presale investments can't go wrong.
Presale investments have bigger upside potential
Crypto projects host presales at heavily discounted rates to raise initial capital. Earlier, they were known as ICOs. Had you invested in Ethereum and Bitcoin during their early days and held on to them, you'd be a millionaire now.
That said, not all presale investments can give you a fortune. Some can send you to bankruptcy if you're not careful. The key lies in unearthing promising projects with high market-relevant use cases. You need to dive deep into the project, analyzing the white paper, roadmap, tokenomics, smart contract security audit reports, and the credibility of the team before making the decision.
Sounds like too much work?
In this article, we introduce you to one of the best presale crypto projects of this season – Deelance, a Web 3.0 freelancing and recruitment platform.
DeeLance is a Web 3.0 space where the world works together smartly
The freelancing industry has remarkably grown over the last few years, especially since the pandemic which shut people inside their houses. The situation forced employers and employees to rethink. While employers became more open to people working from home, employees realized how much they can get done by taking out the long hours of commutes from the equation.
So it comes as little surprise that 65% of job holders expressed a desire to work full-time as remote employees in a survey. Freelancing is flexible. It's not just about working outside the confines of an office. It's also about handling multiple projects, utilizing a specialized skill. Multiple sources of income are essential to surviving the 21st century.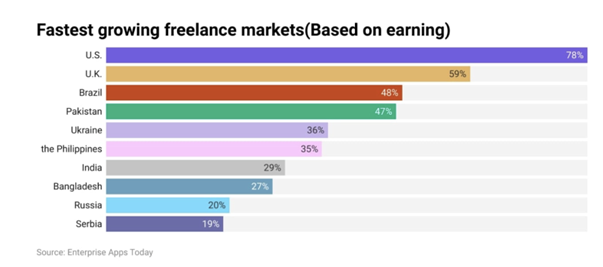 Companies, on the other hand, can enter into short-term contracts with fewer commitments by opting for freelancers instead of employees. It is cost-effective. The global gig economy is projected to grow to $450 billion in 2023, while the freelancing industry is expected to cross $12 billion by 2028. Businesses – big and small – are expanding their freelance networks.
DeeLance is a Web 3.0 freelancing and recruitment platform. It brings more transparency and efficiency to the market using blockchain technology. The comprehensive suite of tools and services on the platform is designed to streamline freelancing across the globe.
How DeeLance overhauls the freelancing market
DeeLance is nurturing a secure and sustainable gig economy. It uproots the weeds that impact the livelihoods of freelancers worldwide, like corporate greed that prioritizes accumulating profits over valuing users, with the help of cutting-edge blockchain technology. The result? Low transaction fees, instant payment solutions, and seamless user experience.
To know how DeeLance radically restructures the freelancing market using Web3.0, we should first look at the existing challenges in the industry. Web2 marketplaces like LinkedIn, Upwork, and Toptal steer the market now. They are good at what they do, offering clients a range of pre-screened gigs, 24/7 customer support, and payment protection systems among others.
But they could be better, in many ways.
To begin with, they offer little to no control over data ownership and use. Many Web 2.0 giants are known for selling user data to targeted advertising companies. That turns it into a commodity, without the knowledge of owners.
They charge high commission fees on escrow and advertising low-ranked services.
They have long payment cycles.
They charge high commissions.
They operate within a centralized system.
They require additional documents and skill tests before making gigs.
Despite that, it's easy for scammers to make their way into Web 2.0 platforms if they put their minds to it.
Freelancers are forced to outbid each other by offering high discounts on their services.
Pricing and seller issues are common.
Sellers from specific regions are banned.
Clearly, the freelance market could use better transparency, efficiency and more importantly trustlessness. You shouldn't be asked to trust a freelancer or a client before entering into a contract with them. This is where DeeLance steps in with trustless blockchain smart contracts. It allows freelancers and projects to work together without middlemen, ensuring a fair and efficient system for all.
The DeeLance ecosystem has three key pillars:
An NFT marketplace
A metaverse platform
A freelancing & recruitment platform.
These are the key highlights of the ecosystem:
It's as easy as it gets: DeeLance deals require no browser plugins, third-party apps, credit card details, or wallet-linking. You can post a job or apply for one in minutes. Being a blockchain solution, it is fast, efficient, and easy.
Transparency: DeeLance features an automated dispute system that stores all buyer and seller reputations on the blockchain.
Secure escrow accounts: They ensure that freelancers receive payment for services supplied and recruiters get the work they paid for. The funds are stored safely in the account until the freelancer delivers the work according to the specification and standards laid out in the agreement.
NFT ownership: Work submitted by the freelancer can be converted into digital tokens as NFTs. It is an excellent method to ensure that recruiters have full ownership over the work they're paying for. It also protects them against problems like payment fraud and copyright violations. Tokenization of work brings more security and reliability to freelancing.
Low fees: Since DeeLance connects freelancers and employers in a peer-to-peer system, it charges much lower fees than legacy competitors.
Fast payments: DeeLance supports crypto payments, which are fast and easier when compared to fiat payments via banks. It does away with the hassles of currency exchange and hefty commission rates.
A global hub for talent: DeeLance is focused on featuring leading professionals across different niches on its platform. The team's industry expertise will ensure that clients get the best services for the money they pay.
Socialize, work, and earn
DeeLance is on the path to becoming a virtual workplace. The metaverse allows you to socialize with others, get exclusive access to VIP Experience, buy commercial (virtual) land or office, do billboard advertisements to generate brand awareness, and gain access to unique tools and services using the $DLANCE token.
The project's goal is to move freelancers and recruiters to another dimension within the digital universe, where freelancers can get their own office in the metaverse and build their reputation. Each user will get a unique digital avatar to participate in the immersive freelancing experiences.
The metaverse will also feature conference rooms where freelancers and clients can connect using voice or video calls. It is a great way to collaborate based on availability, minimizing interruptions and maximizing momentum. The metaverse lobby arena, on the other hand, is an open hall for user interaction where buyers and freelancers can socialize with peers.
DeeLance will provide advanced tools to keep track of important details and reminders shared during the virtual meetings and interactions.
$DLANCE fuels DeeLance
$DLANCE is the native cryptocurrency of DeeLance, which will be used within the ecosystem to purchase NFTs and acquire metaverse lands and offices. Minted on the Ethereum blockchain, the token has a total supply of 1 billion (1,000,000,000).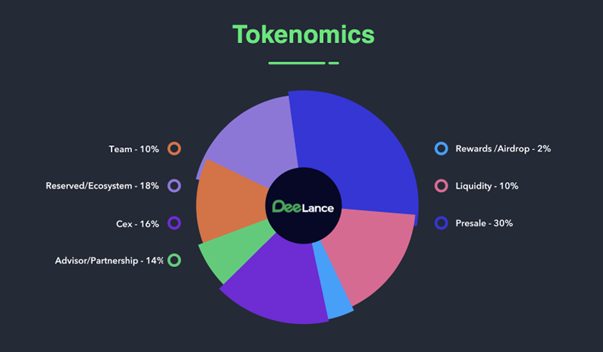 Here is an overview of the perks and privileges that come with owning and holding $DLANCE:
Get discounts on deals
Purchase offices and land in the metaverse
Unlock premium features
Hold to secure your whitelist spot for Rare Premium NFTs
Mint, buy, and sell NFTs
Pay for transaction fees in the NFT marketplace
Unlock metaverse VIP experiences
Purchase premium virtual land and office space in the metaverse
Lease office space in the metaverse
Advertise or display ads in the metaverse.
Whether you are a freelancer or a recruiter or an investor, you can now buy $DLANCE tokens from deelance.com using ETH, USDT, or a credit card. The project is hosting the presale of the token at heavily discounted prices in different stages. The funds secured from the presale will be used to develop the recruitment and freelancing platform, NFT marketplace, and metaverse app. Along with that, the networking campaigns will be expanded to strengthen the global foothold of the project.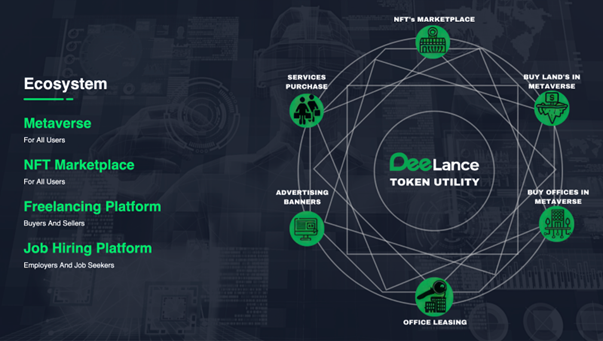 Buy $DLANCE before it's too late
Deelance is one of the most creative blockchain projects to enter Web 3.0 this year. It stands out in the market, crowded with flimsy money-making schemes and hollow NFT art collectibles, with a highly relevant use case. Freelancing is the future of work and Deelance will maintain a sharp competitive edge in the exponentially growing industry with transparency, efficiency, and ease native to blockchain technology.
Hey DeeLancers! 👨‍💻

Ready to take your freelancing journey to new heights?

🌌 Explore the boundless universe of #DeeLance and unlock Metaverse VIP Experience!

Adventure awaits – don't miss out! – Get $DLANCE Now ⬇️https://t.co/ViNzSDSG35#Deelance #metaverse #Crypto pic.twitter.com/fAdKyxr0wO

— DeeLance (@deelance_com) April 17, 2023
Utility-rich tokens are sustainable, with their demand embedded in the real world. If you're looking for a solid crypto investment with both short-term and long-term potential, you can't go wrong with $DLANCE.
Make sure you buy the token before its exchange listing at the presale. It is predicted to climb 8-10X on the days that follow the token launch. That will make it a hefty investment later. The earlier you join the presale, the higher the discount.