The crypto market continues to see innovative new projects launching presales to kickstart their ecosystems. As investors seek the next big opportunity, many are focusing their attention on finding the presale gems that could eventually provide enormous returns.
November 2023 is lined up to feature some hotly anticipated token presales that are creating a lot of buzz in the crypto community. Here are three of the most promising crypto presales that could explode this November.
TG Casino – The First Regulated Telegram Crypto Casino
TG Casino is a brand new crypto gambling ecosystem built on blockchain technology. It launched its presale on September 21, 2023, offering early investors a chance to purchase TGC tokens at the ground floor price of $0.15 per token.
In the short period since the presale began, TG Casino has already raised over $1.6 million, passing a key milestone this week. With 40% of the total token supply reserved for presale buyers, the project is seeing rapidly growing interest.
What makes TG Casino unique is that it is the first licensed and regulated Telegram casino. The project provides an instant and anonymous gambling experience directly through the Telegram app, with access to thousands of slots, table games, and a competitive sportsbook.
TG Casino uses the Ethereum blockchain to enable anonymous crypto deposits and transfers, while TGC serves as the native utility token of the ecosystem. Investors who purchase TGC tokens during the presale can earn staking rewards and a share of the casino's profits through token buybacks.
At the time of writing, $TGC stakers can achieve an APY as high as 3,412%. The project also offers an exclusive post-launch NFT to presale buyers who invest $5,000 or more.
With its innovative model and surging presale performance, TG Casino is poised to make a strong impact in the crypto gambling space when it fully launches.
Bitcoin Minetrix – Democratizing Cloud Mining
Bitcoin Minetrix is an emerging cloud mining platform currently in the midst of its presale phase. With $3 million raised so far in the presale, Bitcoin Minetrix is drawing close to a major milestone.
The presale is structured across ten incremental rounds, with each new round seeing a 10% price increase in the BTCMTX token. However, the current round still offers the price of just $0.013 per token, giving buyers ample opportunity to purchase tokens before the price rises.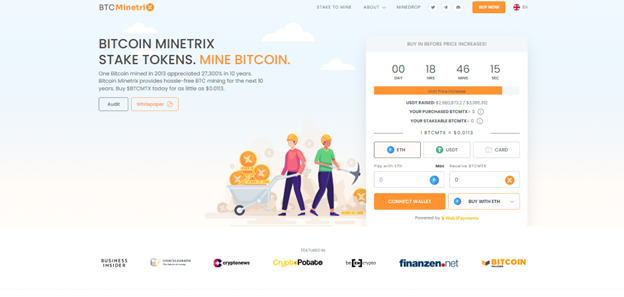 By tokenizing cloud mining, Bitcoin Minetrix aims to make bitcoin mining accessible in a decentralized manner. Users can purchase and stake $BTCMTX tokens to earn non-tradable credits. These credits are then burned to gain proportional cloud mining power to mine BTC.
This elegant staking-to-mine model allows anyone to participate in bitcoin mining without technical expertise or physical mining equipment. Bitcoin Minetrix essentially democratizes access to crypto mining.
Other key benefits offered by Bitcoin Minetrix include:
Easy entry for beginners without complex setup
Cost efficiency compared to expensive mining rigs
Avoids issues like noise, heat, and space of hardware mining
With its presale heating up and innovative approach to cloud mining, Bitcoin Minetrix has strong potential to climb the crypto ranks when it fully launches. The project's current low entry point offers investors an attractive early mover opportunity.
Meme Kombat – The Hot New Meme Coin Presale
Meme Kombat is an ambitious new crypto project combining memes with gaming, staking, and betting. Its presale launched just weeks ago and has already raised close to $1 million, putting Meme Kombat on the map as one of the hottest meme coin presales to watch.
The presale has a soft cap of $5 million and a hard cap of $10 million. 50% of the total $MK token supply is allocated to presale buyers, making this a prime opportunity to acquire tokens.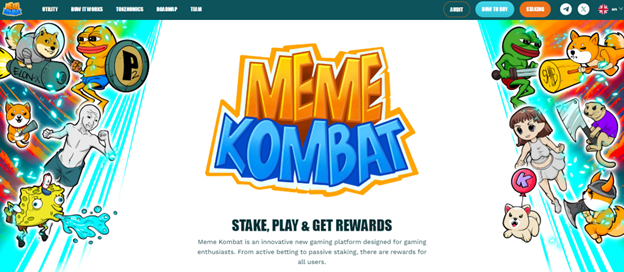 At its core, Meme Kombat is a gaming platform featuring meme battles where users can bet and win rewards. $MK tokens are used to stake and vote on meme faceoffs. The project incorporates elements of Play2Earn, GambleFi, and decentralized finance.
Key aspects of the Meme Kombat ecosystem include:
Staking and betting $MK tokens on meme battles
User participation in buying, staking, and betting $MK
Head-to-head meme battles that users bet on
Multiple betting types, including player vs. player and player vs. game
Attractive staking APY of 112% during presale
With major portions of the token supply reserved for staking/betting rewards and liquidity, Meme Kombat is designed for sustainability.
Meme Kombat brings unique innovations in terms of gaming and betting. As its presale gains momentum, $MK seems primed for liftoff.
Conclusion – The Best Crypto Presales in November
With their blockbuster presales, TG Casino, Bitcoin Minetrix, and Meme Kombat represent three of the most exciting crypto projects gearing up to make a splash in November 2023.
TG Casino is on the verge of disrupting the online gambling industry in a big way with its licensed Telegram casino offering anonymous, instant play.
Bitcoin Minetrix is democratizing access to crypto mining through its elegant token staking model for cloud mining. And Meme Kombat is merging memes with gaming in an action-packed platform.
Savvy crypto investors are keeping a close eye on these presales as the projects build momentum. The presale stage offers a prime opportunity to gain exposure to what could become the next big disruptors in their respective crypto niches. As November kicks into high gear, these are three presales set to explode.