Cryptocurrency market once again on a spotlight of investors seeking for a hide-out from the upcoming recession and baking crisis. Bullish sentiment of late 2022 inherited in 2023 provides signs of a new uptrend in crypto.
Such an uptrend is always a good opportunity for retail and institutional traders, however many would sustain investing their funds into the market fearing to buy the high. There are many projects which do close gaps in some issues related to Web3, the token of the most of them is considered as a great opportunity, one must do tons of research to find the right project and the right token.
By comparison of various Web3 projects, I would like to highlight the ganglion of the all investment operations in Web3 – exchanges and review their tokens in this analysis to find the top exchange tokens to invest in 2023.
1. QMALL Exchange (QMALL)
A new, ambitious player in the crypto scene with plenty to offer crypto newbies and veterans alike, with so much more to come this year.
QMALL is an easy-to-use cryptocurrency exchange that's ideally suited for everyday use. The exchange features quick crypto swap functionality, as well as an advanced trading platform for experienced investors. The exchange also has a P2P aggregator, which helps any user globally to instantly swap assets with one another.
The exchange holds an EU License, as opposed to a general IT Tech License – the project has been through all the processes and rigorous regulatory checks, and now boasts an official licence for a Virtual Currency Exchange Operator and Depository Virtual Currency Wallet Operator, issued by Lithuanian FCIS.
It's not hyperbole to say that QMALL is an ambitious project, the exchange is set to launch its own Bitcoin NFT marketplace where users can create and sell Bitcoin NFTs. Furthermore, there are advanced plans for QMALL to be the first CEX to deliver its own Metaverse. The company also has a very special new product in the works – details are strictly classified at this stage, but it's guaranteed to be an epic gift to the QMALL community.
The exchange is also set to put pen to paper on a number of partnerships in the coming months, including one which will see a huge upgrade and subsequent promotion of its NFT marketplace, as well as a current, exclusive partnership with WOG. As well as this, the imminent delivery of a huge marketing campaign is expected to see the overall trading volume of the exchange double.
QMALL – which is the native token of the exchange – guarantees a 50% discount on all trading fees, which will have an expected effect of increasing volume and demand for the token.
The project has a team of dedicated professionals who are passionate about bringing cryptocurrency to the masses, with users able to directly top-up their accounts with cash. The project is also set to reveal a massive product update which will be released later this year.
Looking at the technical analysis for QMALL token, the current price of $0.24 signals a strong entry support point, with the token signalling an upcoming trend reversal. With lots of upcoming attention and marketing pushes from the project, it's well worth adding QMALL to your portfolio to serve as a valuable mid to long-term investment asset.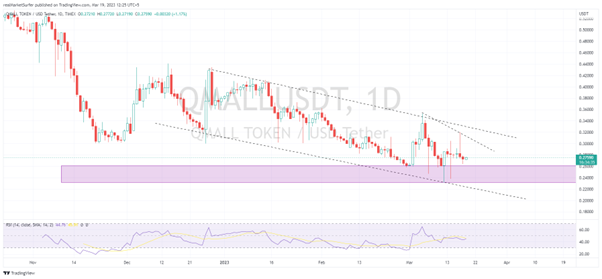 To help qualify this predicted upcoming trend reversal, as well as the further ambitions of the project, QMALL has a thoroughly researched and quantified product plan for 2023. Once realised and implemented by the project's team, it will create organic demand for QMALL token.
It's going to be a huge year for QMALL, between an air-tight product plan and plenty of great surprises for its community, it's an easy pick for the number 1 spot on this list.
2. MEXC Coin (MX)
You probably heard about MEXC Global from frequent airdrops they provide. MEXC is popular for the listing of hot projects, which are later subject to mass gains. If you have never tried it, check out their launchpad.
You know the fintech project is doing well when you see that you are at one-stop shop in your daily financial routine. Nowadays DeFi projects are very much integrated into TradiFi. MEXC stepped in the right direction when they introduced their own native MEXC MasterCard debit cards. For a regular user that means get a crypto card, top up with crypto and use it in daily purchases. Investors on the other hand see the business side of such integration, MEXC will get more users and MEXC will have another revenue stream and increase the exchange's total volume in circulation and total volume locked.
Social trading is a trending featureset and a phenomenon since 2020 and MEXC also built its own copy trading platform. If we were to look up for the recent major announcements and upgrades, I would highlight the listing of Arbitrum. Arbitrum is a L2 Ethereum widely used by many projects including DEX and CEX. Since the exchange coin is mainly pegged to the exchange's performance, such as the increase of the trading volume, integration of new features, it is said that MX will see another ATH this year.
As for the technical overview, MX continues its north ride following the major trend in the crypto market. The token gained over 15% the last 7 days and looks for a continuation of the uptrend.
The chart looks promising, although do not expect rapid gains, as the token has faced a major resistance at $2.07, might dive into a slight correction here. For the longer run, expect a retest of $2.83 and further climb to $4.7 and possibly $5.
3. WOO Network (WOO)
 There are many exchanges out there, although they claim to have something different than others do, the majority have the same functions with a slightly different envelope. Most of them are focused on the retail audience, and many fail due to the lack of expertise, the lack of innovation and the lack of exclusiveness tailored to this exchange particularly. This is not the case with WOO.
This project during the design and launch tackled market makers, arbitrageurs and high-frequency traders. WOO Network is a set of various products and brands in DeFi which are governed by the project's native token WOO. WOO Network operates a Centralized and a Decentralized exchanges. High-frequency traders and MM provide deep liquidity to the CEX arm of the Network. The execution quality of the exchange stands way above the major exchanges like Binance and OKX.
Ever seen a CEX with zero fees for spot and future products? We haven't, until discovered WOO. Yes, they do provide zero fee trading for major currencies. The platform is built to fit the needs of pro and amateur traders, offering a full customization of the toolset. The network is also launching a Decentralized counterpart of their CEX – WooFi DEX. WooFi DEX will inherit the functionality, markets and products of its centralized sister. We know the effect of the FTX collapse, which backed the migration of a large user-base to DEX'es. Decentralized exchanges gained tons of traction and attention from investors. However the majority of DEX'es do not provide the right toolset for large cap investors and traders, WooFi DEX seem to cover this gap here.
WOO Token gained 36.37% in price in the past 7 days and the anticipation and further release of the DEX arm of the Network will fuel the further uptrend of the token.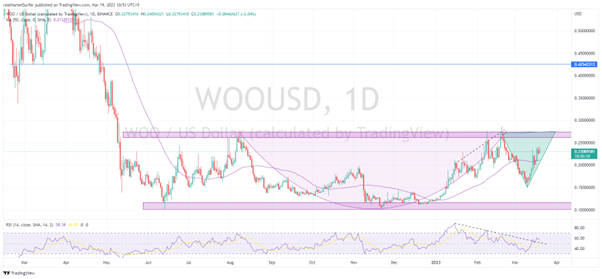 As for the technical analysis, the WOO is inside this sideways parallel channel. Breaking above the upper edge of the channel, would signal a further uptrend of the token. Look for a daily close above $0.28.
Bottomline
Whilst blockchains and L2 protocols are the foundation of Web3, exchanges – centralized and decentralized are the pillars. Behavioral analysis of investors and holders of crypto showed that even during the FTX crysis, majority of investors and large cap crypto holders transferred their funds to DEX'es or Wallets rather than withdrawing or cashing out. Regulation once again was a hot topic to discuss in the crypto community. The projects described in this review do follow and comply with regulators, which makes them reliable and legit organizations.
These 3 projects have a lot in common in the sense of their support and innovation to Web3, they all have their own cherry on top. Pick one from the list or invest in all three, the choice is yours, the most important is proceed with caution and do your own research and analysis. The review above is the author's opinion and shall not be taken as investment advice.