In recent years, metaverses have gained an immense traction, mostly thanks to promoting the concept of virtual worlds. Many of them allow users to imitate real-world activities, and it's no surprise that so many blockchain-based simulator games are so popular among gamers – they offer a completely new level of engagement and experience. Let's observe the most interesting blockchain simulator games that you should try in 2023.
Bluelight – Silicon Valley simulator
Have you ever dreamt of creating your own startup? There's no need to wreck your brains over any idea or seek investments – try being an entrepreneur in Bluelight.inc. This is a Silicon Valley simulator where players need to buy or rent offices, create a dream team, and level them up to perform tasks more efficiently.
The game is played in two modes:
Tycoon mode. It takes place in the virtual city of San Crypto where players can buy or rent offices, build their team and purchase in-game objects to place them in workers' rooms.
Collectible card game. Players need to do projects – it boils down to making employees solve tasks within a 5-day work week. For successfully finished projects, players receive $KALE rewards. The token is used to make in-game purchases and is currently traded on the Cryptology exchange.
On top of metaverse functionality, Bluelight features NFT objects (offices, worker cards, equipment, and so on) – they improve game experience and help players complete projects more efficiently.
Axie Infinity is a Play-to-Earn blockchain game that's also powered by NFTs and cryptocurrency. It was developed by Sky Mavis and launched in 2018. The game is set in a world where players can collect, breed, and battle creatures called "Axies." Each Axie is unique and has its own set of attributes and abilities. Players can earn AXS and SLP (Smooth Love Potion) tokens by playing the game, which can be used to buy and sell Axies and other items.
There are two game modes:
Players in the Adventure Mode are on a mission to battle and defeat various monsters that are dispersed throughout 36 levels. Each day, you may make up to 50 SLPs.
In Arena Mode, players face off against rival Axies, with each gaining SLP based on their Matchmaking Rating. The person that has the greatest MMR ultimately receives a larger portion of 21 SLPs for each victory. The chance of winning in battles depends on Axie's level and characteristics.
Axie Infinity has gained popularity in recent years, particularly in Southeast Asia, where players have been able to earn a living by playing the game. As of now, it is not as profitable as it used to be a year ago, but the entry threshold has lowered to a few bucks – you can start playing the game after buying Axie NFTs on the official marketplace.
DeFi Land – Grow crops and manage your assets
DeFi Land is free to play for new users, but they must have a DFL token or an NFT in their wallets to access the basic play-to-earn features. To start with, players need to register and choose one of the three factions — Doge, Pepe, or Monke. Each group has its own set of weekly and monthly missions, and the faction that performs the best gets rewarded.
The primary NFT items in the game include fishing poles, hunting rifles, automobiles, tools for mining and chopping, buildings, and creatures. There are three levels of rarity for each fundamental NFT: common, average, and rare. DFL tokens may be used to enhance the structures and animals, as well as to make tools.
Each participant can engage in mini-games which award experience points and extra perks to NFT owners. Players are ranked on the leaderboard using experience points, and the top players get token rewards.
The mini-games include activities like fishing, shooting, racing, finding hidden objects, and building towers. On top of that, there are other idle games like stroking animals, cleaning their property, and detonating stones in their territory.
The game includes a lineup of various buildings that serve different purposes:
Houses serve as a hub for players to keep track of their portfolios
The market allows players to trade their assets
The seed laboratory is where players can exchange their liquidity for seed tokens
Farms are used to plant seeds that produce yields, the farm board serves as a viewer that displays all available farms
The bank is where players can lend, borrow, and stake tokens
The voting palace is where players can vote on various protocols
MEEET – Enjoy social interaction and build your farm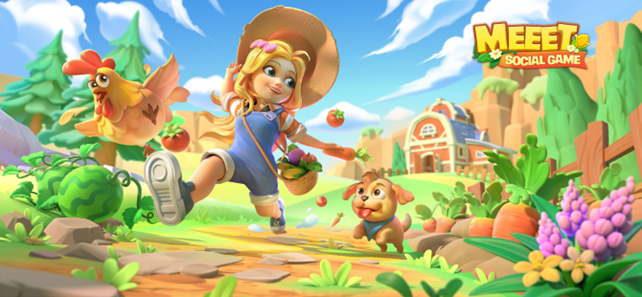 If you're a big fan of games like DeFi Land, you can exercise your farming abilities in MEEET Web 3.0 relationship-based blockchain game platform and add animal breeding to the equation. MEEET players that own NFT farmers may carry out such activities as planting, harvesting, feeding animals, processing goods in factories, and selling them to earn money. These in-game items can either be spent or exchanged for cryptocurrency.
Meet developers added a competitive grain to the game by allowing players to establish guilds of their animals and earning extra rewards for finishing tasks earlier than other farmers.
Essential game components include:
Farm. Players may use MST to extend their land, increase the number of crops they can grow, finish jobs more quickly, and earn more coins.
Crops. There are several crops available in MEEET, including wheat, oats, carrots, sugar cane, corn, strawberries, etc. Players are able to produce crops for free. Crops that have been harvested can be employed in factories to process goods or execute order chores. MST may be burned by players to speed up the growth of crops.
There are three different kinds of animals in MEEET: pigs, cows, and chickens. The animals consume crops and require some time to create goods. The items can be employed in factories to process goods or finish activities. Burning MST allows users to speed up manufacturing.
Manufacturers & Goods. There are several factories in MEEET, including a bakery, a pizza parlor, an ice cream maker, a salad bar, etc. Crops may be used by players to process goods in factories, although this process takes time. To gain tokens, the items can be utilized to accomplish order chores. MST can be burned by players to speed up production.
Lazy Soccer – Manage sloth football teams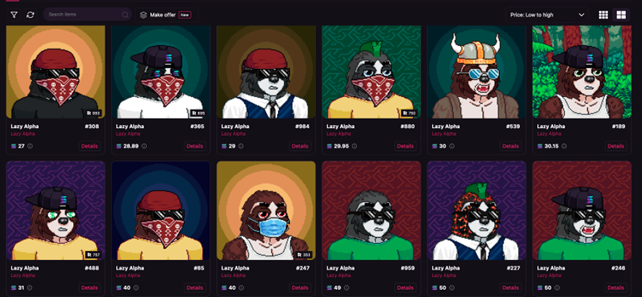 Lazy Soccer is an NFT-driven simulator on the Solana blockchain with P2E elements, however, creators label their game genre as T2E – Think-to-Earn. Players can manage a football team made up of sloth characters. Similar to Bluelight, Lazy Soccer requires critical thinking, mental agility, analytical skills, and strategic planning to lead their team from backyard play to a world championship.
How to play Lazy Soccer? Basically, you need to organize and train your NFT crew (Lazy Soccer Staff NFT collection). These are your committed specialists, and they serve to improve the crucial aspects of your team's performance. By leveling them up and utilizing Lazy Alpha NFTs (as well as the breeding mechanisms), you stand more chances of winning battles.
So far, the team has not announced the native token ticker, but it plans to fuel monetization through NFT collections – Lazy Alpha (LA) and Lazy Soccer Staff (LSS) that will be traded on the proprietary marketplace. If you're a big fan of sports and intellectual games, opt for Lazy Soccer – it organically merges these two passions. The game is in its presale stage: you will be able to purchase NFTs in Q2 2023.
Wrapping up
There's a large gamut of blockchain-based simulator games, and you can definitely find something that appeals to your gaming style and genre preferences. Yet, many of these projects are doomed to fail because of weak economic models, lack of long-term business vision, instability of the crypto market and other factors. It makes sense to play more viable games because you stand a higher chance of earning crypto rewards and greatly developing your characters. Hopefully, this guide will help you choose a suitable project and enjoy both fun and profits.
Image by Joseph Redfield Nino from Pixabay