The crypto market has endured a sluggish 24 hours, with many of the top cryptocurrencies in the red. However, a string of bullish events have propelled Trust Wallet's TWT token to climb 2.43%. Could this token be gearing for an explosive end to 2023?
Meanwhile, the new wallet project Best Wallet is seeing significant uptake after recently launching and has also announced its high-potential token airdrop.
Trust Wallet Rallies Amid New Project Upgrades and MetaMask's Difficulties
Trust Wallet has surged 33% in the past month and 16.75% in the last seven days. This fares it as one of the market's top performers, prompting questions about why it is pumping so much.
The main reason is that Trust Wallet is commonly regarded as the second most popular software wallet after MetaMask. However, MetaMask has faced difficulties recently as the Apple App Store temporarily removed its app due to policy violations.
Yet, other factors are also drawing negative sentiment to MetaMask. Earlier this year, it received significant backlash amid privacy concerns that the wallet collects users' data, including IP addresses.
Ultimately, these factors are deterring users from the market-leading software wallet, with the runner-up Trust Wallet gaining a notable market share. This is reflected in its price, which peaked in the depths of the bear market in December 2022 and has begun to pump again.
Another factor driving the TWT price is that the project has just released a new brand identity to empower web3 users in their self-sovereignty and multi-chain crypto journey.
The upgrades include a new logo, an updated app design, and an improved user interface. One of web3's most prevalent issues is the complex user experience. Trust Wallet's recent focus on that, combined with the timely detriment of its largest competitor, has enabled its price to boom.
The project's recent price action has propelled it above $1 and formed a strong "Double bottom" chart pattern, indicating a potential reversal.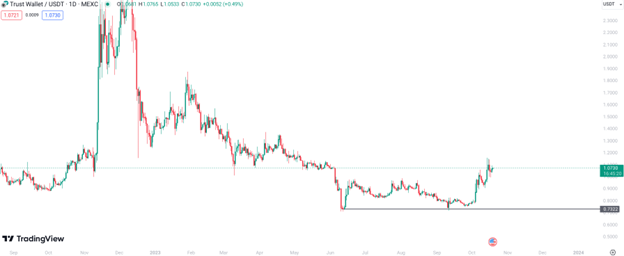 Trader SpartaBTC has noted a falling wedge breakout pattern, which is significantly bullish and usually results in a downtrend reversal.
Meanwhile, Alex_Dehtiarov also predicts a bullish next move for Trust Wallet, noting a downtrend breakout and forecasting its next resistance level will be $1.37.
However, Trust Wallet is not the only software wallet making advancements. The newly launched project Best Wallet aims to capture the market share with its numerous competitive advantages and token airdrop.
Best Wallet Launches Full Ecosystem and Has a Token Airdrop in the Pipeline
Best Wallet is a brand new, feature-dense, multi-chain project redefining what a crypto wallet is. Rather than merely a tool to buy and sell crypto, Best Wallet acts as a gateway to the web3 world, providing countless tools and benefits to its users.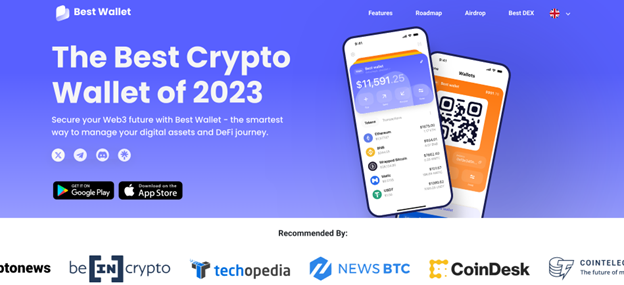 It will provide data-driven insights into the market's next moves, factoring in community sentiment and industry events. It will also enable users to browse everything crypto, like upcoming token releases, trending projects, and airdrops.
What's more, Best Wallet will be launching its own token soon, and users can earn it through the project's free airdrop. The $BEST token will provide various benefits, like no gas fees on transactions and exclusive access to future airdrops.
However, the project spans beyond these services, venturing into a complete DeFi ecosystem. According to its website, Best Wallet will also feature a decentralized exchange with cutting-edge liquidity pools and market-leading security audits.
This one-of-a-kind project should not be missed. Considering Trust Wallet's bullish price action, Best Wallet's revolutionary use case undoubtedly sparks significant upside potential for $BEST.
To get started, visit the Best Wallet website and download the wallet to your device. Those who interact with the wallet can gain eligibility to the $BEST airdrop.