TWT is one of the few projects that are performing well in the aftermath of the FTX collapse. As more users flee exchanges for crypto wallets, TWT records a 106% uptick on the weekly charts. The anomalous behavior in the bear market proves that utility-rich projects will always be in demand.
Here is a list of four projects that will likely follow in TWT's footsteps in the coming days, thanks to their long-term market relevance and ambitious roadmaps.
1. RobotEra (TARO)
On top of our list is RobotEra, a metaverse builder game that takes inspiration from The Sandbox. The immersive game allows users to own virtual estate, create games and experiences, and earn rewards with zero coding skills.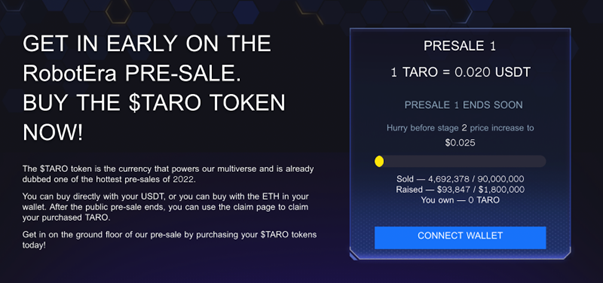 RobotEra presale status, 16 Nov 2022
RobotEra's massive growth potential is underscored by the rising interest in the metaverse, especially from tech giants and large institutional investors. The metaverse won't be just another place to game and earn, but also experience immersive content. For example, RobotEra will host concerts, museums, galleries, and conferences to name just a few. As a result, RobotEra virtual estate is touted to become one of the most profitable NFTs in 2022.
😜 Enjoy The Best Of Both Worlds

🔥 Yes! – In the #RobotEra ecosystem, you can make a profit while playing

💰😍 Earn from exploring, mining, or participating in random events on the Taro Planet

🚀 Join Now – https://t.co/UJ3inoEuZH pic.twitter.com/3I9uY4zjOy

— RobotEra (@robotera_io) November 16, 2022
To avoid paying hefty prices for the in-game assets on the launch of the game, investors are currently stocking up on TARO, the native token of RobotEra. TARO is predicted to climb 10X on exchange listings. It is currently selling for 0.020 USDT per token in the first stage of the presale.
2. Chiliz (CHZ)
With the FIFA World Cup around the corner, the 34% growth recorded by Chiliz on the weekly charts doesn't come as a surprise. The cryptocurrency currently ranks #32 on CoinMarketCap. The token powers the Web3 sports entertainment platform Socios, which allows users to participate in the governance of their favorite sports brands.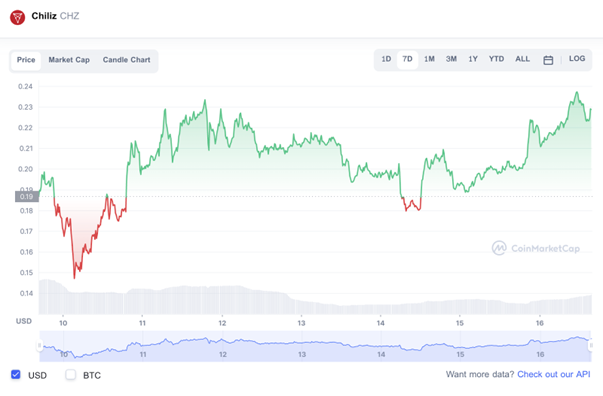 Chiliz 7-day price chart, 16 Nov 2022, CoinMarketCap
CHZ token is used to launch fan tokens that take fan monetization and engagement to a new era in the sports industry. For example, fan tokens allow holders to participate in club-related decisions like what the captain should wear on his armband. And we know how much that means to avid fans, who are even willing to tattoo their favorite footballer's name (or a portrait for that matter) on their body.
𝗕𝗨𝗜𝗟𝗗𝗜𝗡𝗚 𝗔 𝗟𝗢𝗡𝗚 𝗧𝗘𝗥𝗠 𝗙𝗨𝗧𝗨𝗥𝗘 𝗙𝗢𝗥 𝗕𝗟𝗢𝗖𝗞𝗖𝗛𝗔𝗜𝗡 𝗜𝗡 𝗦𝗣𝗢𝗥𝗧 🏆⚽️⛓️https://t.co/NrYy7Ms2YH and Chiliz CEO @Alex_Dreyfus reflects on his experience at Web Summit and recent events in the crypto industry 👇

⚡️ $CHZhttps://t.co/GXXz0PrWsk

— Chiliz ($CHZ) – Powering Socios.com ⚡ (@Chiliz) November 15, 2022
The upcoming FIFA World Cup will take CHZ to more users and kindle a new wave of interest in the project. As Socios expands its network of sports clubs and celebrities, the token can climb higher next year.
3. Tamadoge (TAMA)
Tamadoge is one of the most popular meme coin projects of 2022. The Tamagotchi-inspired play-to-earn token introduces a gripping game that is predicted to onboard both crypto and non-crypto users.
📣 Attention #TamadogeArmy! 📣$TAMA Is Now Live On @gate_io – Tier 1 #CEX 🚀

Join The #TamadogeArmy – Buy $TAMA Now!https://t.co/URdCJ0ZekO#memecoin #listing #crypto #altcoin #gateio pic.twitter.com/4v7gq2BRhm

— TAMADOGE (@Tamadogecoin) November 10, 2022
TAMA is the gateway token of the Tamaverse, the Tamadoge metaverse where you can mint, breed, and battle your own Tamadoge Pet NFTs. Interestingly, the play-to-earn opportunities will move to augmented reality by the end of next year. Both TAMA and Tamadoge NFTs make great investments this year, owing to their high growth potential as the gaming ecosystem launches in the coming months.
4. IMPT (IMPT)
Green projects are another category of cryptocurrencies that will be at the forefront of the crypto revival next year. IMPT, in particular, will attract investors, thanks to its Web3 carbon offset marketplace dedicated to both the mandatory and voluntary sectors. It will be a one-stop shop to buy, sell, and retire NFT carbon credits.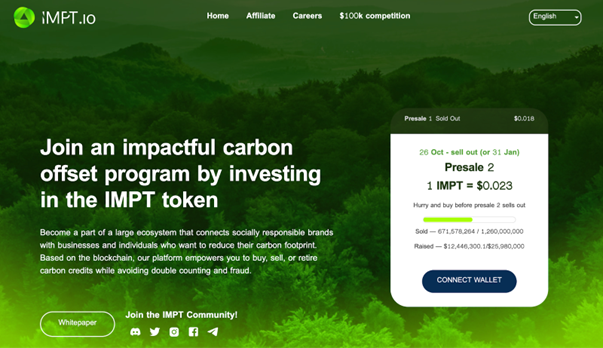 IMPT presale status, 16 Nov 2022
IMPT's goal is to make climate action accessible to a wide spectrum of users through blockchain technology and gamification. It makes this possible through a social platform and a shopping application.
Go Ahead And Buy Some $IMPT Now! 🚀

🔥 The presale is still live! 🔥

We have already raised more than $12.5 million, and we'r already on Stage 2!

Join now ➡️ https://t.co/8KSvC4Hf9d pic.twitter.com/wLNbJDZnyx

— IMPT.io (@IMPT_token) November 16, 2022
IMPT Store allows users to earn IMPT rewards in exchange for responsible shopping. The platform has partnered with leading global brands to give a wide range of choices to customers. IMPT social platform, on the other hand, allows businesses and individuals to track their IMPT scores, gamifying carbon offsetting.
IMPT's unique approach to bringing carbon offsetting to the mainstream makes it one of the most eco-friendly coins of 2022.