The FTX Contagion spilled over to the entire industry, and exchanges across the board are in hot water as depositors continue to withdraw their assets to mitigate potential losses.
One exchange in particular that has been in the hot seat is Crypto.com. Investors are questioning if the platform will survive the current Crypto Winter as they believe its fate could end up the same as FTX.
Is Crypto.com Going to be Able to Survive?
Crypto.com has been making headlines in the industry for all the wrong reasons. The token value for its native token, which was recently rebranded to Cronos, has plummeted throughout the year. It started above $0.56 and has continued to tank to the current $0.07 level;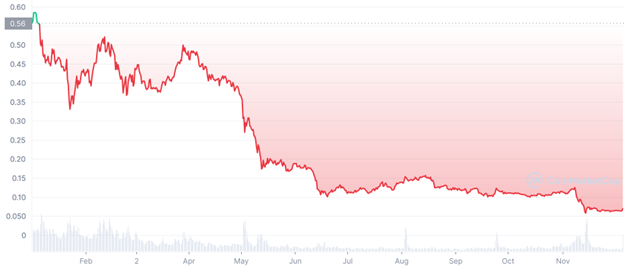 The crypto exchange started the year with a huge marketing budget, spending millions on a Super Bowl advert over 50 million people saw. However, since then, the exchange has begun to cut its marketing spend as it backed out of sponsorship deals with soccer teams, slashed sponsorship dollars to e-sports streams on Twitch, and toned down its messaging in adverts.
Furthermore, the company laid off almost 2,000 employees during the year as they tried to cut as much spending as possible.
With these red flags appearing, it's no surprise that investors are starting to feel weary about the future potential of Crypto.com.
Making matters worse, in the wake of the FTX collapse, the exchange announced that it held 20% of its reserves in Shiba Inu tokens – a highly volatile memecoin, with stablecoins such as Tether only making up 5% of its reserves. While Crypto.com issued a clarification stating the platform holds customers balance 1:1, the volatility associated with such a crypto asset has got some investors concerned.
Despite the recent string of bad press, Kris Marszalek, CEO of Crypto.com, recently dismissed all speculation of any financial trouble.
In a live Q&A on YouTube, the CEO stated that the company's balance sheet remains robust and the exchange has no inherent risk resulting from the FTX collapse. The CEO continued to say that $990 million was recovered from FTX, and the damage to Crypto.com was just $10 million.
Crypto.com Sent $400 Million to the Wrong Address.
Adding further fuel to the speculation fire, news emerged in November that Crypto.com accidentally sent over $400 million worth of Ethereum to the wrong address. According to the news, in late October, the exchange sent 320,000 ETH to a wallet linked to another exchange – Gate.io.
Fortunately, Crypto.com recovered the assets, but it sent shockwaves through the industry as depositors on the exchange started questioning the business's competency.
With outlandish news stories such as this, it's no surprise that crypto natives don't expect the exchange to be around for much longer.
Can Dash 2 Trade Pinpoint the Next Major Crypto Collapse?
With the industry on such shaky ground, the cryptocurrency sector needs a project to help traders become more aware of where they invest their money. Dash 2 Trade might be one of the ideal upcoming projects.
Dash 2 Trade is a world-class crypto analytics and intelligence platform that helps traders make informed decisions to become consistently profitable. The platform will provide actionable trading signals, providing buy and sell signals for traders to make live decisions. It will also offer in-depth market predictions, social metrics, and expert on-chain analysis to keep traders up-to-date with the latest happenings in the industry. In particular, the social metrics and on-chain analysis will help traders spot coins before they start to surge;
Every day, on the cryptocurrency market there are great short-term investment opportunities 📈

Spot coins that could witness significant movements in price 🔎

Learn more at https://t.co/cvX8pnV5F5 – all-in-one trading platform! 💻 pic.twitter.com/jRMQjA07jN

— Dash 2 Trade (@dash2_trade) December 4, 2022
One of the most promising features of the platform is its bespoke ICO and presale scoring system, designed to help traders keep away from honeypots, scams, and rug pull projects. Keeping track of the presale sector provides insight into where the general market might be heading. However, with so many projects appearing each month, it's a challenging sector to track and often leads investors to put their money into dangerous projects.
The presale scoring system will provide all the necessary information to assess presale tokens' legitimacy. In addition, the team will manually score projects to determine metrics that cannot be evaluated through automatic software and provide a scoring based on their findings.
Dash 2 Trade is currently hosting a presale for its D2T token, and it's selling out much quicker than expected. The project has already raised over $8 million and is around 95% complete;Investors are rushing toward the opportunity to purchase D2T after learning about the team's successful expertise in delivering trading insight platforms. They previously birthed Learn 2 Trade, which quickly became one of the cornerstones of the Forex industry. Learn 2 Trade provides FX signals and education, and it managed to attract over 70,000 traders.
💰 Get your hands on the best bear market opportunity 💰#D2T is owned and powered by the education platform Learn 2 Trade which was established in 2017 and is extremely popular among crypto traders.

Become a part of the community and buy $D2T now ⬇️https://t.co/ExvBBjKIU6 pic.twitter.com/ovF2lTpUQ5

— Dash 2 Trade (@dash2_trade) December 4, 2022
The same team has now partnered with profitable crypto traders, quants, and AI developers to create a crypt-based ecosystem designed to replicate the success of Learn 2 Trade.
The presale is almost over, so you will need to quickly scoop up the remaining D2T tokens, which will be used to power the dashboard and pay for the monthly subscription.
Once the presale is complete, D2T will be listed on prominent exchanges in the industry. The team has already announced that LBank – an exchange that handles over $1.4 billion in daily trading volume –  will list the token on launch.
🚀 Upcoming Listing

🌟 $D2T (Dash 2 Trade) will be listed soon on LBank!@dash2_trade

💗Details: https://t.co/6IFkH9OOKt pic.twitter.com/Cn0L6PPUTe

— LBank.com (@LBank_Exchange) November 2, 2022
The token will also be listed on BitMart and Uniswap.