In an exciting new update from the world of crypto, YouTube analysts are touting a new cryptocurrency with the potential to 100x – TG.Casino (TGC).
Operating through Telegram, TG.Casino offers gamers a variety of gaming and betting options without the need for KYC verification.
Having raised over $1.6 million in its presale phase already, there is growing optimism that TGC could be the market's next breakout crypto.
YouTube Analysts Bet Big on TG.Casino's No-KYC Model
Crypto V.O and HotCuppaCrypto, notable voices in the crypto market, have highlighted TGC as a potential game changer.
Their video analyses draw attention to the token's solid presale numbers and the platform's seamless Telegram integration, suggesting the opportunity for explosive growth.
Crypto V.O even speculated that TGC could be "the next 100x pre-sale gem" in a recent video to his 314,000+ subscribers.
This forecast was backed up by a video review from HotCuppaCrypto, who also suggested that TG.Casino's value could 100x thanks to its "no KYC opportunity".
Both analysts focused heavily on the lack of KYC as a significant benefit of the TG.Casino platform.
Since users don't have to complete lengthy sign-up processes, they can start playing almost instantly, which is a significant draw in the fast-paced world of online gaming.
Additionally, the platform's alignment with the increasing demand for anonymity in the crypto space could be a catalyst for TGC's future success.
TG.Casino Unveils Huge Game Selection & Lucrative Staking Rewards
Moving away from analysts' forecasts, TG.Casino's massive selection of games, including everything from classic slots to live dealer tables, is one of the platform's flagship features.
This broad range of games ensures that TG.Casino caters to a diverse player base, meaning there's something for everyone.
Crypto Atlas, a YouTube analyst, emphasized the platform's extensive game selection in his review, "The World's #1 Telegram Casino?".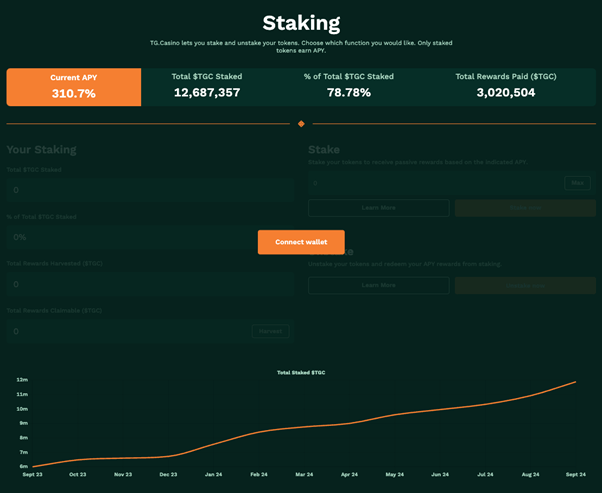 In this video, Crypto Atlas also pointed to TG.Casino's affiliate system, high-roller rewards, and crypto-first approach as reasons why it could be considered more appealing than traditional Web3 casinos.
Beyond gaming, TG.Casino's offers a staking model with projected yields of 310% per year – creating a clear value proposition for TGC holders.
These features come at a time when online crypto gambling is seeing remarkable growth, with players increasingly favoring platforms that offer more than just gameplay.
TG.Casino seems well-positioned in this regard, given that it boasts a full gaming license from Gaming Curacao and has had its smart contracts audited by Coinsult.
Early Presale Success Paves the Way for Future Exchange Listings
Building on its exciting features, TG.Casino's presale momentum is another key highlight, having already raised over $1.6 million.
This impressive amount positions TGC for listings on major exchanges, which is anticipated to boost liquidity and accessibility – thereby potentially increasing the token's value and appeal.
Members of TG.Casino's Telegram channel are also looking ahead as the project's developers have laid out ambitious plans for the future, including new games and features.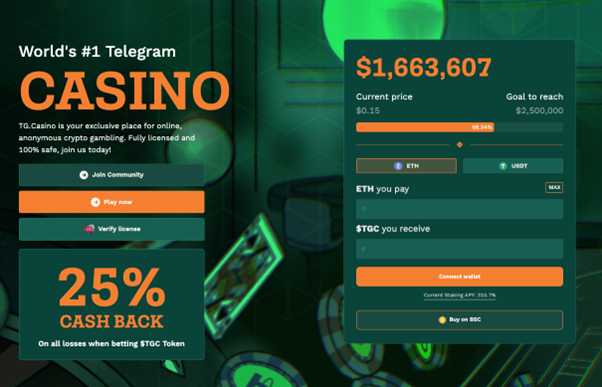 The developers also intend to launch a buyback and burn mechanism, which will see a portion of the casino's profits used to buy TGC tokens from the open market.
60% of the repurchased tokens will be distributed to TGC holders as a reward, while the remaining 40% will be burned to reduce the circulating supply.
These strategic moves are designed to solidify TG.Casino's foothold in the growing crypto gambling sector, which is reported to be valued at $250 million.
This momentum, fueled by early presale success and planned exchange listings, suggests a bright future for TG.Casino and TGC holders.