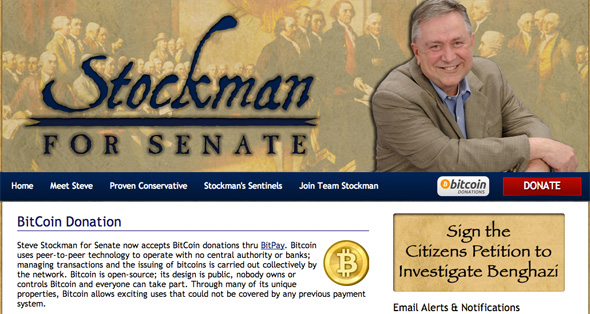 Where there's a politician, there's a request for a donation. It's no different with Steve Stockman — Representative of the 36th congressional district in the state of Texas.
Stockman now has a donation page up on his website allowing users to submit funds via a connection with digital payments processor BitPay for his run for United States Senate.
This is not Stockman's first run-in with bitcoin. He was seen at a New Year's Eve party at 'The Bitcoin Center' in Manhattan's financial district holding up a QR code with a donation address.
Could this be the start of a new thing in the political world? It's unclear, but in early November of 2013, it was reported that the Federal Election Commission (FEC) may allow bitcoin donations for political campaigns. The decision was delayed, but we might be inclined to see Stockman's acceptance of the digital currency as a good sign.