Key Highlights
Creditbit price spiked higher versus Ether towards 0.0024ETH due to increase in volumes.
The price is now well above a crucial horizontal resistance at 0.0014ETH on the 24H chart of CRB/ETH (data feed from Cryptonator).
We may soon see further upsides above 0.0025ETH in the near term.
Creditbit price managed to gain traction against the ETH as CRB/ETH surged above the 0.0020ETH resistance with an increase in trading volumes.
Creditbit Price Support
There were declines lately in Creditbit price against the Bitcoin and US Dollar, but it recently recovered. The best part was an increase in momentum and volumes against ETH. It ignited heavy gains in CRB/ETH. The pair is trading on Livecoin, and after a brief consolidation, it was able to move higher. The price traded near the 0.0013ETH support for quite some time before dipping once to fill buy orders.
As it can be seen from the 24H chart of CRB/ETH, there was rise towards 0.0024ETH. Later, the price corrected lower sharply and moved below the 0.0013ETH support. The downside move found support just below the 0.0010ETH. Later, the price started moving higher, and managed to break the 0.0013ETH resistance. The stated level is acting as a decent pivot and may prevent downsides below 0.0012ETH.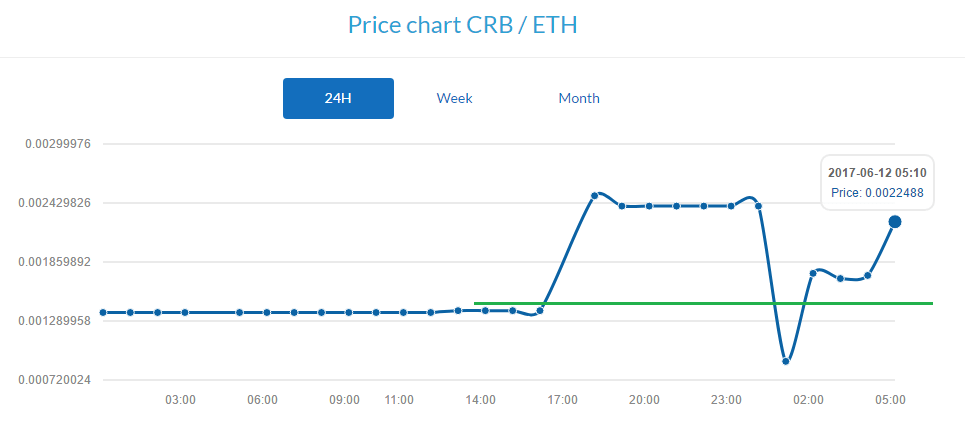 On the upside, the pair may soon retest the 0.002428ETH level, which is a short-term resistance. A break above it could ignite further upsides towards the 0.0030ETH level. On the downside, an initial support is around the 50% Fib retracement level of the last wave from the 0.00090ETH to 0.00224ETH high. However, the most important support remains above the 0.0013ETH pivot. We may continue to see more gains in the pair as long as it is above 0.0012ETH.
Looking at the indicators:
Hourly MACD – The MACD for the CRB/ETH pair is placed well in the bullish zone.
Hourly RSI – The RSI for the CRB/ETH pair is currently moving higher towards 60.
Intraday Support Level – 0.0013ETH
Intraday Resistance Level – 0.00250ETH
Charts from Cryptonator